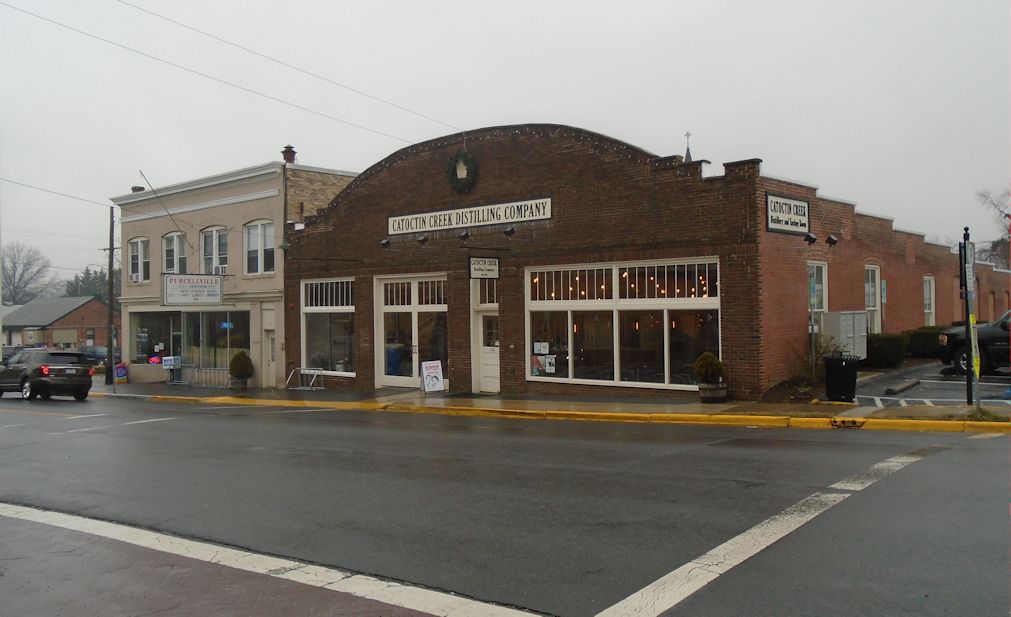 Chrissy and I went to visit the Chrissy & I went up to visit the Catoctin Creek Distilling Company in Purcellville.   You can follow the link for details.  They make small batches of rye whiskey and brandy, all from locally sourced products. They try to make it a closed loop process.  For example, the leftover grain (after the whiskey is made) goes to local farmers, where it is fed to cattle and, according to the tour guide, the meat ends up at the "Market Burger" restaurant across the street. 
I am not a great connoisseur of whiskey, although I have learned that I like some more than others.  Generally I like bourbon better than rye.  Most of the decent bourbon brands are okay.  I am not sure I could really tell most of them apart.  Scotch can be good, but it depends much more on the brand.  I am not fond of brandy, but the Catoctin Creek folks make a brandy called "1757" (the year Loudoun became a county) that is very good.  But since I cannot tell very much by the taste, I like the stories.  I know that many of the stories are not true, but I like them still.  The story of the Catoctin distillery is one of a local business trying to make an ecologically friendly booze.  I like that.
The tour was interesting and short.  I have been on distillery tours before .  We went on the Kentucky Bourbon Tour a few years back.  But I learned something interesting.  the spirits come out in three groups: the head, the heart and the tail.   The head is too strong and that is the stuff that will kill or blind you.   The heart is the part they make into whiskey.  The tail is too weak to be used directly, but at the Catoctin Distillery they use it as the base for a gin they make.  After the tour we had the tasting.  As I said, the "1767" brandy was good.  My second favorite was Roundstone Rye 97.   It was a little too strong.  The 97 refers to the proof.
After the tasting, we went over to Market Burger across the street.  They were very good, old fashioned burgers.  We didn't notice any of the whiskey flavor in meat that they might in theory have picked up from the whiskey grain feed.
Purcellville is a nice little town.  It is the start of the W&OD bike trail.