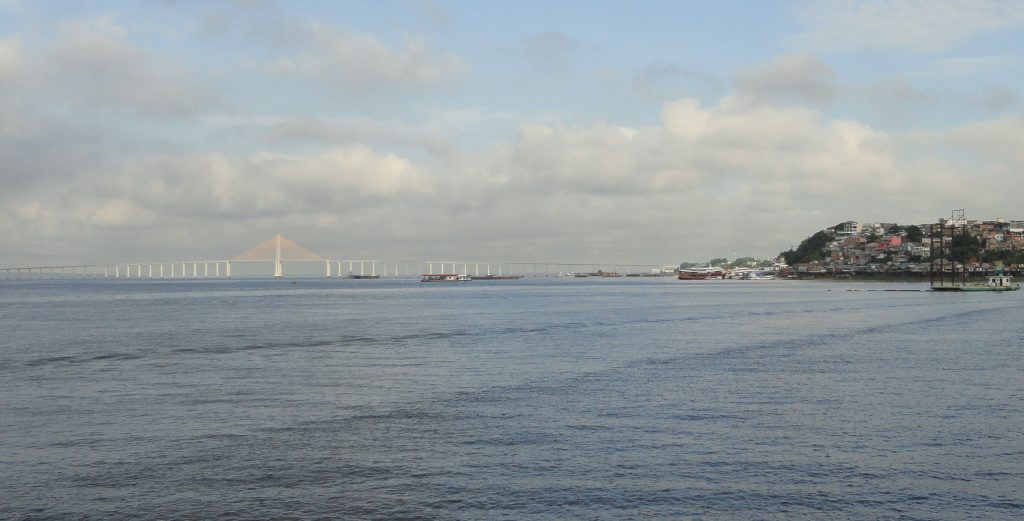 It is as if one world lassoed another and pulled it closer. That is what this bridge across the Rio Negro did. It is the first bridge you encounter as you come up the Amazon system. The river is just too wide everywhere else and besides there is nothing much to connect.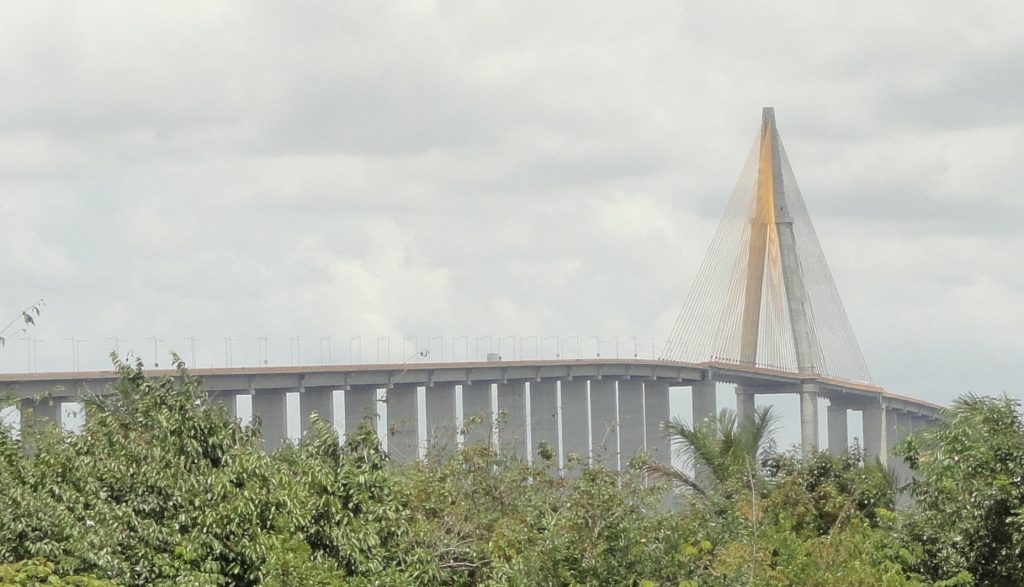 There is nothing much to connect here either – yet. The long high bridge now ties the unremarkable village of Iranduba with Manaus might seem like a waste of money. But it is changing things. You used to have to take a ferry for a couple hours to get to Iranduba & there were few reasons to make the trip; you can now drive in fifteen minutes. This has the practical effect of creating new land in Manaus and you can already see what will happen in the next few years. As you cross the bridge into this formerly distant peninsula between the Solimões and Rio Negro, the first thing you notice is all the real estate signs. It reminded me of Northern Virginia in the boom times. This will soon be suburbs and exurbs, probably mostly high end from the looks of the pictures advertising the new developments.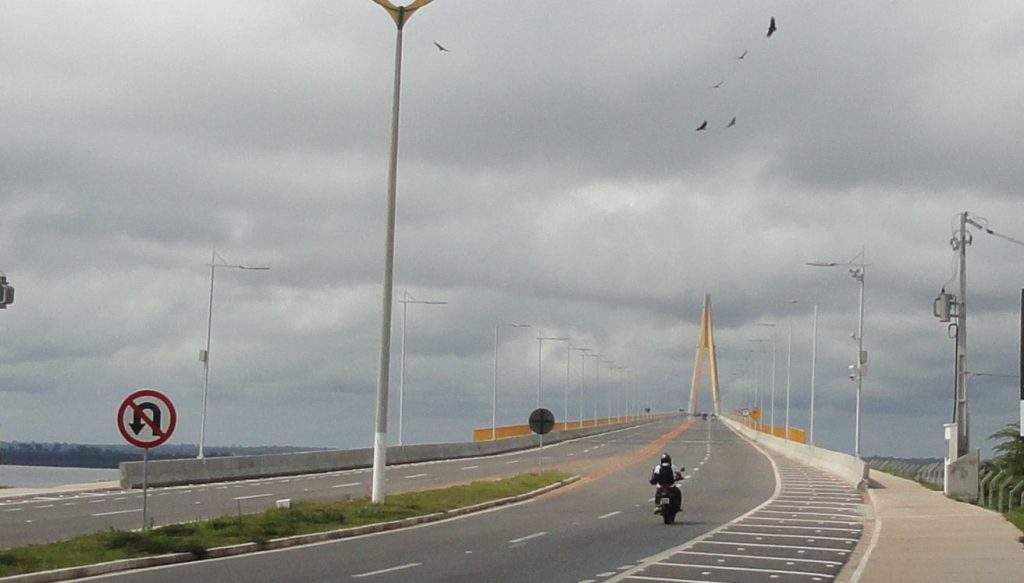 From my public affairs angle, I thought this would be the ideal time to connect local leaders with Americans who have experienced similar growth in the not very distant past. Development is inevitable, but it can be done well or poorly. There is a lot of wetland and nature that should be properly protected. If done well, they can avoid the damage caused by rising water and erosion.  I say avoid the damage, because they cannot avoid the water and can avoid damage by not building in some places. People like to build on low areas near water. They shouldn't do it. Beyond that, I hope that there is better planning. Manaus is not an attractive city. Just spreading it across the river would be a bad idea. Maybe some of these guys should visit Curitiba. They plan right down there (although this week's "Veja" indicates that not all is well in Curitiba's suburbs.)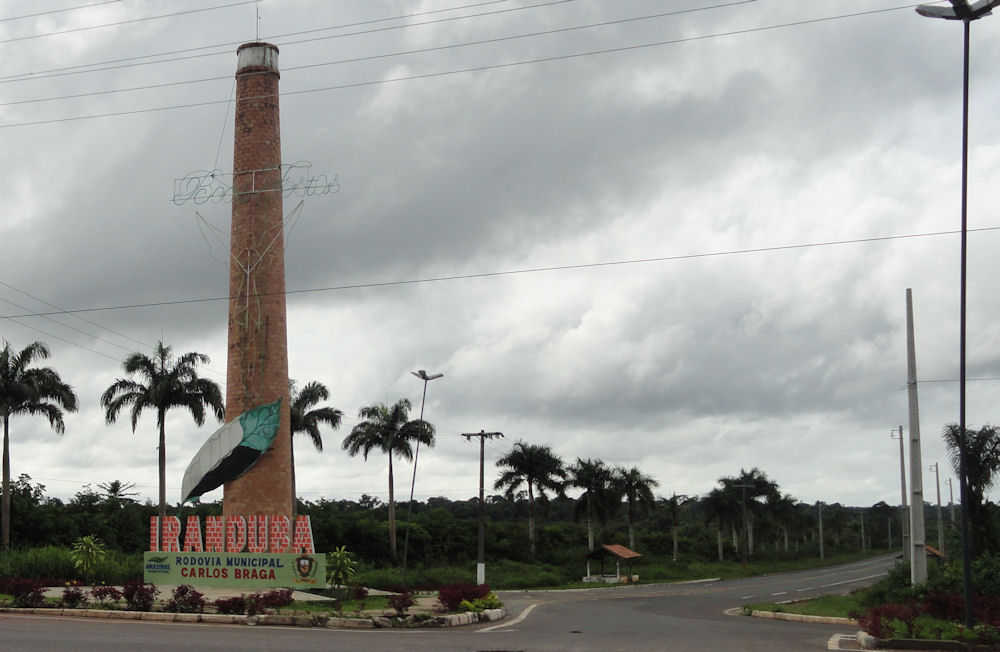 The village of Iranduba evidently has only two claims to fame, or did before the recent Anschluß with Manaus. It was a place that produced bricks and natural rubber condoms. The brick making is the one that the town fathers choose to emphasize but the monument they chose to erect could be appropriate to both, as you can see from the picture above. Below is the other factory Lam-Latex.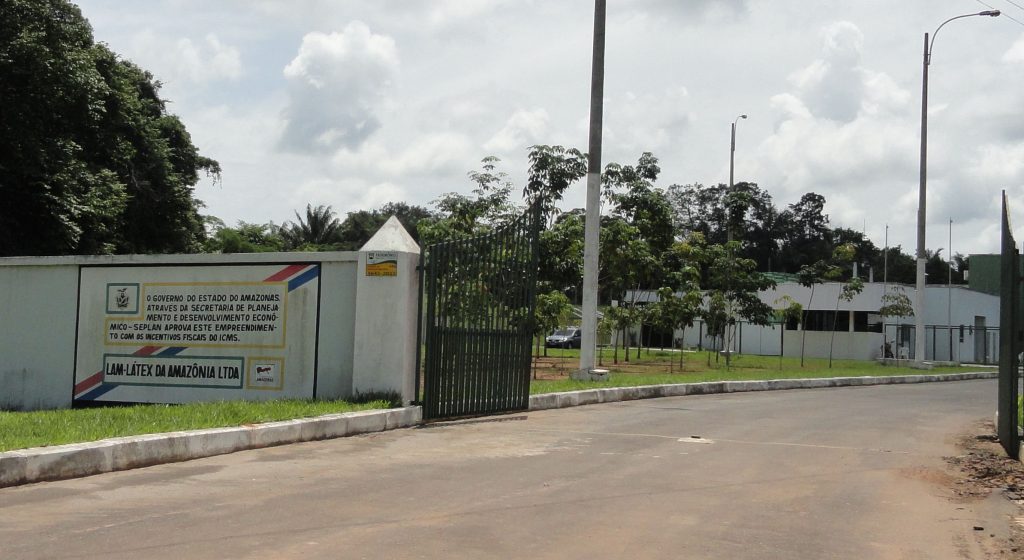 Besides these industries, there seemed to be a lot of fishing and cattle ranching. I don't know what will happen to the former ferry port on the Solimões. My first thought was that it would atrophy and fade away, but if the town grows I could envision it becoming a kind of tourist attraction.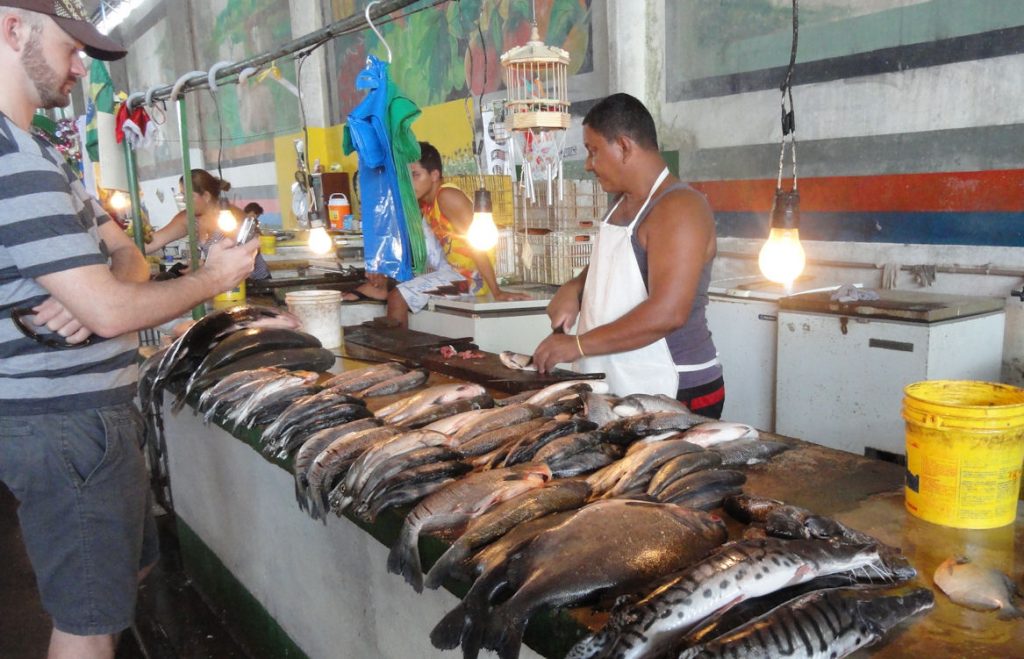 We visited a big marketplace where the locals could buy all they needed.The fish were very fresh, many were still alive. I could not identify them, but they said some were piranhas. Besides fish, there were butcher shops, produce stands, stands selling clothes etc.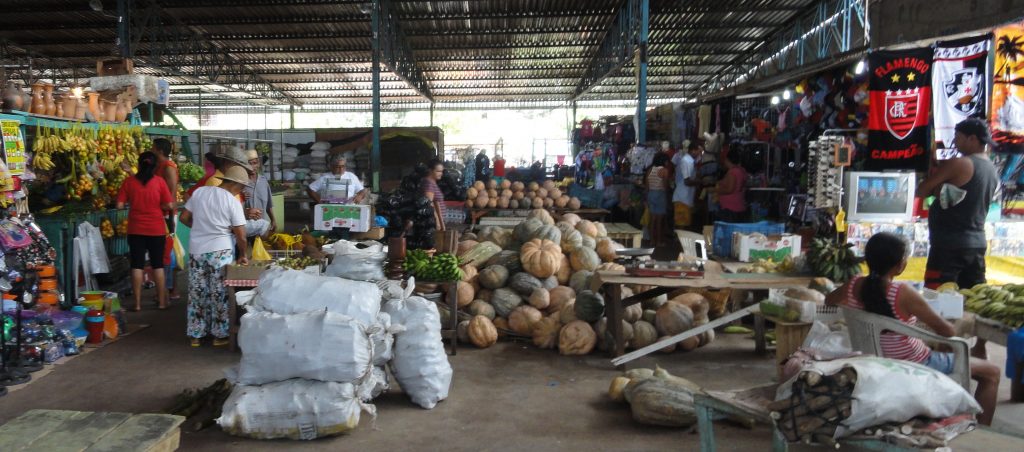 Farther down the road are more tourist attractions in transition. You can see in the pictures. It reminds me of those little resorts on small lakes in Wisconsin. Most of them have now become bigger, moved high-end or faded away. I think the days of the little lakes lodges are fleeting.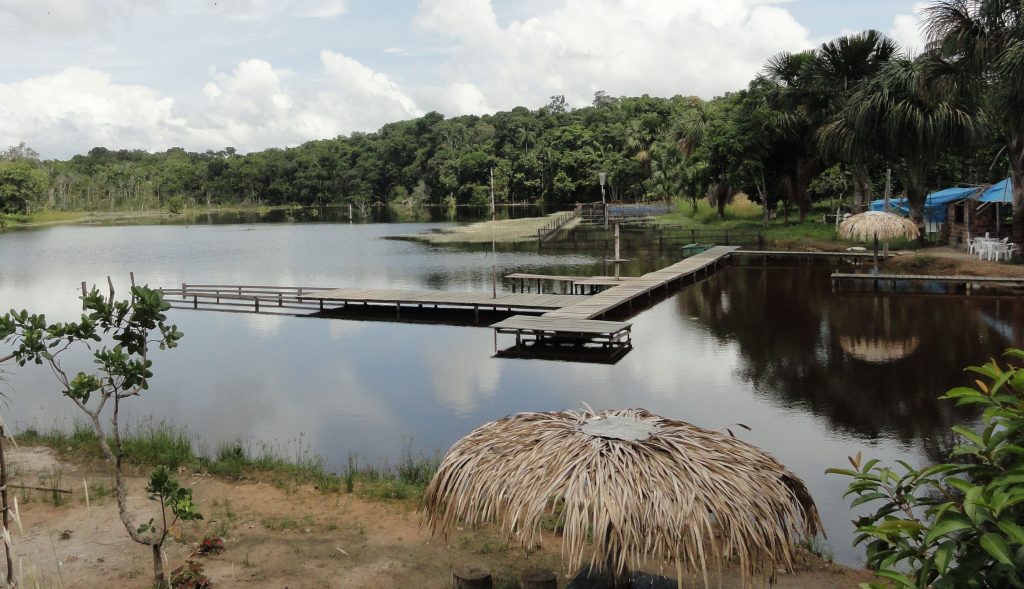 The beach you see in the picture is on the Rio Negro. The water is very warm and shallow. This is a high water time on the Rio Negro, as you can tell from the submerged trees and bushes. Our Brazilian friend told us that the beach had gone out another twenty meters a few weeks earlier.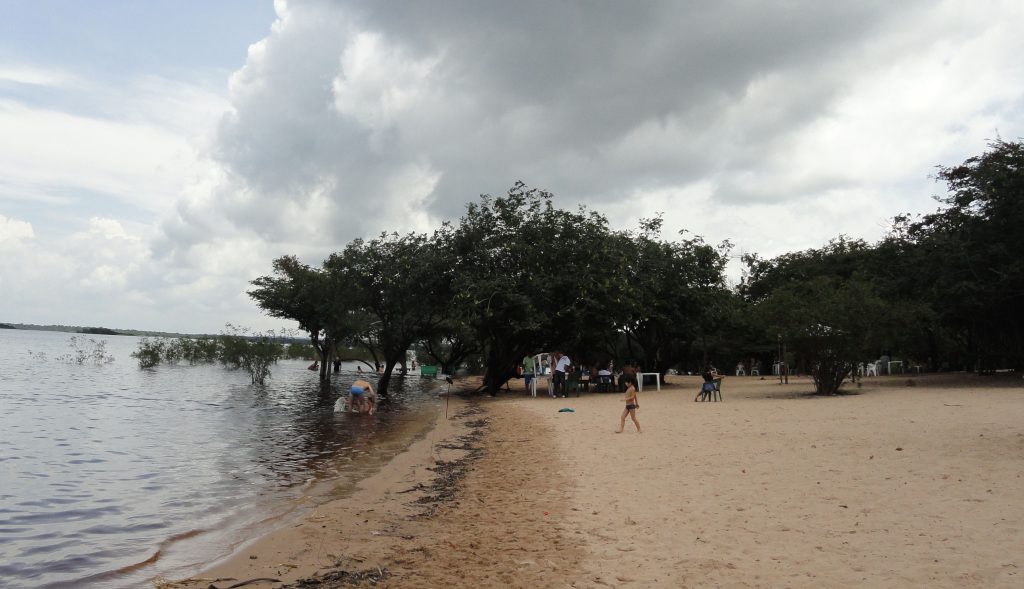 Below is the characteristic we environment near Iranduba. I joked with our Brazilian friends that I expected alligators. They pointed out that this was not true, since this was anaconda habitat. I expect people moving into new subdivisions won't be able to keep small dogs and cats … at least not for long. I thought my colleague Justen should wade into the water and see if he could scare up a couple of the big snakes, but he was unenthusiastic about the idea.