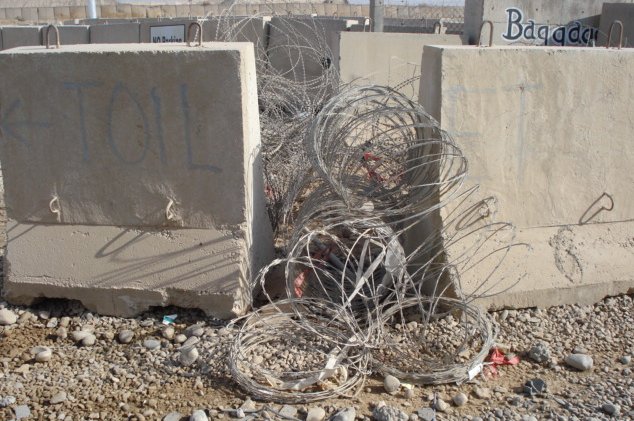 I really have a sweet deal. I get several R&R breaks and get to both go home and go to places I have never been. In return I have to spend some time in Iraq, which is not as bad as people think. You get used to it. I am not saying I will volunteer to stay on beyond my time, but I am generally comfortable, the work is interesting and my colleagues are great.
On the other hand, I miss my family; I miss my home surroundings and I miss … nature.  I know nature is everywhere, but there really is not much of what I recognize where I live in Al Anbar.  I just need to walk in the trees.  They are too few and far between.  I also don't like the dry.
This is a pretty shallow posting, but I cannot seem to get any deeper today. I am at the Baghdad airport, the same place I arrived in Iraq in September. I have not been here since then. It is plenty ugly. Maybe if you were greeted with something a little more inviting, you would have a better first impression of Iraq. I saw some new guys coming in. You can tell new guys. They are not covered in dust and even if they have become dusty, they don't have the covered in dust look of the veteran. They also still have expectations. They really think they will make sense of things. I understand that this is not possible. I accept and even embrace the ambiguity. I have found that you can understand something enough to make it work w/o making sense of the whole. There are some things I know to do to get certain results, but I really don't know why. I would like to know why and I often speculate, but this is just an exercise. I have found it is better to know what to do w/o understanding why than knowing why but not knowing what to do. If you have a good chow hall and a secure place to sleep, you got just about all you really need. It is illogical, but THAT makes sense.
I met an interesting guy here who made me think about my next job. He is working in the Consular section, but before that got a JD/MBA and worked in emerging technologies. My new job will be dealing with such things, so we had a good talk. We exchanged book titles to read. He recommended a book called "In Athena's Camp" I ordered that on Amazon, but when checking it out, I also found a book called "the Spider an the Starfish" re network organizations. I downloaded the audio book and am listening to it now. Seems very interesting.
He has a webpage too and if you want to get a different first hand account of Iraq, check out his link.
I will relate one story from one of my colleagues. It happened a while ago. I didn't mention it until now for Opsec reasons, better not give the bad guys real time information.
He is a brave man. He was walking down the street when he heard the sirens go off. He ran toward some duck and cover barriers. An Iraqi guy walking next to him ran in the other direction. Neither made it to shelter. A rocket came down just where they had been. The angle of the impact shot fragments into the Iraqi guy and killed him. My friend got a shower of debris, but suffered no significant injuries. You just cannot predict these things. Evidently they caught his escape on a surveillance camera. Some of the security people call him the lucky rabbit. He is back at work. As I said, he is a brave man.
That was a while about and in Baghdad, BTW. Al Asad is safer. Mostly just dust falls from our skies.