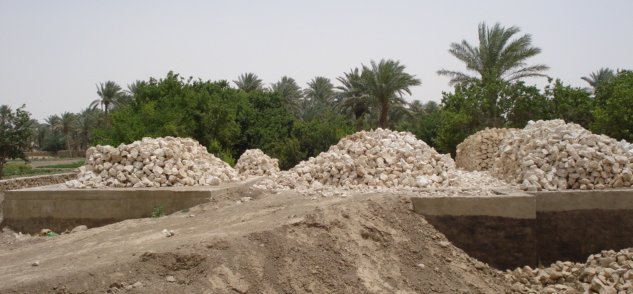 Above is preliminary to stone construction along the road in Haditha
When John McCain came recently to Haditha, he went to IRD/CSP. It was a good choice, since this is a clear example of the success of the "diplomatic surge". CSP means community stabilization program. USIAD fund the program, so it is vaguely falls under our ePRT through our USAID rep, but it operates autonomously and presents Iraqi faces to the Iraqi public.
CSP employs seventy-four Iraqis and has deployed more than two million dollars in well targeted programs to help develop free-market democracy in the Haditha region. The Iraqis bring with them local contacts and expertise. They know where to deploy resources and how to get the best deal that will produce the most results. The highest profile programs involve cleaning up and enhancing the Haditha market street, so to some degree CSP contributed to the vibrant business atmosphere I witnessed yesterday and wrote about below.
Below is a classroom being fixed up in the vocational school. Almost good to go.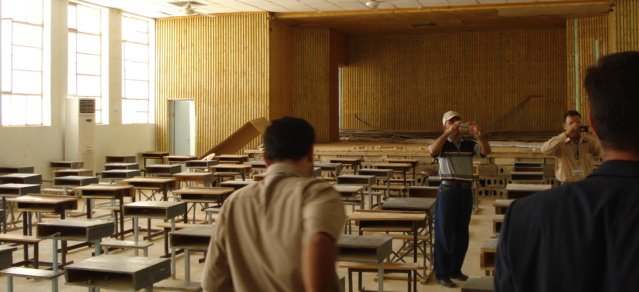 The centerpiece of the CSP effort is a vocational school they are refurbishing on a hilltop just outside the downtown. The school will train young Iraqis in practical arts such as masonry, electrical design & repair, carpentry and construction. There will be full three year courses and shorter two month workshops. The three year program will have 2100 students, with an intake of just over 700 each year. The short workshops are more flexible and can be expanded to meet demand. The plan is for the three-year students to be real professionals, help train others and form the nucleus of a skilled trades community. The curriculum has been developed in cooperation with the Iraqi labor ministry, which we believe will take up the funding for the program after the U.S. money runs out.
Below is the new vocational school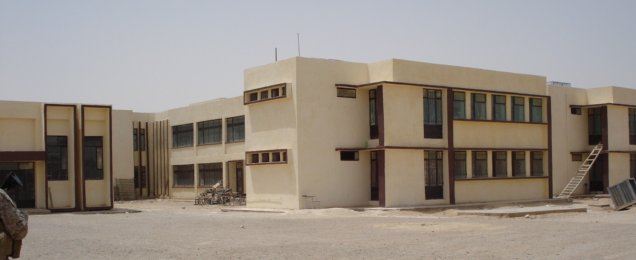 Although Haditha suffers from high unemployment, the building and rebuilding boom is creating a demand for skilled workers that is straining supply. A similar CSP program in Al Qaim has graduated hundreds of short-course students in the last few months who have been quickly hired by local firms. We anticipate nearly zero unemployment among graduates in Haditha. To some extent, skilled workers create their own demand and their higher productivity helps create wealth that creates demand for more workers. It is a very positive cycle. The CSP vocational school certainly won't solve all Haditha's employment problems, but it is an excellent start.
The Iraqi leader of CSP is a visionary. He is looking toward the future not only in CSP programs but also sees a brighter future for the area immediately around CSP and the technical school. It is very dusty in the neighborhood. This is Iraq and there will be dust, but the local effects can be mitigated by trees and other plants. CSP is already bringing in soil literally to provide the basis of the future plantation. Dennis, our agricultural advisor, gave some advice on the types and disposition of trees and plants. I would like to see what this place looks like in a couple of years.
Below is the future front garden.  There is a similar area out back.  The dirt piles are the soil that will sustain the greenery.  They are also digging a well.  Water is found at 37 meters.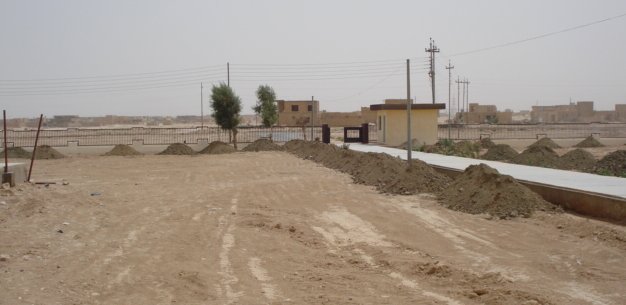 I like the fact that this an operation run for Iraqis by Iraqis. It has been very helpful in producing tangible and appropriate results. My only concern is that the U.S. does not get enough credit. This is not like an individual charitable giving, where you might want to do good anonymously. Sometimes it is important to know who is funding the good work. The U.S. is a very generous country. The U.S. gives more foreign aid than any other country in the world. When you include both public and private giving, the proportion is even higher. Yet much of the world thinks we do not do enough. One reason is that much of our investment is made in these effective but largely hidden programs.
Ronald Reagan once said that you can accomplish almost anything if you do not worry about who gets the credit. He was right. Often trying to take credit, even when justified, makes result less effective. It is a difficult balance to strike and I am not sure how to balance the needs to accomplish goals with the legitimate desire to improve the U.S. reputation. For now, the CSP staff and all the recipients know what we have done for them and are grateful to the U.S. But we have done good in many other places many times before. People remember, but unfortunately when something resides only in living memory it only lives a short time.