Sa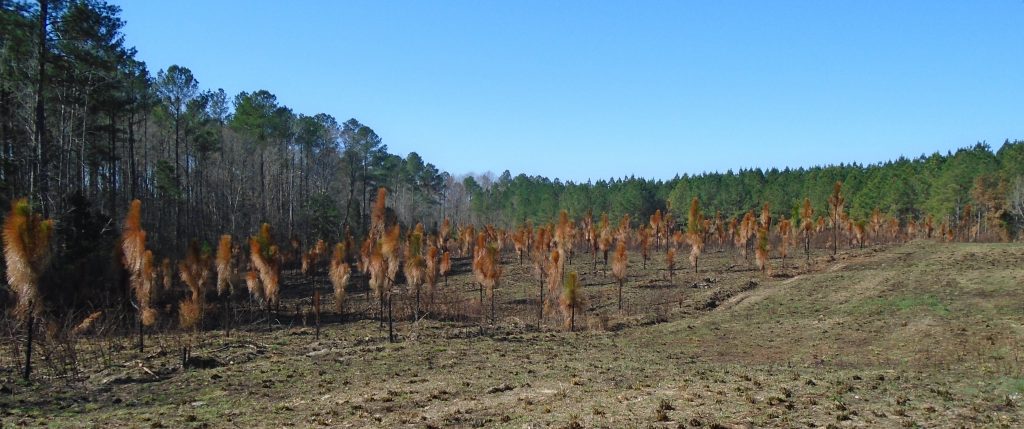 More pictures at the end.
Went to visit the burn plus one month. It is looking desolate still, but a few green shoots are coming up. By next month, we will see growth bursting out all over. I checked for the terminal buds on the longleaf and they were intact on those I checked. I am not 100% confident in the loblolly, but I think they will be okay too.
If the loblolly are okay, I am going to use fire more in the new stands. I spent most of the rest of the day hacking away at vines in the 2003 loblolly. Running fire through them every couple years would control these things. I cannot use fire in the 2003 loblolly yet, since the vines and trapped branches currently caught up in them would likely carry the fire into the canopy, but if I do it with the 2015 loblolly starting in 2020 I can prevent that situation in the first place.
All that said, I do enjoy cutting vines because it gets me into the woods with something to do, but I recognize that my efforts are not very effective and the vines are hurting my trees. Better to control them with better means. Beyond all that, I am getting a little old for this work and it is unlikely to get any easier. I am always stiff after a day of vine fighting. This time I even managed to hurt myself with my saw. I hit my knee and made five evenly spaced holes. Lucky it was just a hand saw. There was a lot of blood, although not much pain. This morning, however, it is stiffer than usual.
One more thing, a good one – look at the longleaf plantation. Since we did a good job of site prep, there was not much brush. I spent many hours knocking down volunteer loblolly and hardwood. The fire get more of that job done and it looks like we will have a superb stand of longleaf.