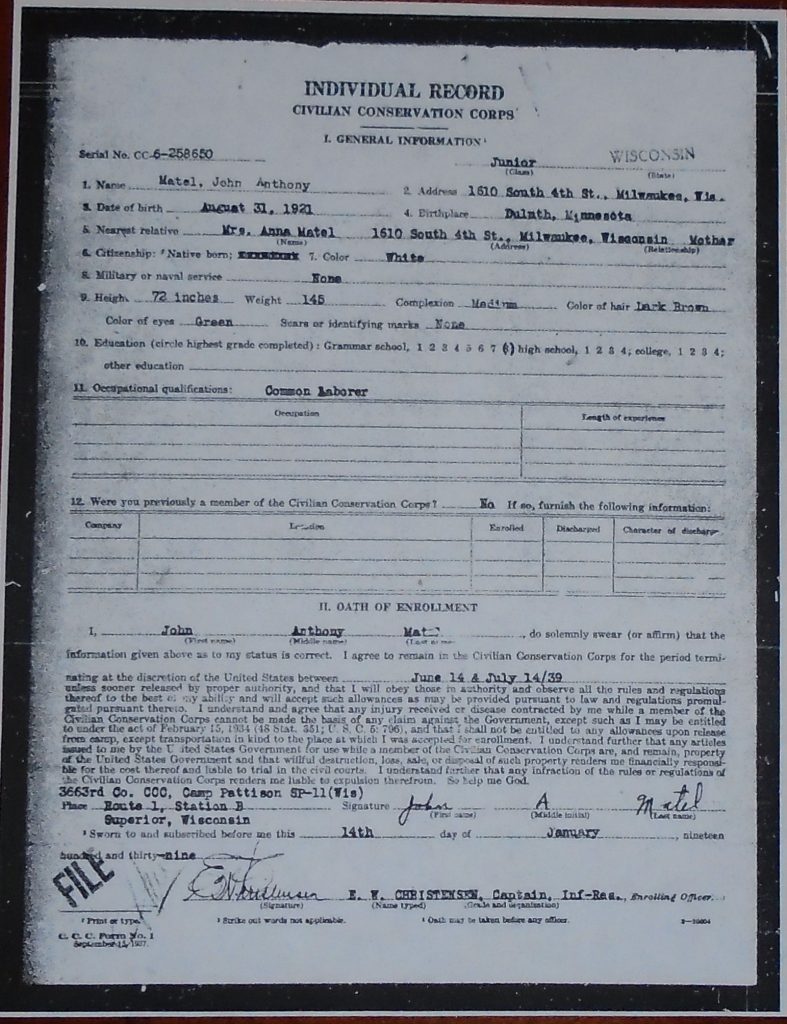 My father's CCC records came in the mail today. I didn't learn too much but what I learned was interesting and it was interesting to see a facsimile of the originals that he held and signed.
He was seventeen years old when he went far away from home. He was 6′ tall and weighed only 145 lbs. The report says that he had dark brown hair and green eyes. There was a place for "nationality" and they did not mean citizenship. My grandparents were listed as Polish. Grandpa had a sixth grade education. Grandma was a scholar who had graduated the eight grade.
Young John Matel dropped out of HS in the tenth grade. CCC provided education to its young charges. I was surprised to find on my father's report that he was not interested in education. Later in life he respected education and wanted it for us. I also learned that my father attended vocational school, studied shoe-making. I don't recall him ever mentioning that. He didn't keep up with it.
Like the other common laborers, my father received $30 a month, of which he had to, by regulation, send $22 back to his family. The CCC helped the young men by giving them work and discipline and helped the families back home with supplemental income that they earned. And the CCC boys did valuable conservation work, some of which we can still see in our parks. It was the most popular of the New Deal programs for a good reason.
The CCC was probably the best thing that happened to my father in his young life. I have the impression that joined the CCC semi-voluntarily after some undisclosed trouble with the law. As a city kid, this was my father's first sustained contact with nature. He worked in Pattison State Park near Superior, Wisconsin.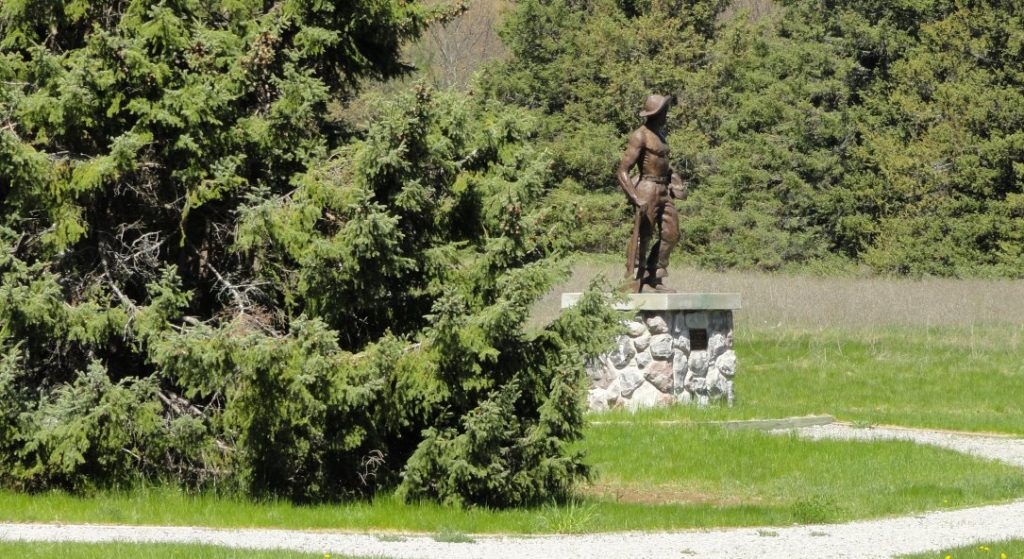 He did only one stint with CCC, starting and ending as a common laborer, from January 14, 1939 until June 30, 1939, which means that in that part of Wisconsin he worked only during the winter. His record indicates that he has scarlet fever when he was 13 years old and a tonsillectomy in 1929, but was otherwise healthy. In service, he missed five days of work because of the flu and was AWOL for two days. What he did during that time was not specified and there was no follow up. When he mustered out, he owed the USG $1.50 for "clothes and equipment" but otherwise had not debts or demerits.
After the CCC, John got a job with Medusa Cement, where he stayed for the rest of his working life except during his service with the Army Air Corps from 1942-5.
I was surprised when I found that the old man served only six months in the CCC. It seems to have loomed bigger in his life than that short time would imply. He talked about it frequently and with some fondness. It changed his life and so made mine possible. Thanks CCC.

Other references –
http://johnmatel.com/2011/05/16/civilian-conservation-corps/
http://johnmatel.com/2010/09/23/dirt-is-the-basis-of-civilization/
http://johnmatel.com/2007/12/06/great-glorious-and-grandiose-aspirations/
Save