It has been a busy week. I got back from the U.S. on the overnight flight at around 6:30am on Tuesday and went right to work, since we had a visit from UN Ambassador Susan Rice. The visit went well. I didn't have very much to do with it. My main contribution was to do a short briefing in a special country team meeting. But I did have to attend a reception at the Ambassador's house. I had a good time there and met lots of interesting people, but it did keep me out late.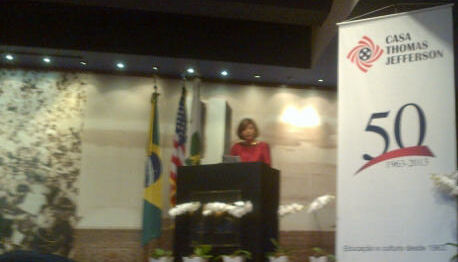 The next day was work as usual, but with another evening event, this one for the 50th Anniversary of Case Thomas Jefferson. I had a good time there too. The people at the Casa are some of our best friends and I got to meet leaders from BNCs all over Brazil. But it was another late night, made later by the taxi situation. The event was held at the JK Memorial, which is evidently far from any taxi stands. I didn't get home until midnight.
Ironically, I need the "time off" to work. I am writing EERs and I really need to write notes about all the important things that we are doing.  W/o notes, I will forget to follow up and much of this work will be lost. I am sitting in the Belo airport now.I like airports.I always get to the airport way early so I never miss a flight but I have lots of time.It is very valuable time, time to stop and think.I have written before about the gift of boredom.I sometimes cannot stop myself so it is good to be stopped by events.
Social events are important in Brazil, maybe more so than in some other places.   This is where we meet people, firm up relationships and get the ideas.  Being there is essential but it is the follow up that is key to happiness in our work.  If you push forward too fast and furious, you outrun your intellectual and organizational supply lines.   This next week I want to devote to the infrastructure of my job.  I need to write to write those EERs, prepare for the inspection and in general order my priorities.
I remember imperfectly something from the Book of the Tao – "Movement overcomes cold but stillness counters heat" and the other one, "Muddy waters left still will clear." I need some stillness to prepare for the next jump.
My pictures are from the CTJ 50th Anniversary celebration. I took them with my mobile phone so they are a little blurry.