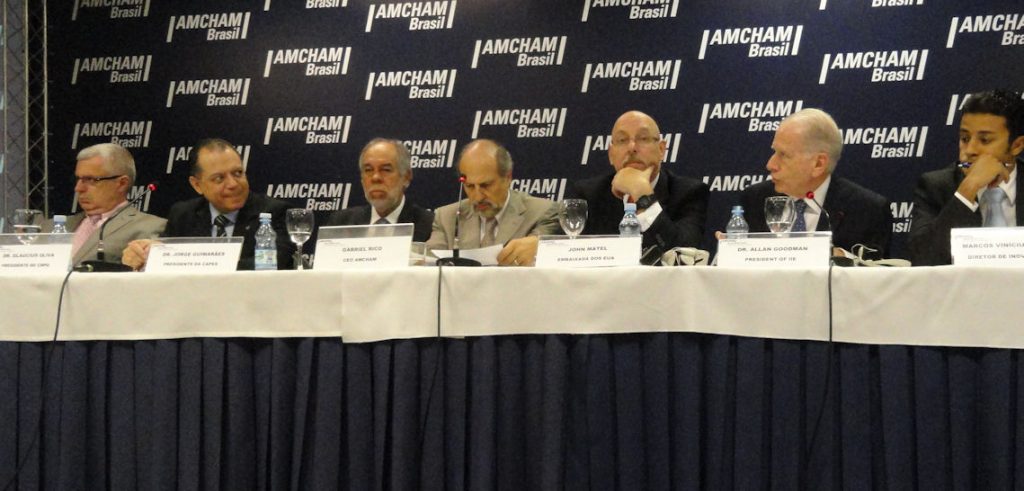 I spoke at an AmCham sponsored meeting in São Paulo that brought together American firms in order to talk about connecting internships at their firms with Science w/o Borders students. Also on the panel were Jorge Guimarães from CAPES, Glaucius Olivia from CNPq, Allen Goodman from IIE, Nelson Fujimoto from MDIC & Luiz Loureiro from Fulbright.
The representatives of the firms (around sixty were there) seemed interested in the internship possibilities. The idea is that they get to test drive the best and the brightest while they are in the U.S. and then they can use them when they come back to Brazil. In talking to them after the meeting, I learned that the major challenges will be logistics and communication. They have some communications/coordination disconnections between U.S. headquarters and their Brazilian operations. Even when everybody agrees, things don't always work perfectly. But the goodwill was there.
Glaucius discussed the successes already manifest in the program. He mentioned the good results of going overseas to learn a generation ago in relation to aerospace, oil & gas and agriculture. He also shared a recently developed program that plots each of the SwB participants on Google Earth. When you click on the point, you are shown information about the student, including resume and interests. This should greatly facilitate the placement of interns, as firms can rapidly identify potential candidates and find contact information.