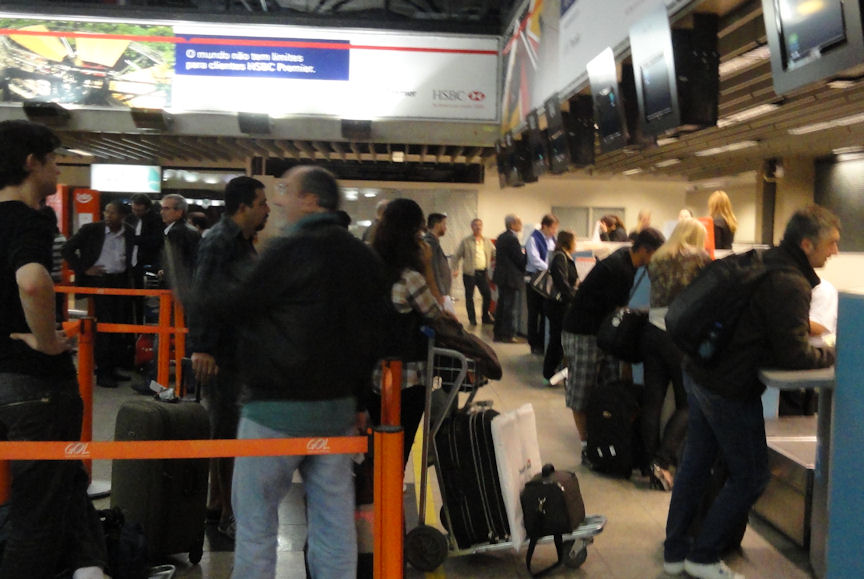 Our flight from Curitiba to Porto Alegre was cancelled because of fog. The next available flight does not leave until after 4pm tomorrow. A-F-T-E-R-FOUR-P-M. The whole day will be lost. So we are looking at taking the bus. It takes 12 hours, which is still not good, but that would get us to POA about noon tomorrow. IF the bus leaves soon.
I don't think the people at GOL airlines are being very helpful. I understand that the cannot get us on the flight. But they also are not letting the bus go until/unless they can fill it. That means we might wait much longer. I think they are being cheap when it would make more sense to be generous. The bus should cost them less than a hotel room for the at least seven people willing to take the bus. I would argue more, but my Portuguese is not up to situations like this. I don't do very well even in English. Nobody does. This is one of those rotten situations. We are just being mistreated by the overall system, but no individual is responsible. The people you might be able to yell at are not the decision-makers. They merely carry the bad news.
I have the feeling I may be sleeping on the floor at the airport. They offer hotel accommodations, but the hotel is evidently some flea-bag about an hour away from the airport. So we would get a two-hour bus ride no matter what and still arrive very late tomorrow.
It is like that movie – "Trains, Planes & Automobiles." I was looking forward to getting to POA today. It will be somewhat familiar and we were staying at the Sheraton. In Curitiba, we stayed at the Ibis, which is not terrible, but not sort of the place I would have stayed as a student. I also had the pleasure of staying on a floor they were painting, so I got the familiar smells of fresh paint and turpentine. Beyond that, I got in late because of a rep event. I am just tired. Travel is generally hard and my days have been tightly scheduled. Now it looks like my night will be too. No matter what happens, I will not get a good night's sleep and it is stressful, even for a calm guy like me who can embrace the suck. The best case scenario is that I get to sit on a bus all night. I have never been on a Brazilian intercity bus, but I don't expect it to be great. My ears hurt. This often happens in stressful situations. I think I tighten my jaw. I don't mean to complain, but things just don't seem very pleasant when you are sitting in the airport with no firm idea when you will get to leave or by what means of transport.
I am posting now from the airport at about midnight not knowing how this will work out. I will write an update later.
Update: at 1230am we got a van. Very tight and uncomfortable. We drove to Florianpolis, got there about 4am. Caught the plane to POA at 640 and got to POA just after 7am. We were tired during the day, but didn't miss any of our scheduled appointments. All is almost well. The usual many cups of coffee provided at all the appointments didn't hurt.
My picture shows the Curitiba airport. It is a little out of focus, like I was.