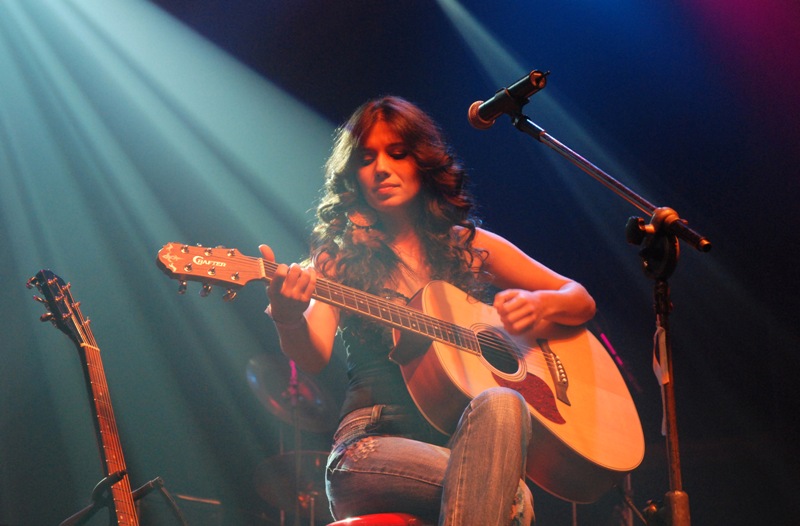 Brazilian TV had an interesting program on the types of guitars in Brazil. Even if you cannot read Portuguese, you can see the pictures of the various types of Brazilian guitars (viola) at this link. There are six major types.
The latest music sensation in Brazil is a variation of Musica Sertaneja, which I talked about in an earlier post.  It is not the type of music that immediately comes to mind when you think of Brazil.  It started off similar to country music; often with duos singing harmony, but it has recently developed into something more like a type of country-rock.   Although it is popular in cities, it is keeping some of its country roots.  At first, Sertaneja singers were mostly men, but now some of the most successful are women, such as Paula Fernandes, whose picture you see above (looks sort of like a younger Emmy Lou Harris.) She is proudly from the State of Minas Gerais.  You can see some of the state and hear her sing at this link. 
You can get a taste of the new Sertaneja at this Brazilian TV program. I don't think you really need to understand all the language. Just look at the people and listen to the music.
It is only a supposition, but I think that the growth of Musica Sertaneja is related to the growth of the lower middle classes in Brazil.  Sertaneja was/is a kind of bottom up phenomenon that comes from the aspiring interior of the country, from the new cities of aspiration such as Cuiabá or Porto Velho, rather than among the establishments of the older cities nearer the coast.  
I listen to the words in the songs. Of course, most of them are the usual mix of lost love and longing, but they often have a meta-theme of going back to simpler life with traditional values. This is often a theme of the upwardly mobile, people who have moved somewhere else to improve their life chances. They know that they are better off now, but they also would like to hang on to some of what they left behind. I think it is the same feelings expresses in the old Bobby Bare song "Detroit City." Bobby Bare is also known for his other hit "Dropkick me Jesus through the Goalposts of Life."
Anyway, Samba and Carnival are not going away, but there is a lot more to Brazil than those things. The new Brazil has a new feeling in many ways and different sounds.