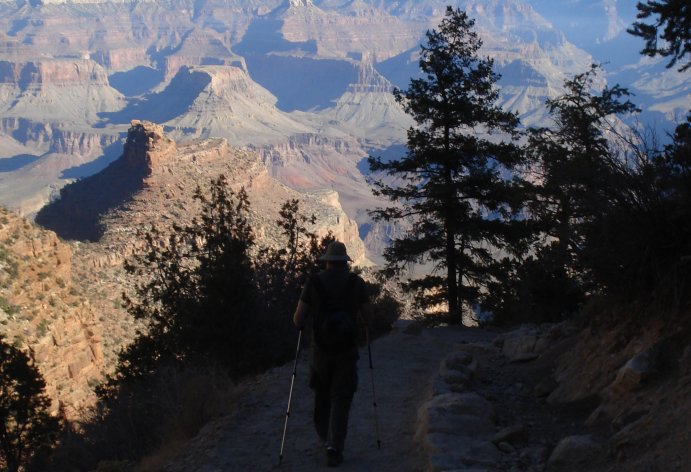 Chrissy and I went down as far as Indian Gardens. This is an oasis on the Bright Angel trail and it is the logical terminus of a day hike for a person in average condition. It took us around three hours to get down but only around two and a half hours to get back up. It doesn't make intuitive sense. I think it is because of all the rocks. I walk gingerly among them going downhill. We also had to get to the side of the path to let hikers pass who were coming up or mule trains coming down. There was less oncoming traffic on the return trip and no mule trains came past.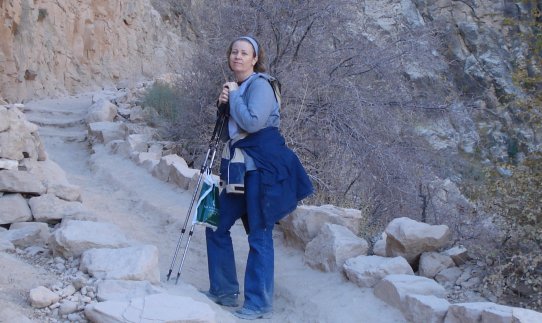 Of course I am not counting the leisurely lunch-break we spent at Indian Gardens. The cottonwoods and willow make very pleasant surroundings. Both are fast-growing adaptive trees but are often unloved because of their weak wood, short lives and susceptibility to wind damage. Of course, it depends on where they are. As long as they are not near houses or roads, they do just fine. Except that they grow in generations, i.e. a lot of them come up the same time and whole clumps grow, live and die together. This is not a problem except during generational change, when the whole clump of cottonwoods begins to die back about the same time.
PS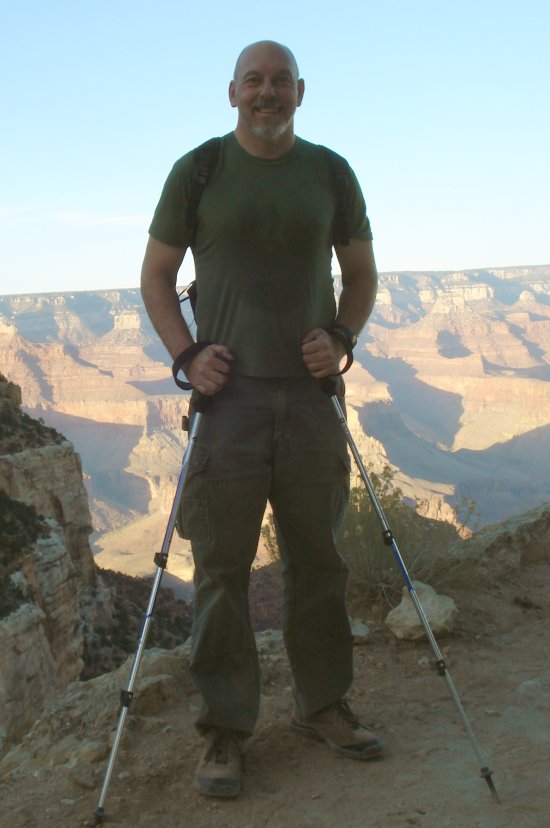 The morning later I my complaining muscles reminded me that I am no longer in the top condition I used to imagine.   The pattern of pain was interesting, more characteristic of overdoing cross country skiing than overdoing ordinary hiking.  I suppose it is because of the poles. 
My legs hurt a lot less than I would have guessed, but my arms, chest and lats are screaming.
I used to cross country ski a lot when we lived in Norway. I am sure I used the poles the way the Norwegians taught me, which is to push off in back of your body instead of leaning forward on the sticks. I recognize the feelings. The good news is the pain confirms that the poles worked. I pulled myself out of the canyon w/o overstraining my legs or knees.
As they say (for different reasons) in "Animal Farm", "Four legs good; too legs bad."
PSPS
The link to my earlier trip down the canyon is at this link.  That time we did it in 117 degree heat and went all the way to the river and back.  That was stupid.  The bottoms of my shoes melted off on the hot rocks. Really. 
This time we had perfect weather. Cool at the top and only warm near Indian Gardens. AND we didn't go all the way down.