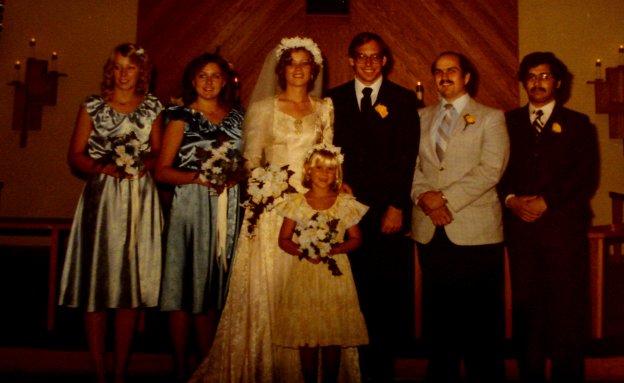 Today is our anniversary. I am not going to share emotional things on the blog, but rather just the memory. Chrissy & I have built a life and a family. It began twenty-seven years ago. I could not have guessed how lucky we would be.
Things were not looking so good in 1982. I had just found out that I couldn't get into the Air Force because of a misdiagnosed ulcer when I was fifteen. In theory, I was still chronically sick, ironic since I was one of the fittest people I knew back then. I had not taken the FS test that would end up getting me the job I have now. It would be two years before I got my MBA. Unemployment was over 10%. I was working for "flexi-force" sometimes. Chrissy had a part time job at First Wisconsin bank, which was a small ray of lights, but we had no assets, no prospects and a negative net worth.
We couldn't afford much for the wedding.  Chrissy wore her mother's dress.  I wore my best (only) suit.   Chrissy's mother and grandmother did most of the planning.   Chrissy was very generous – and wise – to  let it be.   (All those silly ideas that the bride should get all the indulgences she wants just creates lots of heartache and makes even nice women into those bridezillas they show on TV.)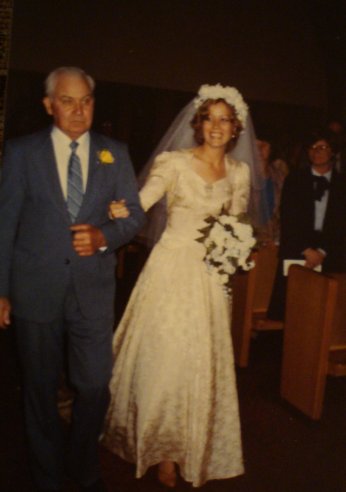 We got married in Holmen Lutheran Church with Pastor Evavold doing the ceremony.  A local singer called Walton Ofstedahl sang for the ceremony. He was an old farmer with a really good voice.   The thing that made it special, however, was how much he loved to sing.  We had the reception at the Moe Coulee game farm. Chrissy's father knew the guy who owed it.  Actually, that was a great place to have a reception.  It was not just a wilderness.  They had a nice cabin with a pretty pond and picnic area and you could watch the animals wandering around.  Chrissy's relatives and her family's friends and neighbors brought things – including the red jello – and helped make the reception very satisfying.  It was sort of thing you might expect Garrison Keillor to talk about on the news from Lake Woebegone.  Of course, before we headed off, Chrissy and I had to pitch in to put away chairs and tables and that also made the experience memorable.
Our honeymoon was at Chrissy's parent's farm in Holmen, Wisconsin. They cleared out for a couple days and left the place to us. These days you might call it "agro-tourism." We just liked it because it was free. I remember the cows mooing waking me up in the pre-dawn twilight. The Johnsons had switched from dairy to beef cows a couple years before, so we didn't have to milk them and there were no other urgent chores. Today we would say they were "free range" cows, but back then it was just that cows hung around in the fields and ate grass during the summer. You really didn't have to do much except move them around to different fields in rotation. That's about all I knew (or know) about that.
Since the cows eat grass and there seemed to be a lot of grass, I guessed that once in the proper pasture they would just look bucolic and take care of themselves, but they evidently like their special hay for breakfast. Chrissy informed me that they don't actually eat grass, or at least that is not their preferred food. They like alfalfa. Cows are more complicated than I thought. Anyway, they complain loudly when they don't get what they want, so at dawn we had to toss a few bales of whatever Chrissy's father prepared for them over the fence. The first morning I learned that hay bales don't fly as far as you think they would when you throw them off the truck. One landed on the barbwire fence and broke it. Cows aren't ferocious or eager to escape and they didn't try to stampede out through the newly created opening, but we had to fix the fence before they aimlessly wandered off.
It is true that anyplace is great when you are with someone you love and things started to improve for us soon after. We were lucky starting off behind the eight ball. You can take more satisfaction in how far you have come, but more importantly you have a lot less fear of failure after you have experienced it. I know that I could live off peanut butter, sauerkraut and potatoes (I still really like those things) if I had to and hard times really aren't so bad if you have a good partner, family and friends. Besides, it is good to get that failure vaccination when you are young and resilient.
Twenty-seven years is half my total life. We can probably do at least twenty-seven more.