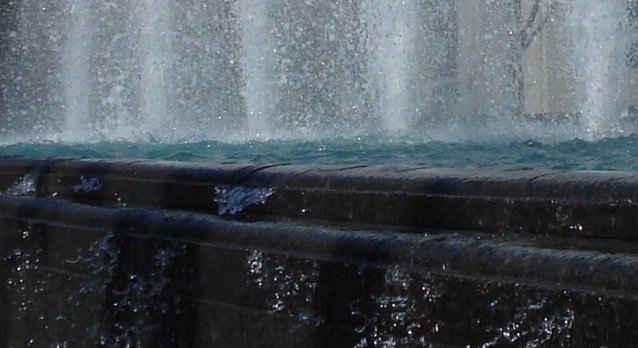 Our Foreign Service evaluation period ends this month and it is time again for all of us to list our myriad achievements in a couple pages of dense prose. I hate that. Coming from my conservative Midwestern background where bragging was discouraged and ridiculed, I am at a significant disadvantage vis-à-vis those who consider pushing oneself forward a pleasure. I have always hated hustlers and hustling. But there is the time for those things.
I have gotten better at it and developed methods and rationalizations that help me through. My best method is to imagine I am writing about someone else. In my job, I often have to "sell" ideas. I make the self-promotion exercise just another job like that. I have never lied or even exaggerated in any of my assessments, but it is amazing how different achievements can seem when put in context or surrounded by the right words and phrases. And I guess I have done all right in the promotion game, despite all the gnashing of teeth.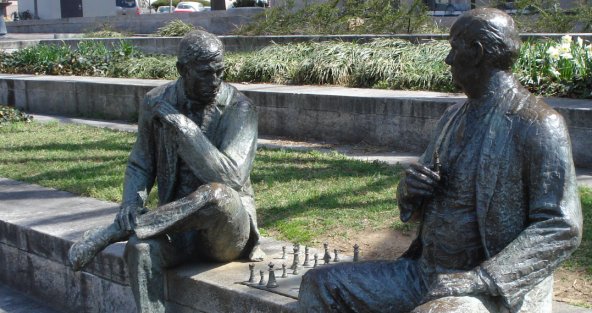 If you stayed in the Foreign Service for 200 years, things would even out and you would probably end up more-or-less where you deserve, but in the course of a 20 year career there can be lots of random events that affect your success. I know very capable colleagues who suffered some kind of career downdraft through little or no fault of their own and forever stalled at mid-level and there are a happy few who have risen to very high ranks on the strength of some random occurrence or lucky break. Of course, some people can't get ahead no matter what breaks they get, but chance matters too.
Good or bad luck can affect whole generations, so you have to compare people to their peers. During the middle 1990s, it was very hard even for good people to get promoted because they were cutting the FS. It is easier now when we are expanding hiring. I read in a biography of Eisenhower that he despaired of ever getting another promotion back in the late 1930s. But it worked out for him. His became "the class the stars fell on" (the class of 1915 produced 59 generals out of 164 graduates, not bad) when WWII expanded the army. Eisenhower, Bradley, Marshall, Nimitz, Halsey etc were able men and they were successful, but had the war come five years later we would have had a whole different set of five-star leaders. Colonel Eisenhower might have found himself called out of retirement to run a training program, but the crusade in Europe would have had a different champion. "There is a tide in the affairs of men …"
Below is a statue of Gen John Pershing, General of the Armies, the only man to attain that rank during his own lifetime. Later Congress passed a law stipulating that no American ever had or could outrank George Washington.
Losers blame their circumstances, and they are right just enough to keep the idea plausible. With the caveat of comparison mentioned above, promotions are correlated to actual merit, but certainly not perfectly correlated. There is a statistical quality to them, which is not always fair or right, but in the long term and for the most part you can understand what happened.
Some people have opportunities dropped in their laps; others have to work hard to find them. You do need opportunity to shine, but what you do with it makes all the difference. The FS is a very good laboratory for achievement because we have such a variety of jobs and we move among them. Even though we are all similar in background, and the FS test ensures that we are all smart in the academic sense, you can really see the difference people can make in positions. Posts and positions may suddenly become important and effective just because a new person has come in. The reverse is also true.
In my observation, chronic underperformers are those that avoid responsibility and refuse to make consequent decisions. It has to do with that opportunity thing I mentioned above. In choosing mediocrity, they cannot be blamed for failure, but they also never have the opportunity to succeed. In a knowledge organization like the FS, the preferred method to avoid responsibly is to over analyize every situation and then spread risk by involving lots of marginal participants in your decision making. I don't think that most of those doing this really understand the implicit choices they are making. They think they are being prudent and honestly don't understand why their list of achievements pales next to those of their "crazier" and "less hard working" colleagues.
I have real trouble understanding how I achieved the success that I have enjoyed and I cannot believe that I deserve it. This doubt is not a malady I suffer alone. I find that most successful people who are honest and self-aware fear that they are frauds whose mistakes and faults will someday be embarrassingly revealed. This is a useful attitude. It keeps us more humble and stimulates a desire for continuous correction and improvement. I pity the fools who believe they have no serious faults left to correct. But self-doubt can result in the risk-avoiding mediocrity I mention above and you have to be careful not to be overly influenced humility and self-doubt at evaluation time. Evaluations are comparisons. In this universe of imperfect people, where do you stand in relation to others? Nobody is perfect and the ostensible quest for perfection is another way people avoid responsibly to make choices. If we disqualify ourselves based on the faults & fears we know we suffer, all we do is allow the more dishonest or self-deceiving people among us to prosper and rule … and those are not the kinds of people you want running the show.
It is not only your right, but your proactive duty to ensure that you can make a contribution commensurate with your capacity. That means we have to engage in what I would call bragging at evaluation time. Unfortunately, evaluations are like a race run in the fog, where you might have to judge the winners by who is bragging the loudest because the actual finish was unclear.
The arguments we make for ourselves should be honest, but well crafted. We can share credit and take credit for common efforts at the same time. It is not a virtue to allow your achievements to be hidden or ignored, since that means that your ability to do more will be curtailed and it is likely that a less competent but more confined guy will take your place. In my circumstances, getting promoted really doesn't mean making much more money, since our pay is capped. It does mean having the opportunity to do more useful and interesting things before they kick me out (we have an up-or-out system).
Anyway, those are the things I am telling myself as I embark on my creative writing exercise.
We get to write our own first page on our evaluation forms and tell the promotion boards why we are worthy. I will imagine that I am writing for somebody else and give that guy the benefit of all doubts. I have some interesting narratives this year and I suppose I can spin some gold out of that common straw.