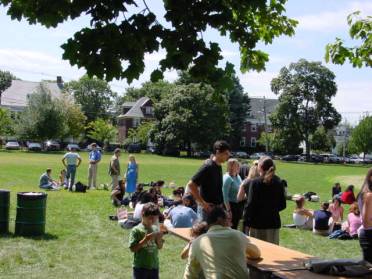 I went to the big orientation, although most of it does not apply to me. My status is different. Officially, I am faculty. I have a shabby office and can park in the faculty lot. I can audit classes, but not take them for credit unless I pay the big money tuition. This is fine with me. I perceive that some of the classes would be very hard for me. My fellow students look like a high achieving bunch. The average age is 27 and I think I am the oldest person in the group. Fletcher treated us to a picnic lunch. Everything was fine, except there was no Coca-Cola.
I am looking forward to the year ahead.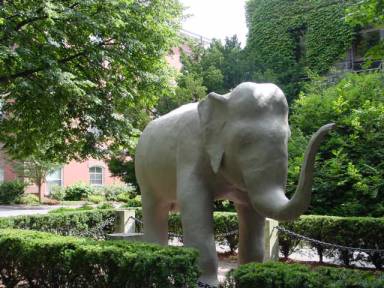 This is a replica of "Jumbo". The famous circus promoted PT Barnum was a benefactor of Tufts (who knew?) He donated money to university and donated his famous elephant, Jumbo, to the university. Actually he donated the hide and bones after an oncoming train hit the mighty beast in 1885. The keeper was leading jumbo and Tom Thumb, a dwarf elephant, across the train. According to the story, Jumbo heroically pushed Tom Thumb out of harms way. A stuffed Jumbo remained in the school's museum until it was destroyed by fire in 1975. Only Jumbo's tail remains. It is kept in a jar.
The Fletcher School is located in the middle of the Tufts campus. My office is in the building. Tufts looked a lot like Mariza's Mary Washington. It is the one blueprint for all those types of colleges. Below are more pictures. I like the big beech tree featured below.