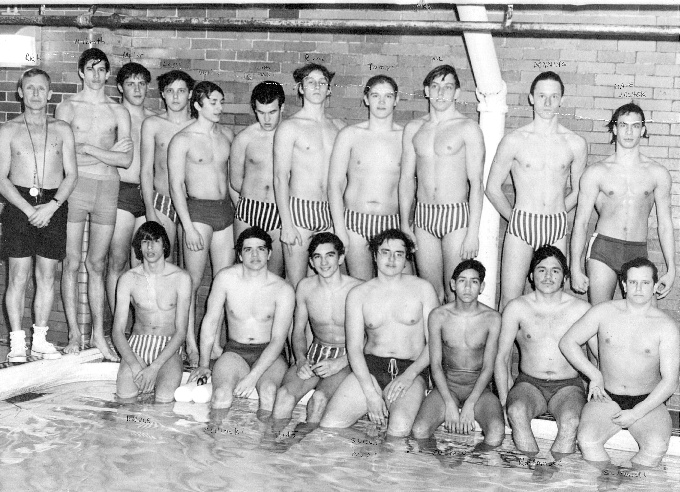 Have you participated in any competitions? How did you do?
It is not too much to say that swim team was what I cared most about at Bay View HS. It ordered my life.  I was a good natural swimmer and swam varsity my first year. This was unusual.  Not that good. I did not get a major letter my first year.  But I was good enough that I could cherish reasonable aspirations.
The reason I swam varsity was that we had a meet at an eight-lane pool.  That meant the junior varsity (me) got to be in the same pool as the varsity.  I swam 400-Freestyle for the first time. To my surprise and that of everybody else, I came I second.  One of the guys from the other team won the race, but I came in ahead of everybody else, including our two varsity swimmers.   This outcome did not delight my varsity teammates.  Our lead swimmer for the 400-Free was a guy called Rutowski.  He was good looking and extroverted, inordinately proud of his wash-board abs and incredulous that a skinny wimp like me could come in ahead.  The varsity coach, a guy called Czarapata (yes lots of odd names) had never much noticed me.
The consensus was that I was just lucky Swimming is not a sport where luck plays a big role, but every sport, every human activity, has a social dimension.  I stayed on the Junior Varsity for a couple more meets, but as my times were faster than those of the "starters" the coach finally displaced one of them and swam varsity but remained JV. That is why I did not get that major letter.
Rise of the Machine
In all fairness, it was easy to miss me in the crowded practice pool.  I was introverted, so I did not push myself forward. I had a clumsy and thrashing form while swimming.  We did not have swim-offs.  Rather the coaches assigned you to a race based on their judgement of your potential.  My first assignment had been the 100-butterfly.  I never learned to do that stroke well, so I usually came in 4th in a field of four.  I guess I had done so poorly that they stuck me into 400-free, which was not a popular distance.  In the meet mentioned above, I had never swum that fast before over that distance, but I just kept on going because I wanted to keep up with the faster guys.  My teammates gave me the nickname "the machine" because of my persistence.  I was proud of that.
The beauty of not knowing the challenges
My times were improving fast. Since I did not understand math very well and never heard of the law of diminishing returns, I determined that I should get the school record in 400-free.  It was an old record; as I recall from 1953.   I figured I could knock it off within a couple years.  Ignorance is bliss.
This would not happen w/o effort. This I did understand.  So I went to library and got a book called "The Science of Swimming" by a guy called James Counsilman. Coach Czarapata talked about this book.  The coach did not notice me, but I listened to him.  I read the book very carefully and made up a plan that included off-season swimming and weight lifting.   I lifted weights every day for the next three years, taking off only when I was preparing for a meet or seriously ill.  I did endurance even days, 300 reps, and strength on odd days.  It worked.  When I came back to swim practice the next year, I was much more muscular and much faster the first time out.  Coach Czarapata noticed me.
Tragedy
I woulda, coulda, shoulda got the school record that year, but I had a serious problem.  I coughed up blood and the doctor said it was an ulcer. He said I should not do so much as a pushup if I wanted to get better. I think it was a misdiagnosis, since I never had an incident since.  The diagnosis did, however, keep me from joining the Airforce ten years later and stopped me from swimming during the crucial time in my second year.  I recovered after a few weeks, too late to make a good season.  It was the biggest tragedy in my young life, I thought.
I worked out even harder after.  During that summer of 1972, I went swimming every non-raining morning at Kosciuszko Park swimming pool.  It would have been a perfect summer, followed by a winning season, but my mother died.  Now THAT was the biggest tragedy of my young life.  My mother had been very proud of my swimming success.  I thought I should carry on and I did.  Only in hindsight do I see the profound effect that had on me, but that is another story.
The best year ever
The swim season went well, the best Bay View had done for a long time, maybe forever. We won ALL our dual meets that year and I won all my dual meet races, except one, and this is ironic.  We had a meet with Marquette University HS, not one of our usual public-school competitors.  They had a really fast guy in the 200-free and 400-free.  They said I could not beat him, and they were right.  It was in my home pool and I tried hard to get ahead and then just keep up, but he was faster.  So, I was surprised when my teammates seemed happy and congratulated me when I – defeated – pulled myself out of the water.  I beat the Bay View school record, even if this guy now held the pool record.
I never did better.  In the Milwaukee city tournament, I missed my first flip turn and ended up in third place.  I have always referred to that as my "Freudian flip," since it gave me an excuse to lose.  There was never question about doing well in Wisconsin state meets.  Milwaukee boys never won. We were not good enough.  Kids in the suburbs were on teams since they were little kids.  We started competition when we were in 10th grade. We never caught up.
There is small compensation that my swim record was never bested.  A few years later, the swim competition went to 500-free.  The first person to swim that won the record, but he did not beat me.
Sic transit gloria mundi
My swim team experience was a passing but very important part of my life.  It kept me out of trouble in HS. I was so concerned with my training that I never drank booze, smoked or took drugs.  I became interested in improving my diet and I learned how to set achievable goals. Nothing I learned in HS was as crucial to my future as was the swim team.   I got the record in the 400-free, shared the record in the 400-free relay and was co-captain.  Not too bad. But after a few years, it didn't really matter if I won or lost.  Sic transit gloria mundi.
A son's need for his father's approval
My father was less interested than my mother in my swimming. He thought sports were a little … dumb.  But he did come meets twice.  He came to the city relays and to the city championship.  I like to think he was proud of me, but his comment was interesting.  In the city relays, we swam against Boys' Tech. They were the perpetual champions, since they literally had twice as many boys as anybody else – a bigger field to choose from.  I was the third leg in the 400-free relay.  We were behind when I jumped in. I caught up and passed the Boys' Tech swimmer.  Although we lost in the last leg (they had a great guy), for a brief shining moment it looked like somebody would beat Boys' Tech.  All the other teams were cheering for us.  As I got out of the water, I was mobbed by joyous teammates and members of other teams. I still recall the elation.  When I met my father after the meet, he said simply, "You did okay.  I didn't know you could swim like that."