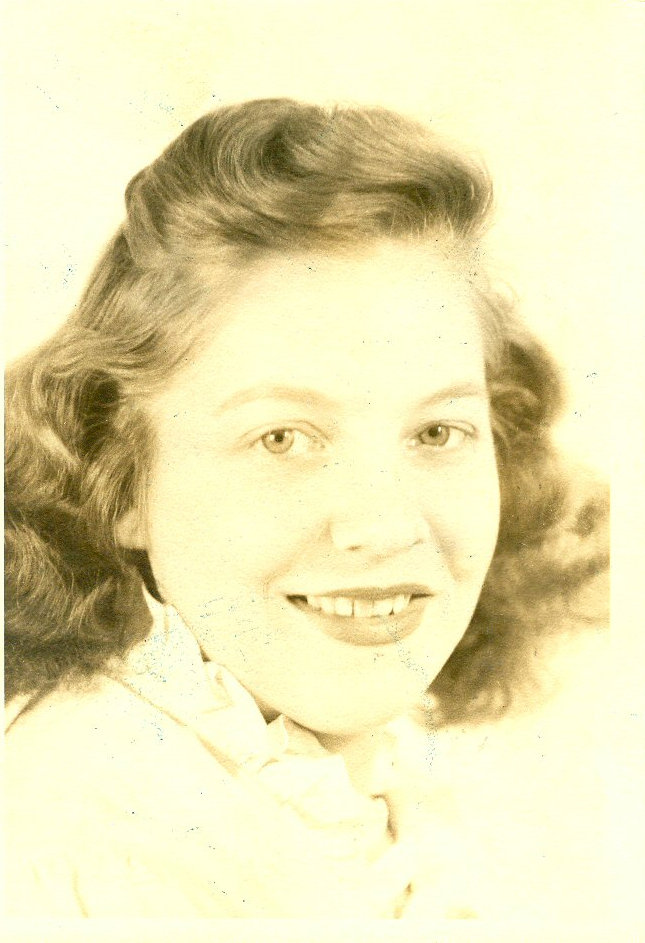 My mother was born on this day in 1923.
I never got to know my mother after I was an adult. She died when I was seventeen. So my memories are seen through the eyes of a child or at best a teenager. The one thing that I remember very clearly was that I was always sure that she loved me. Everything else is less important after that and I know that she shaped a lot of my character.
Our house was the center of family activity while my mother was there. She had three sisters (Mabel, Florence & Lorraine) and two brothers (Harold & Hermann) and we had much of the extended family, minus Harold, who I don't remember ever meeting. The family didn't get along with his wife, Sophie. I don't know why. All the other aunts and cousins would come over to play cards. Usually the cousin would come too, so while I had only one sister, I feel like I had lots of siblings. I really don't know what card games they played. I just recall the constant chatter of a kind of mixed German-English. "Wat's spielt is spielt" and "now who's the high hund?"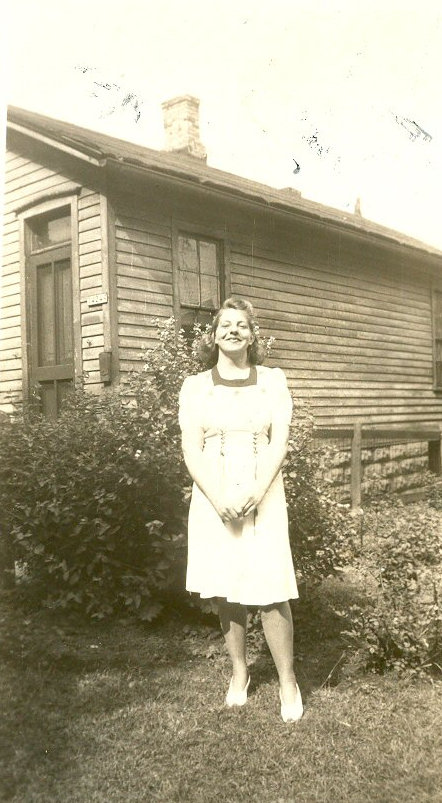 As I wrote above, I didn't get to know my mother as much as I would have liked to and I am astonished at how much I don't remember or maybe never knew. Kids are rarely interested in their parents' life stories until they get older, maybe because they just cannot believe their parents were ever young enough to have anything interesting to say. Besides, kids in my generation spent most of their time outside and away from the house. Parents and children have much more intense relationships these days, if for no other reason than that they are together when parents drive the kids everywhere and arrange various teams, trainings and activities. We didn't have a car and we didn't belong to any organized activities. I spent most of my days hanging around outside with my friends who lived nearby and I didn't ask much.
I know she was born Virginia Johanna Haase (Mariza has her middle name). Her father was Emil and her mother was Anna (Grosskreutz). She grew up on the South Side of Milwaukee and married my father after the war, as they always called World War II. Of her childhood, I know little. Her father was an engineer who remained employed throughout the Great Depression, evidently a rare achievement. My father's family was less fortunate.

Virginia was an unenthusiastic student in HS and dropped out of Bay View HS (same place I later went) in the tenth grade, but she always encouraged education for my sister and me. She worked at Allen Bradley during WWII but not long enough to get Social Security benefits. After she married my father, she no longer did any paying work, besides occasionally free-lance catering with her sisters. My mother made really good German potato salad, which was always in demand at family gatherings.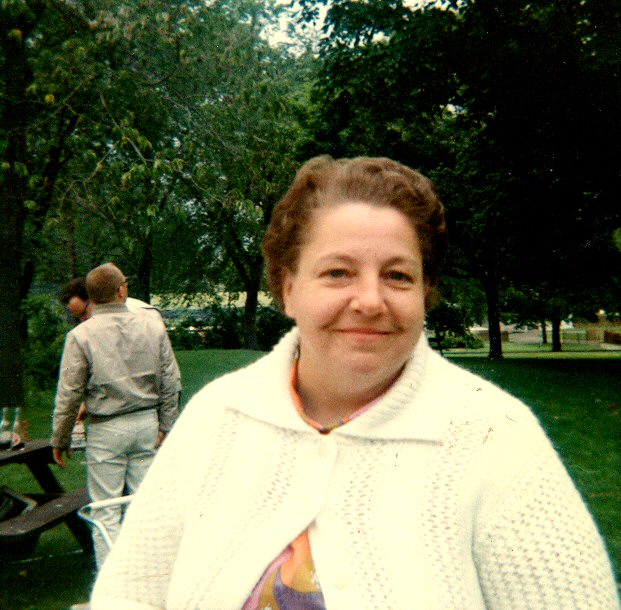 Virginia Haase was phenomenally good-natured and I remember her always cheerful. My father told me that he was lucky to get my mother to marry him, since she was extremely popular because of her open personality. She later became a woman of substance, as you can see in the bottom picture. My father was fond of big women, so I guess they had a good thing going.
My father enjoyed beer every day, but Ma drank only a little and only once a year at Christmas. She had one bottle of Gordon's Gin in the downstairs refrigerator. She had a drink at Christmas and that bottle was down there as long as I remember, only gradually emptying. It was still half full when she died.
Sad to say that my most vivid memories come from the end of my mother's life. I was riding my bike up to the Kettle Moraine State Forest when my mother went into the hospital for the last time. It was a big trip that I had planned for a long time. My parents kept my mother's urgent condition from me so as not to ruin my camping trip. When I called from the pay phone at Mauthe Lake, my father told me that ma was sleeping. I thought that odd. She always wanted to talk to me, but didn't think that much about it. When I got home she had gone to the hospital. I never saw her again.
We talked on the phone, but my mother didn't want us to visit her in the hospital during the last days. I feel guilty about that still, but it was a good decision. She wanted us to remember her from better times and I do indeed remember her healthy and happy instead of what I imagine it must have been after the chemotherapy and ravages of cancer.
My father got a call from the hospital about dawn on the day before my mother died. I heard him talking on the phone and inferred what was happening, but didn't come out of my room when he went to the hospital. We didn't handle the whole thing very well, but in retrospect I am not sure how it would have worked out any better if we did things differently. I lived in dread the whole day, but she didn't die that day. I know it is illogical but I convinced myself that she would be out of the woods if she only survived the day, that one more day.
But miracles happen only on television & in the movies.
They cut down the last of the big elm trees soon after Ma died. I thought it was symbolic and I paid special attention. She loved those trees and felt bad as they succumbed one-after-another to the Dutch elm disease until there was only one left standing. The tree by the alley was the last survivor near the house, and Ma was happy to have at least one left. It was in its yellow fall colors as I watched it fall to the ground. It was a pleasant fall day with wispy clouds.
I don't want to end on this sorrowful note because that is not the end of the story. Among many other things, my mother left me a special legacy. Ma followed my various interests and encouraged them. All I needed to do was mention an interest and soon a book appeared.
I thank my mother for all the books on dinosaurs, ecology and history. Even more important, she gave me the gift of reading itself. A well organized or impressive child I was not, but my mother had confidence in me anyway in a way that only a loving mother can.
My first grade teacher put me into the slow reading group and I lived up to her low expectations of me. My mother complained to the school, essentially arguing that I was not as dumb as I seemed and my problem was not that the reading challenge was too great, but that it was not great enough to hold my interest. She convinced my teacher to put me into a higher reading group. Although I couldn't meet the lower standards, I could exceed the higher ones with Ma's help. She made flash cards and we studied not only the day's lesson but also anticipated the next one.
Being able to do more but not less – this kind of paradox is not uncommon. I wonder how many kids w/o mothers as good as mine were/are trapped by the gentle cruelty of low expectations. Ma saved me from all that. She just expected me to succeed. I did, by my standards at least.
Thanks Ma. Without you, I would be nothing. I wish you could have met the grandchildren. They would have loved you. It has been decades since we talked. Memory fades, but I have not forgotten that I was so very lucky to have you there for me.