The National Building Museum is sponsoring a series of lectures by architects and engineers doing innovative building with wood, specifically with cross laminated timber (CLT).  This goes with their Timber City exhibit showing wood as the once and future building material. I attended on a lecture by Architect Andrew Waugh, who talked about using cross laminated timber and his Murray Grove project (once the world's tallest modern timber residential building) back in September. Last night, I went to a lecture by Susan Jones on "Material Driven Expressions in Timber."
Wood: great for building and the environment
Ms. Jones started her lecture by talking about the timber that goes into timber construction. She pointed out that wood is not only a great building material but also a great material from the ecological point of view. Wood is the most ecologically appropriate construction material. It is a building material that is grown, not manufactured. As it grows, it takes carbon from the air and provides beauty, protection for water and soils and a habitat for wildlife. Compare a forest to a cement manufacturing plant or a steel mill and you will see what I am talking about.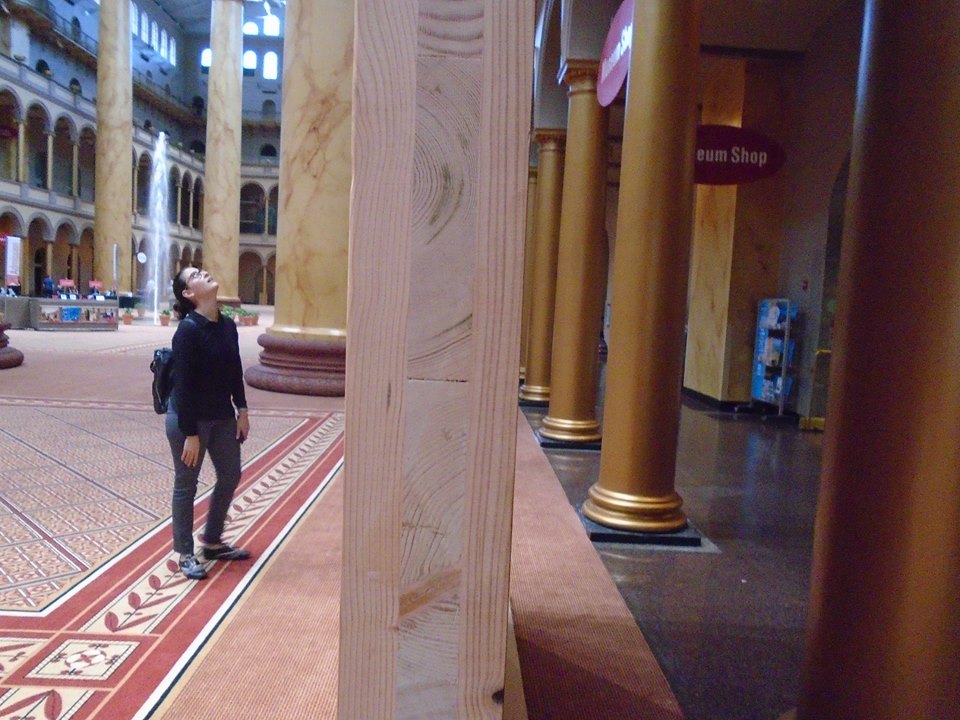 We live on a timber rich continent and Virginia is a timber rich state. We should use this renewable resource more. 
Jones pointed out that the relatively new construction with cross laminated timber borrows a lot from construction with concrete and the "Dom-Ino" houses advocated by the famed modern architect Le Corbusier. These were simple houses that took advantage of the capacity of reinforced concrete and steel to span large spaces. This allowed an open floor plan, since there were fewer load-bearing walls. This was not possible with wood until cross laminated timber, which provide strength in both compression and tension, i.e. it can bear significant weight pushing down and can span significant space without bending or breaking.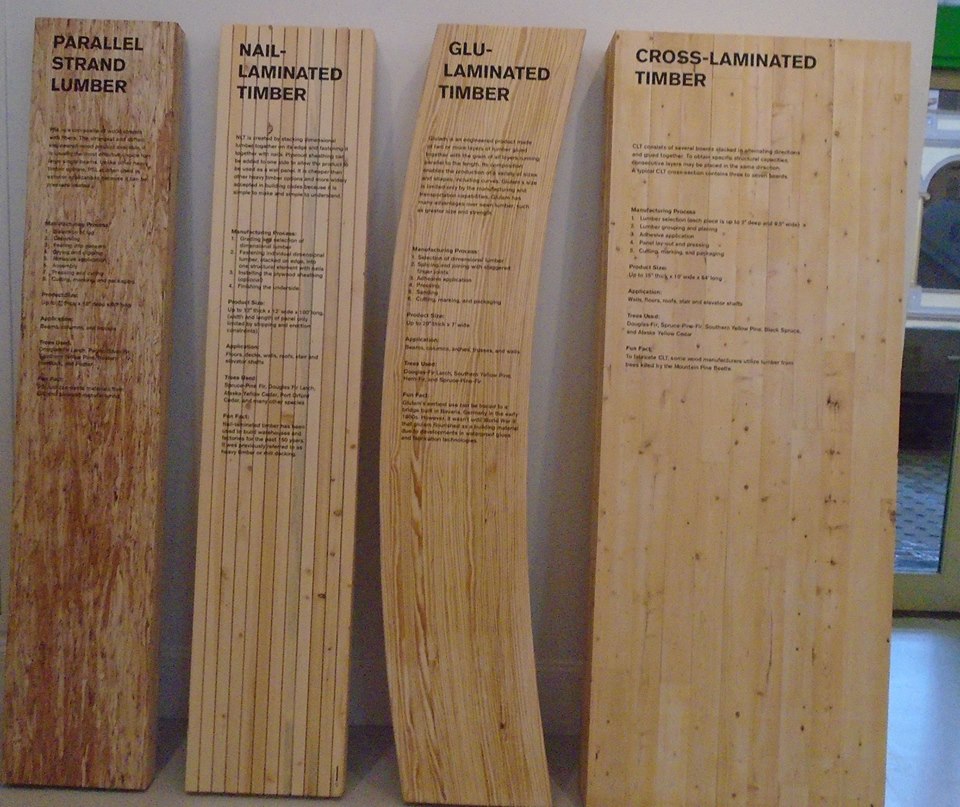 New opportunities with cross laminated timber
A big advantage of CLT is that it can be cut to order and assembled quickly. Since it is light weight and flexible, it can be used in various ways not possible with other building materials. Jones built her own home with CLT. She showed photos. It is good to know that she walks the walk as well as talks the talk. Living in what you advocate is the ultimate testimonial.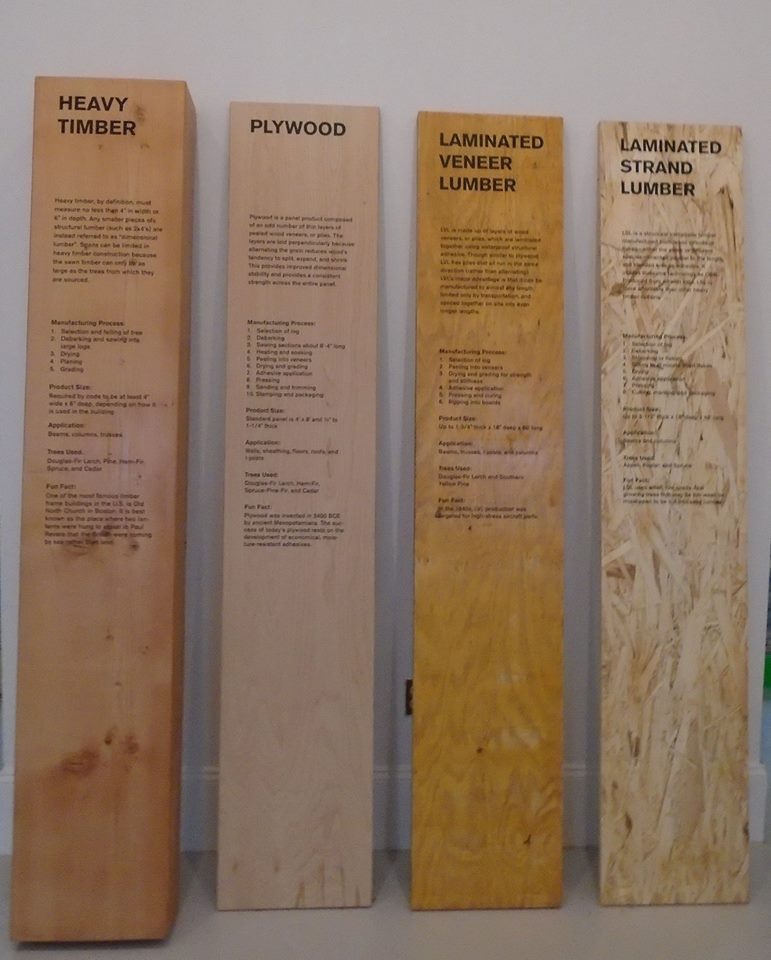 Jones says that architects should be advocates for ecologically more benign construction materials, such as wood. The challenge is cost and codes. Cost will not remain a problem for long. Construction using CLT is already cost competitive with concrete and steel and prices are coming down. A bigger problem is availability.  CLT has been used in Europe since the 1990s and they manufacture it there. In the U.S., there are only two firms making CLT: D.R. Johnson, a firm in Riddle, Oregon, is making CLT out of local Douglas fir and Smartlam in Montana was first in the U.S. to make CLT. These are far from the East Coast.  It is costly to move and we need local sources.
How about a CLT plant in Virginia?
We need a CLT manufacture in Virginia. We grow lots of southern pine and researchers at Virginia Tech has shown that yellow poplar, which grows in glorious perfusion in our Blue Ridge Mountains, can also be used for CLT.  But this is another story, an aspiration that I hope will soon become a reality.
We need more science and testing to show how CLT can be used and how it can be used safely. Currently, most building codes do not allow building in wood of more than six stories. This made sense in the old days but maybe not more. Wood indeed burns, but it does not burn rapidly unless there is kindling. Try starting a log on fire with a match. It forms a char layer and does not easily burn. Recall that at high heat concrete does not burn, but it crumbles and steel bends. Mass timber can provide similar fire resistance and with a few modifications, such a gypsum skin, can do even better.
Wood is the once and future building material
I look forward to wood taking its place in tall buildings and in beautiful architecture.  Talented architects like Susan Jones are leading the way.