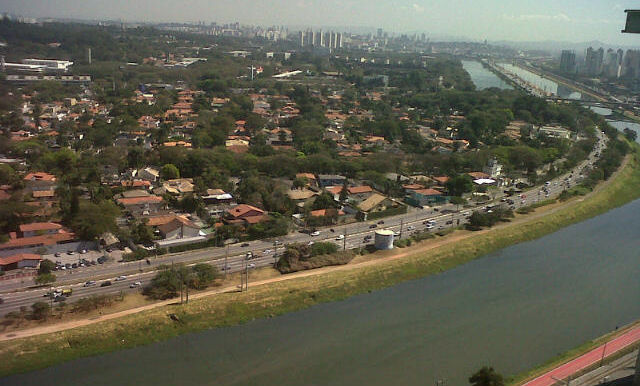 It would be possible, in theory at least, to attend four or five outside appointments a day in Brasília. This would never be possible in São Paulo because of the traffic. During the workday, it is impossible to get from the Consulate to almost anywhere in less than an hour. Worse yet, travel is unreliable. You cannot be sure how much time it will take, so you have to allocate lots more time for every movement.
Perpetually jammed traffic is a serious impediment to doing business in São Paulo. I have read that it affects businesses and I can see how it affects our operations. I don't have a solution; nobody does. I think we can mitigate the pernicious effects by planning to concentrate appointments in particular parts of town. This is not always an option, of course.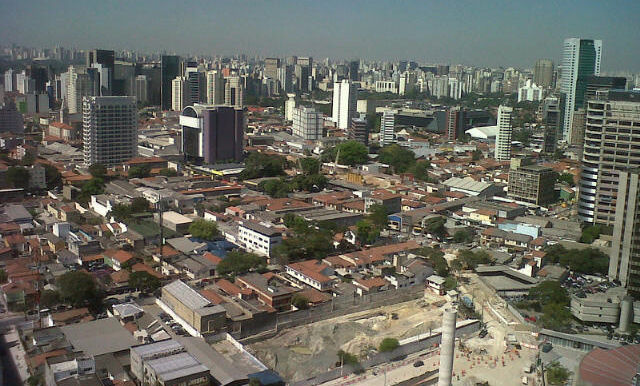 I can see how the traffic patterns could create biases. If I were here, I think I would favor places and people who were easier to access, simply because the cost of serving them is so much lower. I am not sure how bad this would be. After all, we have lots more opportunities for contact than we can satisfy. Why spend two hours in traffic to accomplish the same things you could do by spending a half hour. It is frightfully expensive to be tied up in traffic. If you just figure the price of the car and driver at about what it would cost to sit in a taxi, you are looking at around $75 in this alone. Of course, our cars and drivers may cost more. And we need to use the cars and drivers sometimes to guarantee connections. I also suppose if we only took taxis it would eventually become a kind of security risk. But the bigger cost is our time. When you figure in all the direct labor and indirect upkeep costs, I bet an hour in traffic costs the government a lot more than $1000 an hour, significantly more if there are a few people in the car.
Of course, we have to be in São Paulo and we have to work in São Paulo, but we have to consider the constraints. Because of the traffic, I would guess that it would take five people to do the same work that four might be able to do elsewhere, assuming equal ability and effort. Of course, São Paulo has the advantage of proximity to lots of university, firms etc. I am not sure who the advantages and the disadvantage balance out. There are lots of new buildings going up, so evidently many think the balance is on the side of staying.
In São Paulo, you certainly need to plan your logistical day more precisely. I thought about staggered work hours, but there seems to be no time during a reasonable workday that the traffic is significantly lighter. Of course, that might help with commutes, but would not address the central problem of fighting traffic to get to appointments during the work day.
Speaking of my own temporary São Paulo commute, I did find a better way to get from the hotel to the consulate; it saved me at least twenty minutes and usually around R$15 too. Taxis are allowed drive in the bus lanes along some of the major streets. If you travel along Av Nove de Julho (July 9 Avenue, named for the day in 1932 when the Paulistas rose the "Constitutionalist Revolution" in revolt against Getúlio Vargas) from the hotel, you bypass traffic and get to the consulate faster. In theory it is a big longer and at slower speed, but in fact it is much better. One of the taxi drivers explained it to me and I explained it other taxi drivers less familiar with the route. It is good to know a little about where you are going.
One more taxi story. You learn a lot talking to taxi drivers. I was talking to a driver who, even though I explained São Paulo roads to him, recognized that I was a foreigner, tipped off by my outrageous accent. After he found out that I was American, we went through the usual small talk about roads in America and Brazil and how Brazil has become a much better place. But he also asked about education. He was unaware of the Science w/o Borders program and when I explained, he asked if I could help his son, who was in his second year in engineering. I could not help. I told him that SwB was something Brazilians could be proud about, since it was entirely a Brazilian initiative. We were trying to help as best we could, I told him, but he could go to his own government. They were accepting just about everybody who was qualified. He promised to tell his son. He was only a little concerned that his son might be sent to a country not the U.S. He had great confidence in the U.S.; in others, not so much. I assured him that our friends in UK, Canada, Australia and others offer excellent opportunities too, but, of course, if you can go to the U.S. that should always be the first choice. It is good to know that the cab driver has a son in university. I am not sure we would have found that twenty years ago. He wasn't sure his son's English was good enough, but that is another longs & sad story.
My pictures are just of SP, not the traffic.