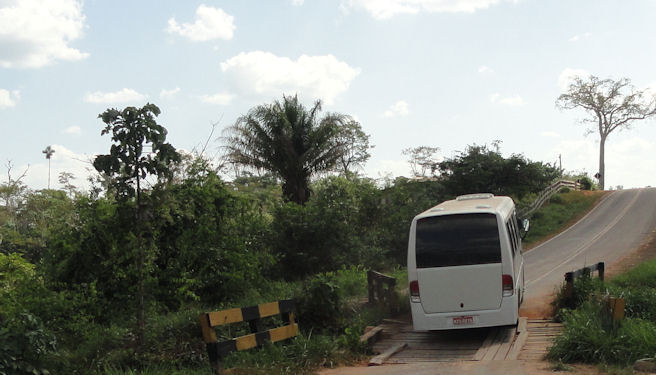 We stopped off at a school called Nova Eperança or "New Hope" located in the town of the same name. The school building is only a few months old and it houses kids of all ages. You can see the village below. It is cute. The picture takes in most of the village, BTW. The school serves the surrounding rural area. The teachers were enthusiastic to meet us. I made a few comments referring to Science w/o Borders and the Youth Ambassador program.
We had along with us Philippe Storch, one of the 2011 Youth Ambassadors. You see him in the picture below helping perhaps a future Youth Ambassador move a bench, The students were interested in him, since he was a local boy made good. He told them that any one of them could also become a Youth Ambassador if they studied hard. This is technically true, but long odds. I suppose that the odds are better in Acre than most other states. We choose at least one Youth Ambassador from each state, so in sparsely populated Acre you have a better chance than in crowded São Paulo with more than 40 million.
The enthusiasm in the school was palpable. The principal told me that he made a special and public gesture by enrolling his own daughter to show his confidence in the public schools. I didn't ask and he didn't say, but I am not sure there are many options nearby anyway. If you look at the picture of the bus and the bridge, you notice that road is not exactly suitable for lots of traffic. This is the place at the end of the world. The kids recited a poem about their school. It was something we might have seen back in the U.S. in a century ago, a little corny and old fashioned but nice. The kids and their parents of this little town have seen improvements in their lives and they have learned to expect better. I think they will get it.