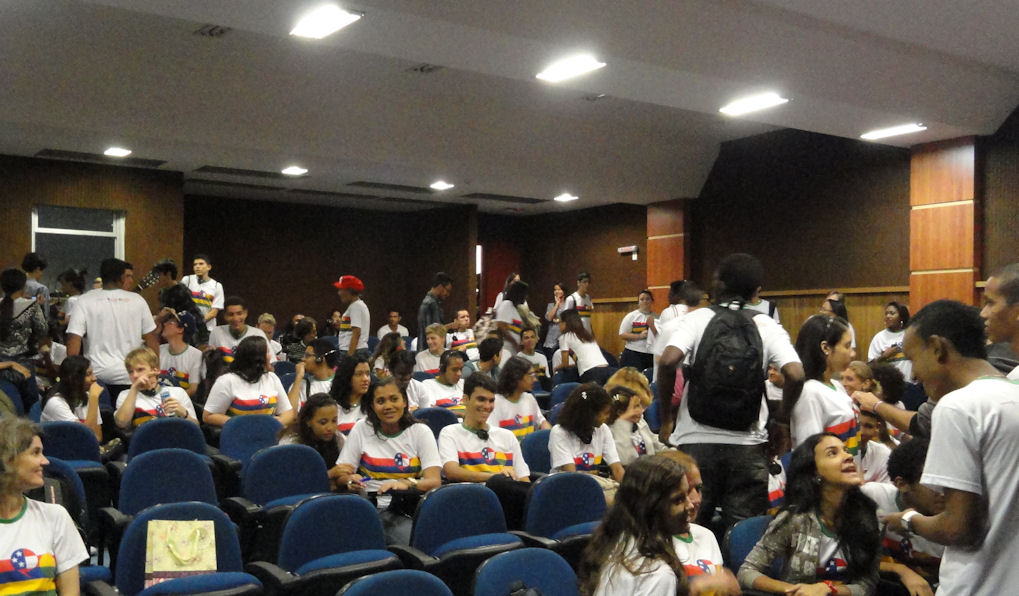 This entry is a little out of order – We are in Salvador to meet American students from Houston Community College. They came to Brazil to work with Brazilian partners. The connection is bigger and more promising than I thought.   U.S. –Brazil Connect, which I mentioned on earlier occasions, established a working relationship with SESI in Salvador, Bahia.  The first act in this new friendship was to send 20 students from the respective community colleges to SESI in Salvador to coach English. I use the word coach instead of teach because these are not English teachers per se, but rather coaches to a small group of Brazilians. 
Each American had a group of ten Brazilians. They made contact via Facebook before coming to Brazil, so they were cyber buddies before meeting in person. IMO, this is a superb use of the electronic- human relationship. They were able to make many of the preliminary introductions and exchange online, but then the cemented the cyber relationship with actual human contact.
The Americans spent four weeks in Salvador. I attended the closing ceremony and it was clear that the groups had bonded. Several of the kids told me that this was the best experience of their lives. We can discount a little because of youthful enthusiasm, but they were clearly moved. Other comments were about meeting Americans and changing their points of view. They all hope to remain in touch and with the wonders of Internet this may be more than an empty aspiration. This truly is the kind of people-to-people exchanges we want to make happen.
We can facilitate these exchanges and they are getting bigger. While at the meetings at SESI Salvador, I met representatives from SESIs in Minas Gerais, Santa Catarina & Rio de Janeiro, who have agreed to expand the program to their states. Pernambuco and Alagoas are also in. This will expand the number of participating states to six, which will mean 120 Americans will be coaching 1200 Brazilians. This is something big.