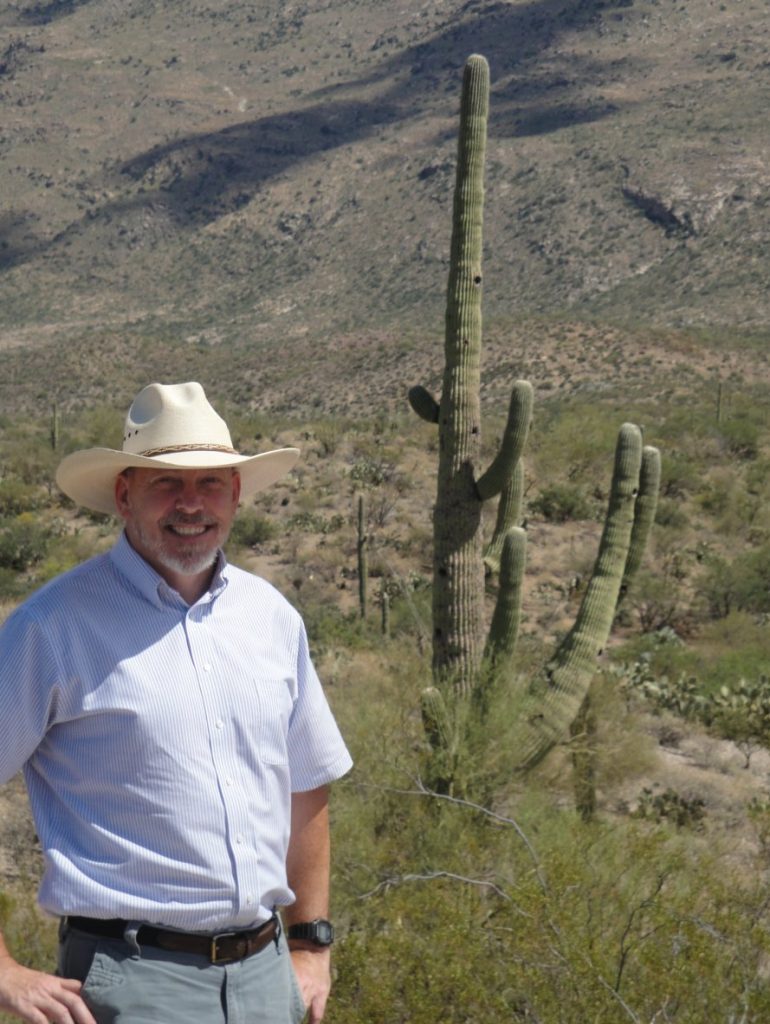 We drove south to Tucson and then east through the Sonora Desert.  The Sonora is the desert we all think of as THE desert.  It is the hottest of our American deserts, the one with all the cactuses that we know so well from the western movies.  We visited my cousin Elise and her husband Carl who live near Tucson.  I wrote re that last year here and here. The Tucson area is higher, greener and cooler than Phoenix, although both are in the same biome.
On the side is me with my new hat (purchased in Texas) in the desert. The hat is made of palm leaf and it really does keep the sun off and the head cool. I like it.
Just outside Tucson is the Saguaro National Park, where I took the pictures of the Sonora Desert vistas.  The saguaro cactus is the one with the arms that looks like a man flexing his muscles.  It takes many years for them to grow big enough to get arms.  You can tell you are in the Sonora when you see the saguaro, which grow naturally nowhere else.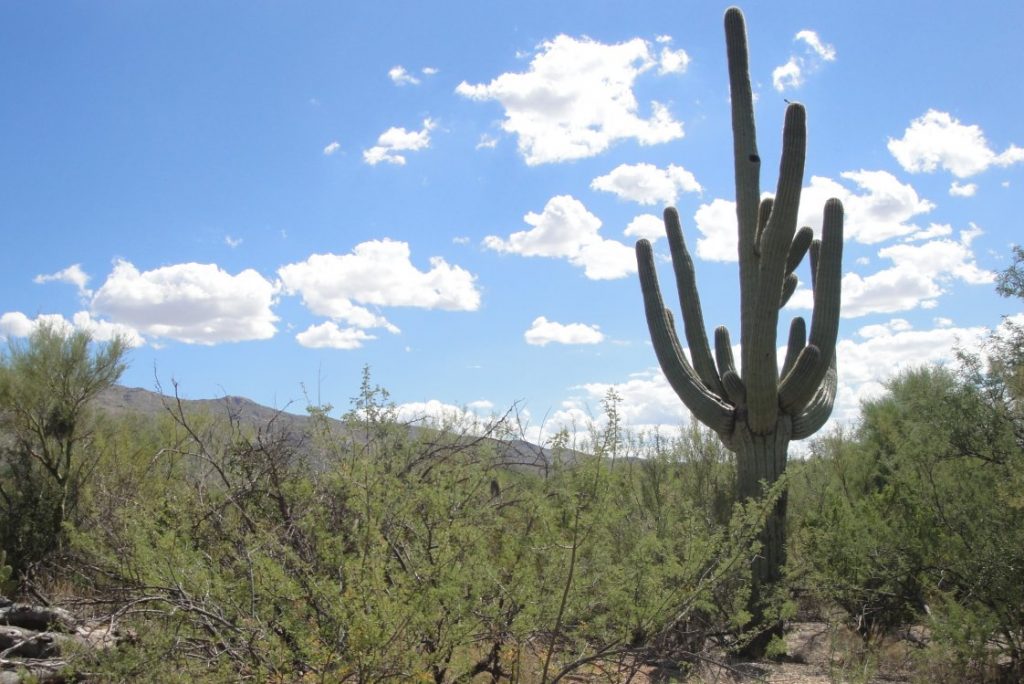 Above and below are Sonora landscapes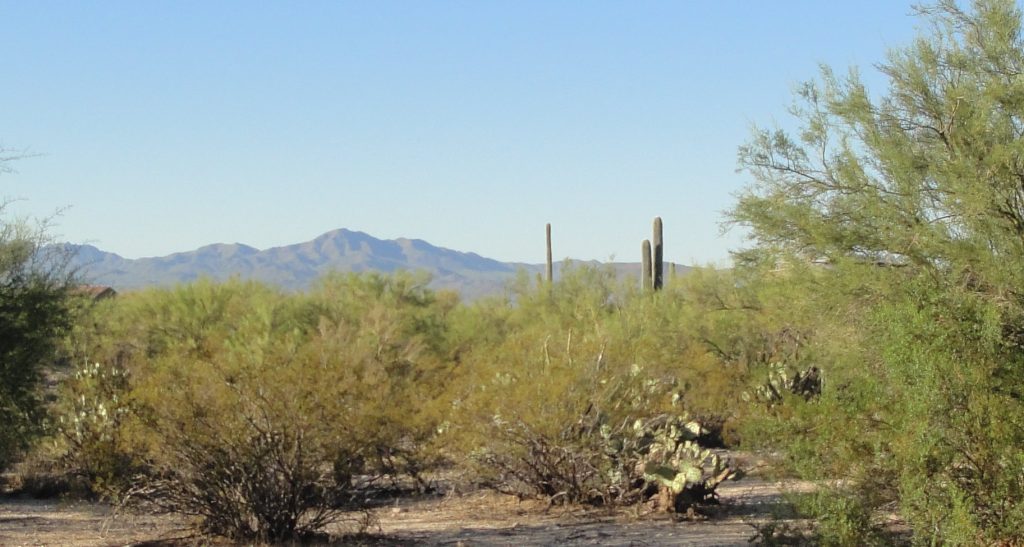 Below – the flat area behind the sign is – believe it or not – the continental divide. At some point out in that field, if you peed some would go toward the Pacific and some toward the Atlantic. We are actually at a fairly high elevation. It is just a flat plateau. I don't know how exactly they can tell which way the water would flow. I always thought of the continental divide as a sort of ridge.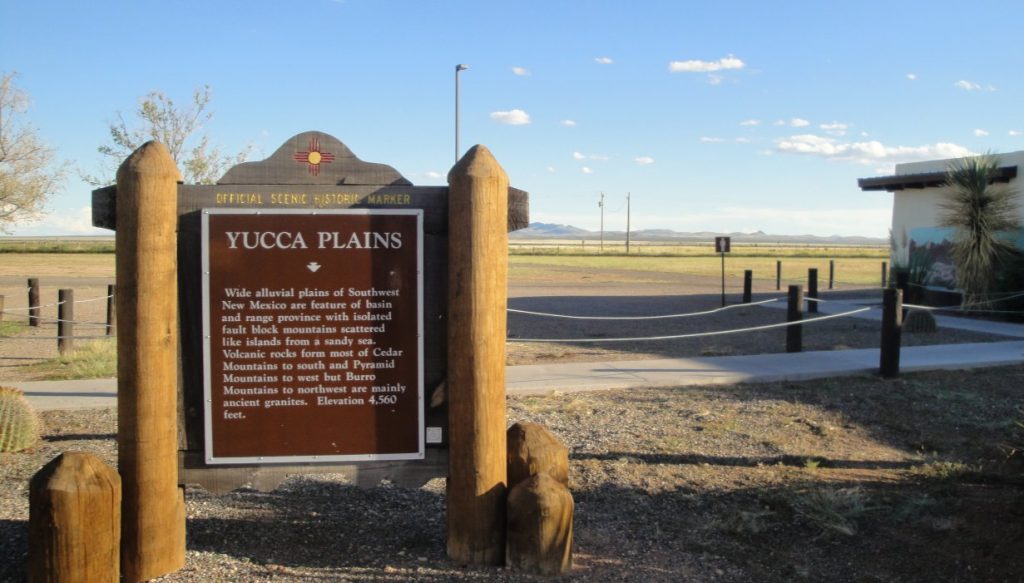 North and west of the Sonora is the Mojave Desert, which I wrote about last April, with its characteristic brush and Joshua Trees.   You hit the Chihuahua Desert as you go east.  It is not true that the Taco Bell dog's wild ancestors roamed this region.  The Chihuahua desert is theoretically less harsh, but it seems to have a little less interesting life.  I guess that the Sonora is very harsh, but fairly consistent, which allows varied life forms to develop.