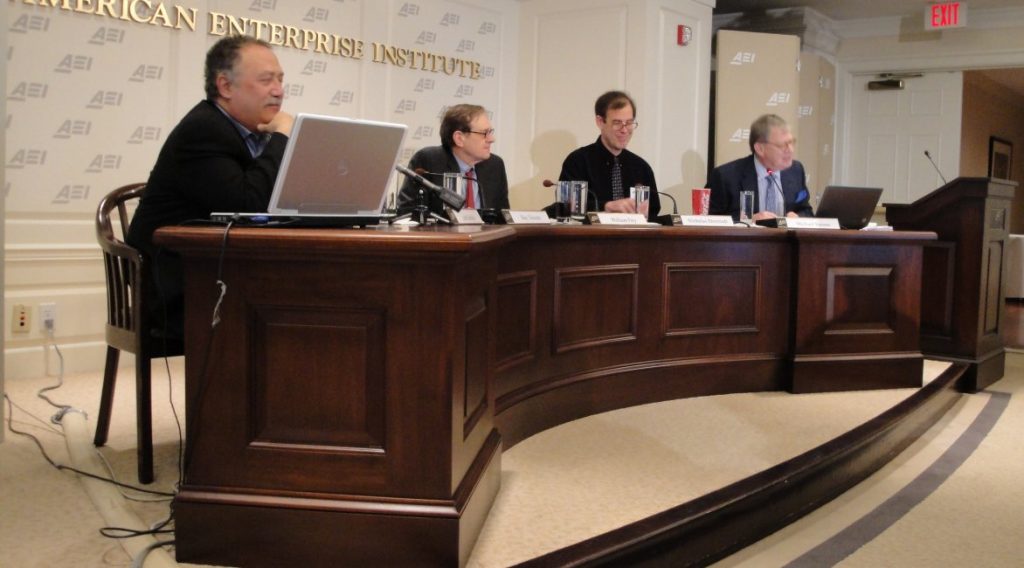 The big Washington blizzard didn't make AEI cancel the session on new American demographics and the discussion of "The Next 100 Million: America in 2050" with the author Joel Kotkin and a panel of experts chaired by Michael Barone.
Decline overdone
Experts have been saying that America is in decline since – even before – we became an independent nation. Kotkin acknowledges that someday these critics will be correct, but not today, and he paints an optimistic picture of our American future. America has a lot of advantages going into the next generation. It starts with demographics.
Americans still remember how to have kids; it is evidently no longer a universal skill
The U.S. is unique among developed country since we have a positive rate of natural increase. It is not very much above replacement level, but that is more than others, some of which are almost in free fall. America is also an anomaly in that in some of our suburbs wealthy, well-educated women sometimes have three or more kids. (I recall reading an article about the big families in affluent Loudon County next door to us.)
We also still get millions of immigrants. That means that the America is growing older slower than other developed countries and the American labor force will continue to grow through 2050, while others suffer greater or lesser proportional decline in their productive populations relative to their dependent ones. The interesting thing about his data was that it also shows that the world's most populous country – China – will begin to suffer labor shortages (at least for skilled labor) very soon. The Chinese labor force will start to decline as early as 2015 (yes, five years from now) as a result of their perhaps necessary but draconian one-child policy. (Long term predictions are always tough, but by 2050 the U.S. labor force is projected to rise by 42%; China's will drop by 10% and Japan's labor force will decline by an astonishing 44%).
More old people, fewer young workers
This labor force decline will be accompanied by a big growth in the elderly dependent population, both in relative and absolute terms. The world has never experienced anything like this before and our lack of models will require adaptions we cannot fully anticipate. We are truly going where no human societies have gone before.
But America will suffer these declines later and less severely than most others. In addition, the U.S. has a very robust & adaptive economic system. National power is based on economic strength, innovation and demographic clout. Among the great nations of the last generation, only the U.S. will still have these elements in abundance in the next generation.
Managing genteel decline not the same as planning robust growth
This U.S. outlook contributes to disagreements with old allies. For example, the Europeans can also make demographic projections. They see that their populations will decline and their economies will grow much slower than ours. When your population will get smaller and your economy won't grow much, you don't worry very much about promising cuts in CO2. You need different policies if you are managing a genteel decline than when you are planning for robust growth.
The U.S. will change internally too. The growth of the last fifty years went mostly to the coasts.   The next fifty years will see a return to the heartland. Kotkin doesn't say that all the little prairie towns will be back, but space and affordable housing will draw people away from the coasts. He says that the whole idea of suburbs has become meaningless. There is more a blending of suburbs, cities and rural areas. Kotkin foresees what he calls an archipelago of villages. More people would be connected by new media in greener and less crowded communities. It sounds a lot like the Loudoun County communities mentioned in the article I linked above.
Today's ethnic & racial categories will not mean much in 2050
Much has been said about the changing ethnic composition of the U.S. population and in 2050 the white native born population is projected to drop to around 50% of the labor force. But how significant will this be? Kotkin pointed out how foreign the large immigration of Irish seemed in the 19th Century. We just forget how different earlier waves of immigrants had been and how completely they have been integrated into our society. When my grandfather and his brother Felix came to the U.S., they spoke no English and probably had never seen an American before. There is probably no population on earth today that is so "foreign."
The younger generation doesn't really care very much about race, with vast majorities in favor of interracial marriage, so by 2050 today's categories will be as meaningless as some of the national and religious distinctions made in our grandparents' childhoods. In other words, by 2050 nobody will care.
Still some challenges and skills mismatched
The road to this bright happy future is not necessarily certain. We have a challenge of education, not so much college but technical. We might, in fact, be pushing too many kids into college when the more appropriate skills might be technical. Our community and technical colleges should be given a bigger role as providers of final or working degrees rather than way-stations to four-year colleges. Kotkin thinks it is just a problem of incentives. We reward careers in finance and law more than we do those who actually make useful things. If that changes, so will our career paths.
We have been able to import skilled labor, but that might be slowing. We have some competition now. Places like Canada & Australia are also pleasant and welcoming like the U.S. They are also "countries of aspiration" and they drawing in some of the skilled immigrants. There are also now more opportunities in many source countries, as people around the world reap the benefits of market liberalization reforms of past decades. Indian engineers, for example, now may have good opportunities at home.
The general pool of attractive potential immigrants is also shrinking, as birth rates drop even in those place that traditionally had very high rates of growth, such at Mexico and parts of Asia. A good example of what this pattern can look like comes from South Korea, which a couple decades ago sent millions of immigrants to the U.S. and now absorbs its own population growth, which is now much lower than that of the U.S.
We need more Engineers & plumbers and fewer leaf blowers & Lawyers
We Americans screw ourselves, however. Canada or Australia favor the skills their countries need. An immigrant with skills has a better chance of getting into those places. Our immigration policies give too little weight to the skills and education we can use in our economy. We are too "fair". We don't need to import any more unskilled labor or even worse – people who don't plan to labor at all. We have the right to ask potential immigrants what they will contribute to our country. Besides the relatively small numbers of bona-fides refugees, we have no moral duty to admit anybody. As long as we will limit total numbers and we have a choice, we should choose the best and the brightest, not people we need to train before they can operate a leaf blower.
Unfortunately, unskilled labor can create its own demand. My personal complaint is against leaf blowing. That is usually a job that just need not be done at all and if unskilled labor wasn't so cheap maybe we wouldn't do it very often. You can learn to use a leaf blower in about thirty seconds. We don't need more of those things. We are better off with people with useful skills. Some jobs – such as leaf blowing – are worth less than zero. I have discussed the value of doing nothing (with specific reference to leaf blowing) here & here.
Anyway, the AEI event gave me something to think about. I will have to buy the book and read the details. I have to say – once again – that we are really lucky to have these kinds of events offered free or cheaply to anybody with the inclination to listen.