I took US 50 through southern Ohio and West Virginia. You get a different impression of the geography from the older highway system. The Interstate System flattens the hills, straightens the curves and bypasses the towns. The older highways pass through the older America. The Interstates have drained both the traffic and the vitality from the highways, especially when they run parallel, as US 50 does to I-70 and I-68.
US 50 was very peaceful through Ohio and I often had the whole road to myself, so I enjoyed driving leisurely past the farms and small towns. The land looked very lush and green. US 50 is mostly single lane, but it turns into a divided highway part of the way and it gets to be essentially a superhighway in parts of West Virginia. West Virginia is a unique case. Senator Robert Byrd got to be so powerful that he could direct an unusually large amount of Federal dollars to the Mountain State.
There are lots of really nice, empty highways connecting little towns in West virginia. Lots of the off ramps lead to a couple of houses or sometimes to almost nothing at all. US 50 from Parkersburg to Clarksburg is probably the loneliest stretch to fantastically built highway in America. It must have cost a million dollars per car, our tax dollars at work. There is an even more impressive highway to nowhere a few miles south, the so called Highway 55 corridor.You can drive from Wardensville to Moorefield and on to Seneca Rocks in complete comfort and near perfect isolation. Maybe we should move that modern perfect highway to Chicago, where the roads weren't so good.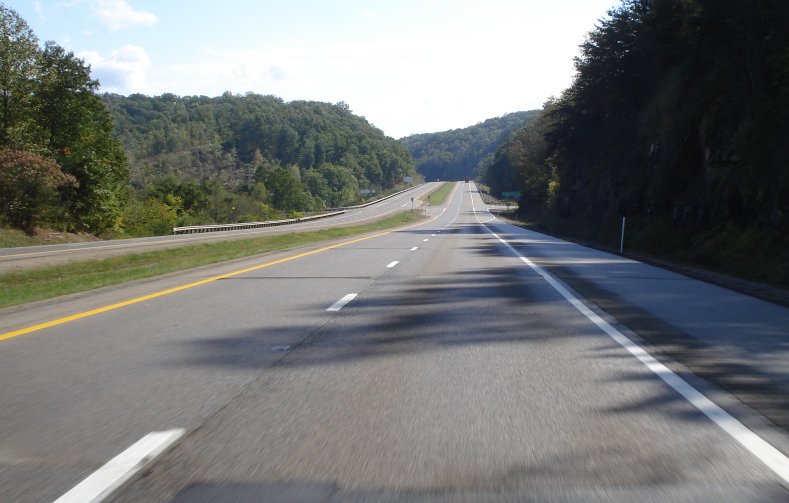 I stayed on 50 after Clarksburg, which was a mistake because it becomes a truly local road. This is some of the roughest geography in North America. The folded mountains make road building a challenge. Even Robert Byrd didn't try to make this a superhighway. It is very pretty, very steep and very curvy. And there was an amazing amount of road construction and repair to slow what traffic there was. All things considered, I am still glad I went this way, but it probably added a couple hours to my journey. I got to see lots of nice vistas and even the Allegheny front windmill farm.