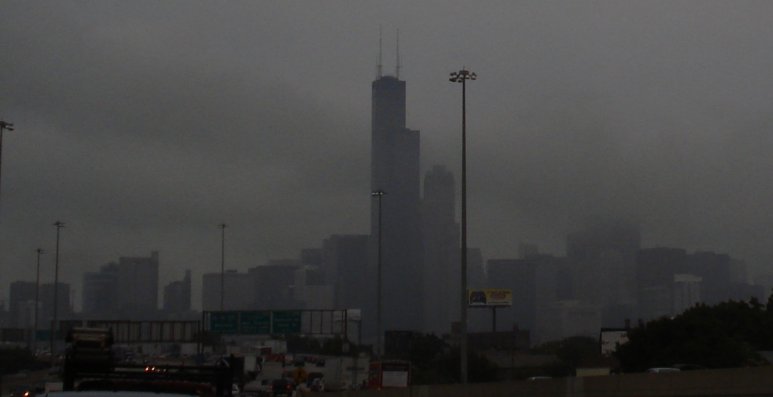 In Chicago I stopped off to visit Bob McCarthy, the friend from Iraq, who is working with Marine reserve units in Wisconsin, Indiana and Illinois. Bob made my stay in Iraq a lot more comfortable and rewarding. We had lunch at a local Lebanese restaurant in the interesting transitional neighborhood near the Marine station. There are Hispanic immigrants mixed with more recent arrivals from the Middle East, leavened with Hassidic Jews and some recent arrivals from Eastern Europe. I think the waitress was Russian. Only in America.
You can see in the picture below the twin moons in Chicago. Bald is beautiful. Bob actually could grow hair if he wanted. Interesting shirt. Where do you even buy something like that?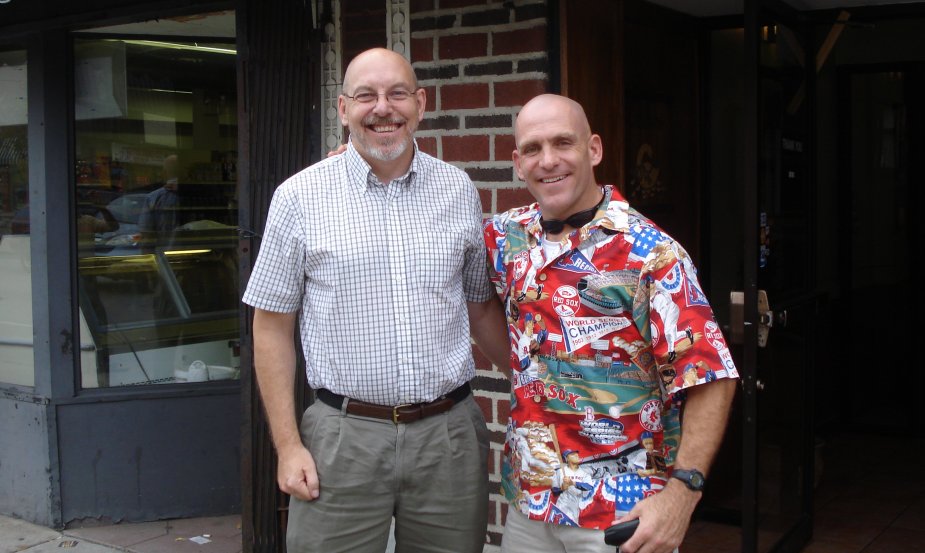 Chicago is a lot like Milwaukee, only bigger, dirtier and more crowded. It took a long time to get out of town because of the traffic jam and a lot of construction. I don't think this is anything unusual for Chicago. You have to pay toll on Chicago area highways. It cost me more than $5 to get through. You would think that toll roads would be better maintained than the free variety, but you would be wrong. I guess Chicago politics needs its patronage sources. If you look at the picture I have included, you notice the sign "Half Day Road." It is very descriptive, since that is about as long as it takes to get out of Chicago. I got clean across Ohio in the time it took to creep through a few dozen miles to get out of Chicago.

I finally got to Milwaukee in early evening. I look forward to seeing family and doing the Milwaukee things. That means walking around the old neighborhood, running on the trails in Grant and Warnimont and eating. I have to go to Rocky Rococo, George Webb and Cousins Subs and I need my 1960s Schlitz beer and Rippin' Good mint cookies.
A general shortage of mint chocolate has developed. I have been having trouble finding ordinary mint chocolate and it has always been impossible to get the Rippin' Good mint cookies outside Wisconsin. The mint girl scout cookies are not really an adequate substitute.
I don't really like the Schlitz beer that much. I drink it out of homage to the old man. This is supposed to be the original 1960s recipe. The old man told me that Schlitz was good until the early 1970s, when they sped up the brewing process – replaced the braumeisters with chemists, according to the Old Man – and made it inconsistent. The old man changed to Pabst and soon Schlitz went out of business, acquired by Stroh's. The building where for almost a century they brewed the "beer that made Milwaukee famous" is now upscale condos.