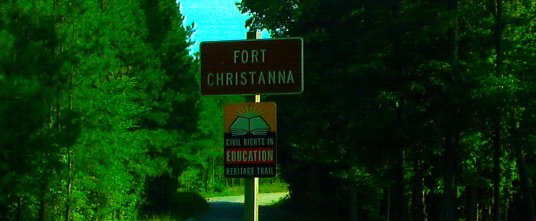 The webpage for my webchat on forestry and carbon is now available at this link. I made a PowerPoint as an intro, so please take a look. You can just sign in as a guest under whatever name you please.
I visited Fort Christiana on the way home from the farm. It is one of those places worth seeing, but not worth going to see. You have to go down a gravel road and then you find … nothing. The fort is long gone. All that is left is the outline of the fort, a little toilet and some markers. You can see the gravel outline in this picture below.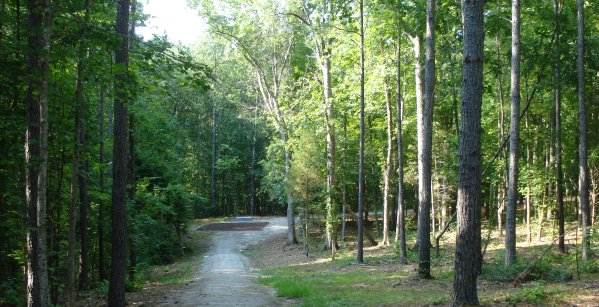 If you Google Fort Christiana you will find the wrong place.  There is a fort in Delaware by almost the same name.    That was not a very important place and this place is even less.   So if you want to know about Fort Christiana in Brunswick County, I am your lasts, best hope.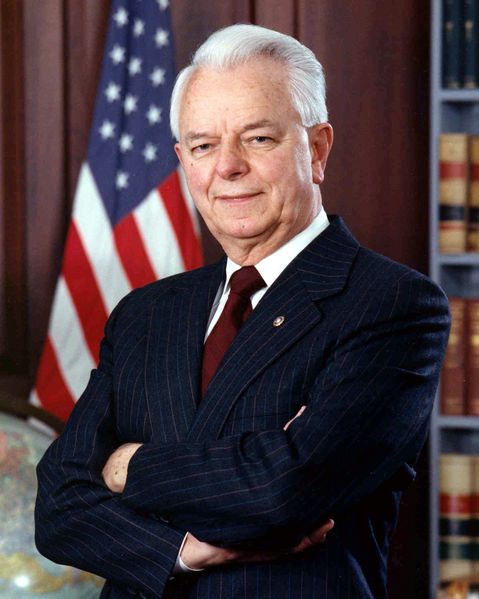 According to the signs, Virginia Royal Governor Alexander Spotswood built a five sided wooden fort near the Meherrin River in 1714.   (Spotsylvania County VA is named for the governor.)   It was an outpost on the edge of the Virginia Colony at that time designed to trade with the friendly Indians.   Inside the Fort was an Indian school, with about 100 students.  The Indian students inside the fort helped ensure continued good behavior of the local tribes.   
The British withdrew support for the fort in 1718 and when William Byrd (an early member of that very prominent Virginia family and the ancestor of the current W. Virginia Senator Robert Byrd … or given how long that guy has been around, maybe it was him) passed through the region in 1728 he reported that the fort was abandoned. Not much of a history. There have been nearby roads that have been under construction for a longer time.
I don't know why the picture of the sign turned out so green. That is not the real color. I must have had it on a strange setting.
The picture that I took of the monument was even worse, so I didn't include it. The funny thing is that it was erected by the colonial dames. I know that dames is an old title of respect for ladies, but I can't stop thinking of Frank Sinatra, "Guys and Dolls" or "South Pacific." There's nothing like a dame.