Espen will go to George Mason next fall.  He is excited about a program they have in gaming and simulations.  All that time in the World of Warcraft may yet pay off.   Gaming is much more than games, as I have written before.    Games will be the future on online collaboration and learning.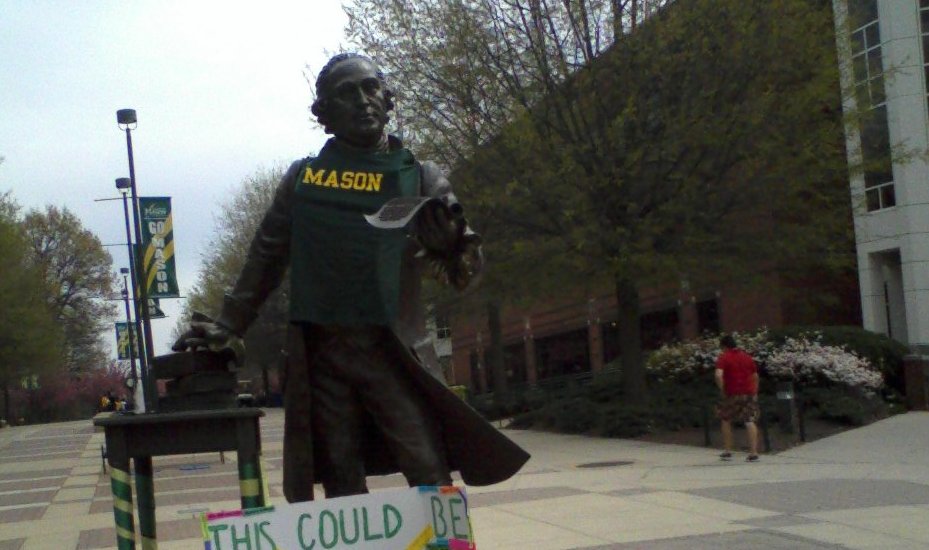 George Mason has the advantage of location. They are in easy contact with all the government and government support activities as well as the high tech in N. Virginia and the biotech along the 270 corridor in Maryland. It really is a superb area to work and learn. Housing prices are a little high, but once you have the house there are lots of opportunities.
I appreciate being in Washington with all the history and monuments, but I often forget about the dynamism of the suburbs. N. Virginia's tech and services produces more jobs for the area than the Federal government, but the presence of the Feds makes us recession resistant.
Sorry my picture is blurred. Think of it as impressionistic art. This is the Patriot Center.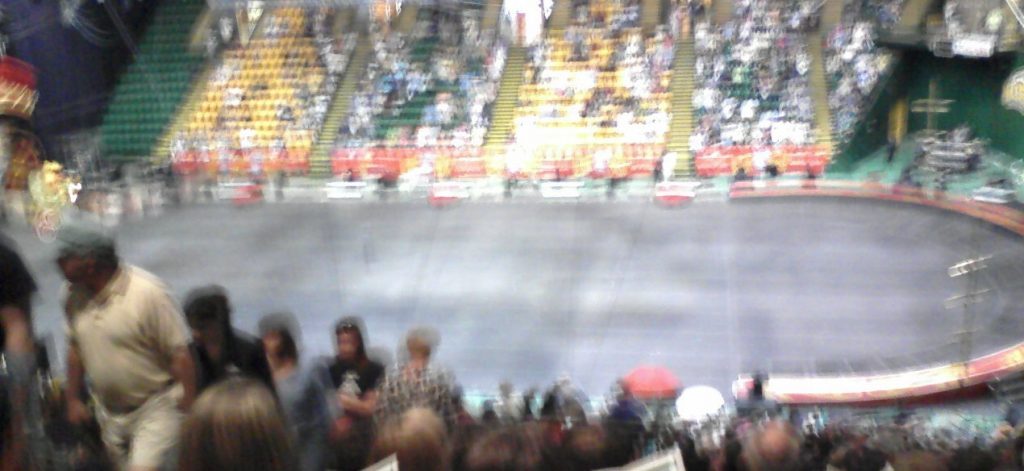 George Mason went a little over the top with the welcome. They evidently have a successful basketball team and they were using the sport excitement methods. The Patriot Center is also hosting the Ringling Brothers Circus, so they took the opportunity to put on a show with a band and ring master. It was interesting the difference with the orientation at University of Virginia. Virginia emphasizes tradition. They remind you that Thomas Jefferson founded the place and laid out the plans and that the university has been there a long time. Mason talks about the opportunities of the future. It is much more of a competitive feeling at Mason. I suppose they are both playing to their strengths. Virginia is established and everybody knows its value. Mason is hungry. I was glad that Mariza went to UVA and I think it will be good that Espen goes to Mason. You can get a good education almost anywhere if you work at it. The world is full of opportunities. It is up to you to take them.
Espen got a summer internship with Lockheed-Martin. He will be working on computer engineering 40 hours a week and they are actually paying him to do it. I think that will give him a jump start on his future. Those are the kinds of opportunities available around here. I talked to a guy from Lockheed on Friday about a different matter and mentioned the internship. He told me that they probably liked it that Espen had A+ certification (whatever that means) and that he probably understood online collaboration – again with the gaming. It goes to show that value can be added in unexpected ways.
The GMU program in gaming sounds good, but one reason you go to college is to expand your options and ideas. No eighteen year old really knows what he wants. I always thought that any kid who graduates with the same plan he came in with lacks imagination. I am glad Espen will be close. We still want him to live on campus for the experience, but Fairfax City is not a long way off.