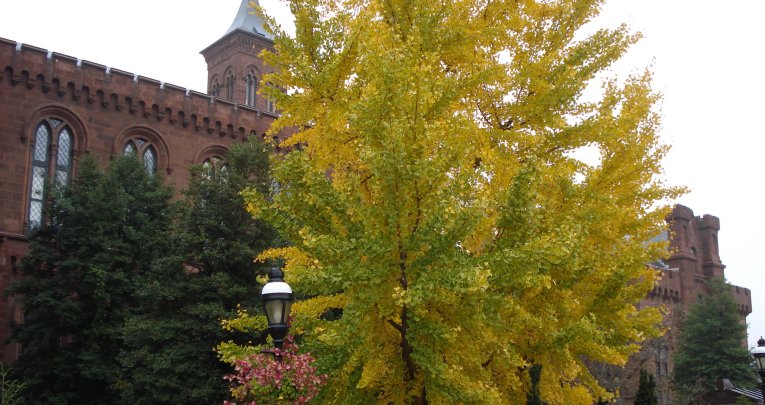 Above – ginko tree outside Smithsonian
The best things in life are free … especially if you live in Washington DC,  where you can go to all the museums and enjoy all the public space, think tanks and events at no or little cost.  Europeans justifiably boast of their cultural achievements, but everything costs money there.   You have to buy tickets to the museums in Rome, Paris or London and much of the public space is not really open to the public.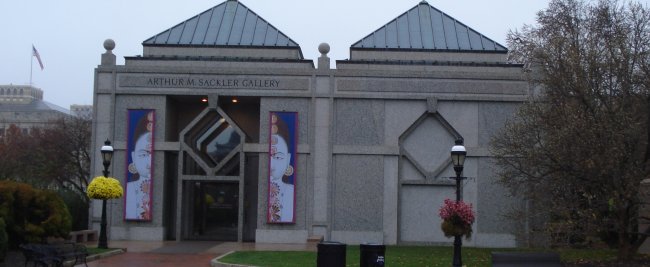 Above is Sackler Gallery. There are vast underground facilities. The Mall gets to look untrampled.
The irony – and this goes for lots of things besides museums – is that in America we have access to things in practice but not in theory, while in most other places you have access to things in theory but not in practice. People are often beguiled by the promises. They want to be granted the right to something in principle. They forget what Otto von Bismarck, who originated the first social security program said, "When a man says he approves of something in principle, it means he hasn't the slightest intention of carrying it out in practice.
We get a lot in practice, even if we are not doing so well in theory.  Way back in 1827, Johann Wolfgang von Goethe, the great German man of letters, wrote it in a poem. "Amerika, Du hast es besser" (America, you have it better), he said –  and he was right. Life is good.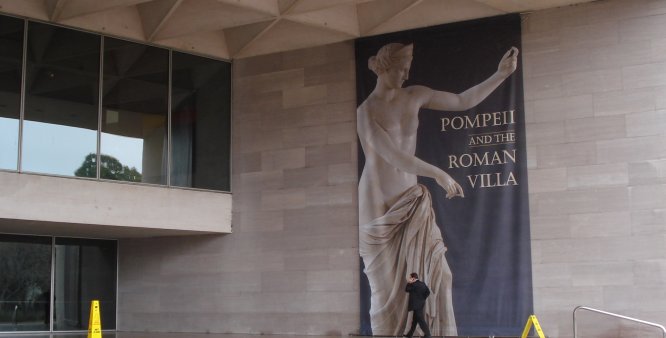 The National Gallery of Art & Pompeii
I enjoy being in Washington. It offers so much. On my lunch break today I walked over the National Gallery of Art to see "Pompeii and the Roman Villa." I couldn't take pictures inside, but you can see what it looks like at this link. It is great just to drop in. Because there is so much and it is freely available, you don't feel like you have the chore of staying all day and making an ordeal out of the appreciation of art. I stayed only around a half hour. I did not "see everything" but I can come back. IMO that is how culture should be, a part of life integrated into daily activities.
Below – community garden near Capitol.  I think this is left over from the 1960s. 
I heard about the exhibit before, but I was motivated to go today by my Roman history lecture on my I-Pod. They were talking about the Roman cities and used Pompeii as an example. Pompeii was not the greatest of Roman cities, it was not even very important, but we have the unique frozen in time aspect. Tragic as it was to the people at the time, the eruption of Vesuvius has made them the messengers of their culture to future generations.
Below is depression era artwork on a government building near the National Gallery.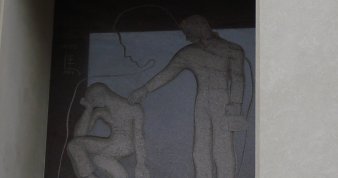 The area around Naples for the Romans was something like the California coast is to us.  Life was pleasant and easy.  The rich and famous went there to live and vacation.   They build expensive houses and lived large.  According to what I learned at the exhibit, the very rich people lived in coastal villas.  Pompeii was sort of middle rich.  The district was called Campania.  It had a good climate and great soil, provided in part by the volcanic activity that buried Pompeii and Herculaneum in AD 79.  Volcanic soil is very productive.   It is sort of a bargain.  You get live the good life on the volcanic minerals, but it is unpleasant to be there when the volcano spreads a little more ash.