Below – Washington Metro has nice vaulted ceilings.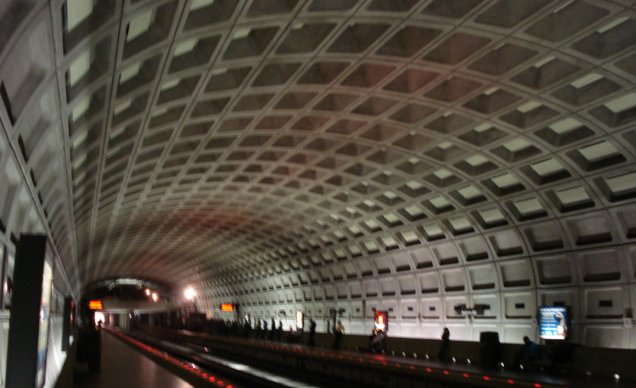 Below – School of Athens by Raphael, also vaulted ceilings. Both roads to learning (sorry for the hyperbole).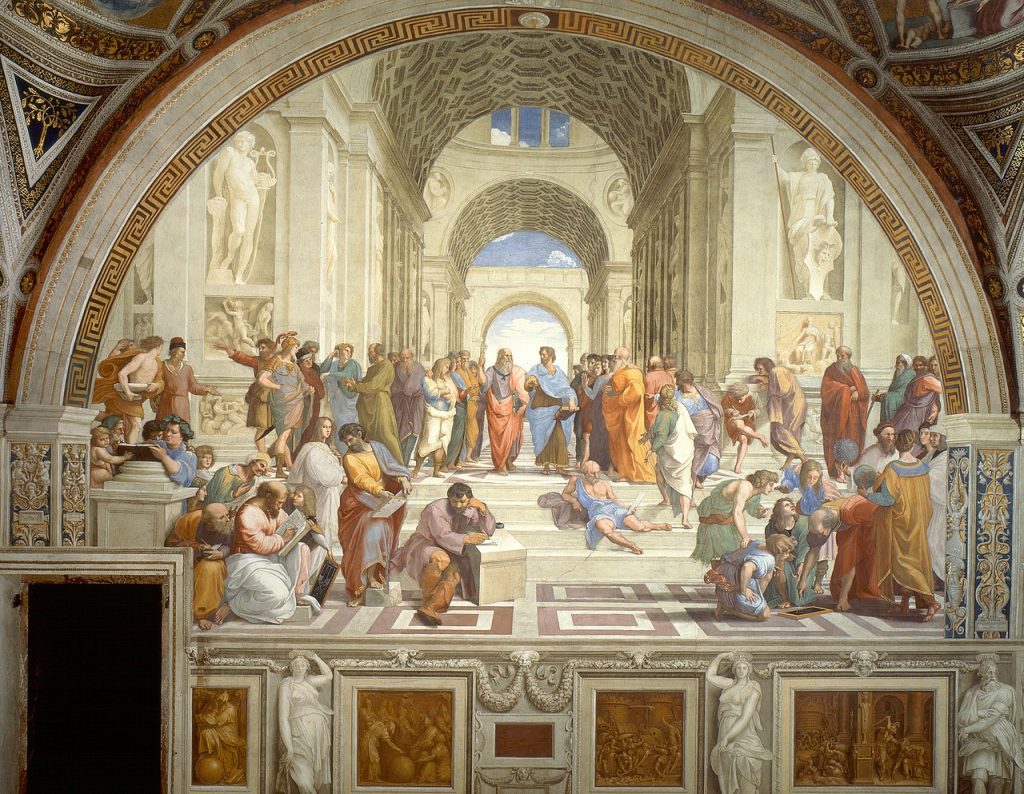 It has never been easier to learn but the options are daunting because there are so many of them. I recently completed the State Department's leadership seminar, which left me a little disappointed. But my education is my responsibility and I will carry on. There were some lectures I wished to have heard and when I got home I got some of them – on my computer.
Below – oak tree in fall colors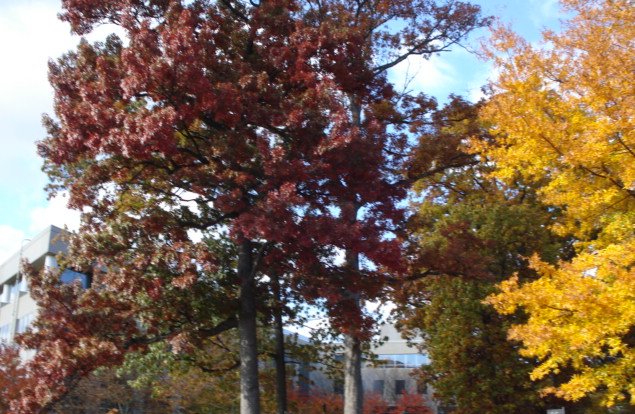 For example, I wished we had talked a little about   prospect theory and its effects on decision making.   Prospect theory explains a lot re why we make what seem like illogical decisions even when we have the needful information.  So when I got home I listened to Nobel Prize winning economist Daniel Kahneman, who along with Amos Tversky originated the theory.   You can watch it too at this link.   At the same place, you will find a talk by Peter Bernstein re risk analysis.  Bernstein wrote one of my favorite books, "Against the Gods" the story of risk. 
You could always just read to all the books, but it is more effective to learn on a variety of fronts. Reading reinforced by the visual or audio of a lecture is great and online even allows for interaction. There are situations where audio works best. I have regularly listened to audio programs for more than twenty years. A long drive can almost be like a college course. My sloppy way of listening enhances learning. I tend to let them play again or pop in repeats. Leadership and management programs are particularly appropriate for audio programs, IMO.
Online education opens many more possibilities and variety. What it lacks is the social aspect of education. Discussing ideas with others helps fix them in the mind, sort out the pluses and minuses and make the learners see the bigger picture. You cannot replace that. I think that is why self educated people often have an uneven knowledge base. The autodidact chooses what he wants to emphasize and will inevitably introduce bias. Online learning exacerbates this, since you can find what you want very precisely and not come into even superficial contact with anything else. The advantages outweigh the costs, IMO, but it is something to be aware of.
Other great sources of education in the Washington area are think tanks and the Smithsonian. Most sponsor regular lectures and seminars on a variety of topics and they are usually not only free but you often get a free lunch. These have the advantage of being in a social setting. You can talk to people before and after the lecture and just being there in person adds something to the educational experience. I took advantage of these things when I was last in Washington & will do it again.
Most learning isn't done in formal settings and FS provides more opportunities than most jobs. You learn most from your colleagues and fellow citizens and just by observing events and things. In other words, you learn from experience, but learning is not automatic. It is great to notice the trees and take time to smell the roses, but it is important actively to seek out and think about information and lessons from experience otherwise it just washes over you, runs into the mental sewers and is lost. Socrates said that an unexamined life is not worth living. I think we could extend that to say that an unexamined experience is not worth having.