We have been back in Washington about a week. Actually we are staying in Virginia at Residence Inn – Merrifield. Washington has been relatively cool, but usually humid. It seems about the same as last time. The only thing I noticed was that security is more stringent. You have to be checked to go into the Smithsonian museums and you can no longer walk the path between the Whitehouse and old Treasury building.
Below are pictures.
The kids are all right. I heard an interesting lecture at the Department yesterday by a guy who studies generational change. I think his name was Robert or Richard Strauss. His book, "Generations" was a big hit several years ago. He since has written others. He says the kids today are all right. This generation, called "millennial" is smarter, more conservative (small c conservative) and better adjusted than any in the history of the U.S. All the bad indicators are down, including murder rate for teens, pregnancy, drug use etc. He says that we baby boomers can't actually believe how good the younger generation is. We keep on thinking of how bad we were and think that they are just hiding their bad behavior. We keep on looking for anger and alienation, but we may not find it. Our generation, the generation of that came of age in the 1960s and 1970s defined deviance down, crime rose, SATs dropped, confrontation replace dialogue. The sixties sucked from a societal point of view. Most of the audience was less than enthusiastic about this assertion. They are boomers and liberals after all. To them the sixties were heroic.
Strauss was speaking as part of an orientation program for Diplomats in Residence (DIR). One of the reasons the DIRs are around is to recruit non-white applicants. One of the guys told me right out re recruiting that the Department is not looking for people that look like me. I guess he means people who are going bald and have big noses. Our speaker ridiculed the Department's emphasis on diversity and says that the old race categories just don't matter anymore. Commentators on both left and right like to make the current situation sound worse, and various NGOs and bureaucracies are looking to maintain their programs designed to address yesterday's problems. That is why activists hearken to the bad old days of the 1950s and 1960s and claim there has been little progress. That is why the papers are full of horror stories. In a country of many millions of teens it is possible to find bad news. But overall, most of the news is good. The only bad news is that the kids are not particularly independent. They are used to being driven around in safe minivans for organized activities. I will have to buy his books.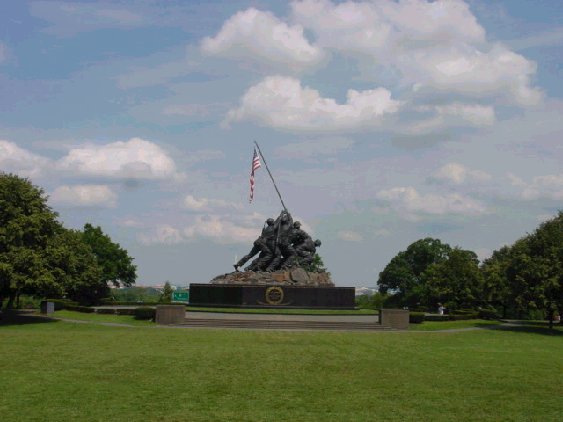 Iwo Jima Memorial just outside Arlington Cemetery. I like to walk through Arlington. It is interesting to read the inscriptions. I often walk through the World War II section. Some of the graves there are from the war itself more than fifty years ago. Now it is beginning to fill up with the wives. On the front of the stone it might say something like John Smith – Sergeant USA. More recently is inscribed on the back – Agnes, his wife. For some it has been a long wait. I wonder if they had planned to be buried with their husband for those fifty intervening years.
For our freedom and yours, that was the slogan of Poles who fought tyranny in various allied armies. Above are the statues of Kosciuszko and Pulaski, Polish heroes of the revolution. Kosciusko is in Lafayette Park, across from the White House. He designed the fortifications at West Point and was involved in the battles of Saratoga and various ones in the south. Pulaski is in Freedom Plaza across from the Ronald Reagan building. He was the father of the American cavalry. He was killed in America. Kosciuszko went back to his home country where he struggled unsuccessfully against the Russians when Poland was partitioned. The country disappeared for 123 years.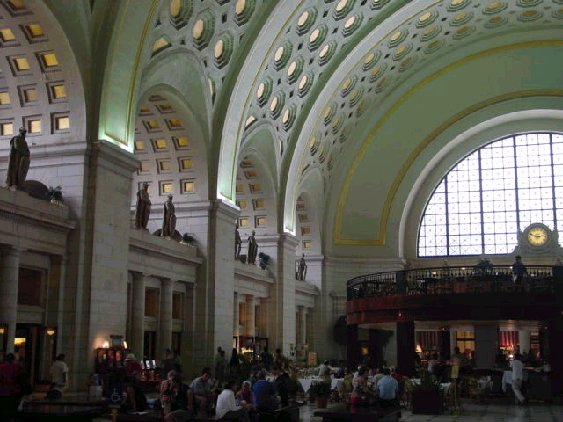 Union Station. I had an appointment at the Heritage Foundation nearby and went into the station to get out of the rain. It was built as the main train station for Washington more than 100 years ago. They built to last in those days. It still is used as a train station, but now it is also home to many upscale shops and restaurants. It was nicely restored a few years ago. The statues are Roman centurions. Outside are statues and fountains that look like those of Renaissance Rome. Not so many tourists visit. They are missing an interesting area.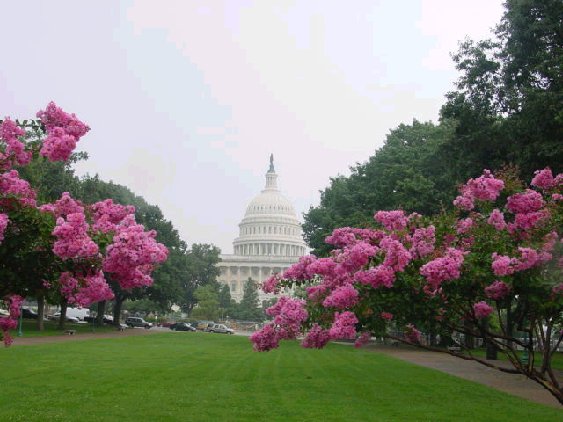 As I walked from Union Station to the metro stop, I noticed this really nice view of the Capitol through blooming crape myrtle. It was raining when I took the picture, although you can't see the drops, but it makes it look foggy. It was a nice, warm gentle rain. It really didn't feel like rain so much as an incremental increase in the heavy humidity. You can see that they built this park just for me. I am always surprised how few people use this part of the grounds. When I worked at USIA, I used this as a segment of my lunchtime running. Outside the picture is a big hole. They are building an underground visitor center. The Capitol grounds are very nice, with many big trees. The thing I like is that the trees are labeled. I can identify many trees, but not the more exotic varieties. Near the Capitol, for example, are some very big Japanese pagoda trees. I could not have identified them.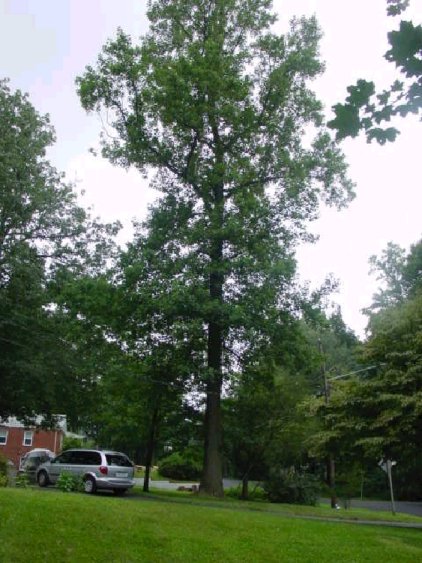 Speaking of trees, this is a big tulip tree in the yard of the boy's friend James. These are wonderful trees. They grow fast and very tall. There is a really big one at Mount Vernon, supposedly planted by George Washington himself. I planted several of these in Warsaw. I figure this one is only about fifty years old. I hope my Warsaw brood gets to look like this yet in my lifetime. You can see the van for size comparison. The tulip tree is the largest hardwood in North America. This particular one is big, although not the biggest I have seen. Still, I wanted to get its picture.