When I glance back at my recent entries, I see I was not in the optimum mood. It really helps to get out and meet people.
Below is the moon over Doha Islamic Center, a very interesting spiral building as you can see.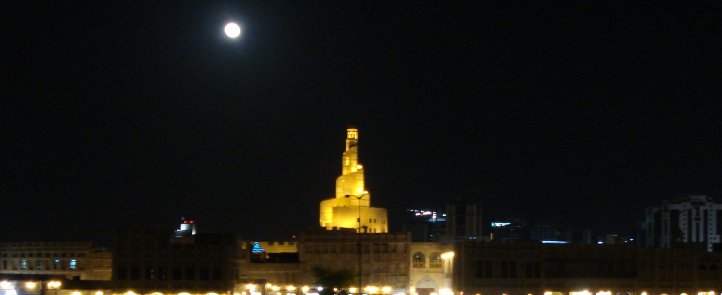 I didn't expect to get to see Doha, but fortunately some of the guys stationed on the base thought of a reason to get us out and so we went to a restaurant in town and got to walk around the market. I could not see as much because it was dark, but I suspect there was not much in the market to see that wasn't lit up anyway. I regret not seeing more of Doha itself, although I don't think there was more than a day's worth of looking, it seemed a nice place. People who like to shop would like it here, IMO.
The streets were very clean and lively and prices were reasonable.  I paid about $15 for my meal at a nice restaurant.  Coffee at a place that looked like Starbucks was around $2.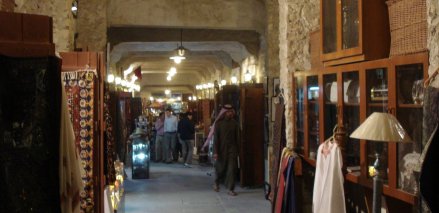 The market had all kinds of goods, not all of them directed at tourists. The most interesting shop sold falcons – yes, the birds – and falconer supplies. There are probably not many stores like that around. Falconry is a popular sport among the rich around the Arab world. The falcons hunt other birds and small animals like rabbits. The return in terms of meat per unit of input is low. It is a luxury, which is why it has always been the sport of nobles or people with lots of resources and time on their hands. It requires patience to train the birds and knowledge of the environment to deploy them to hunt and it probably becomes part of a whole lifestyle.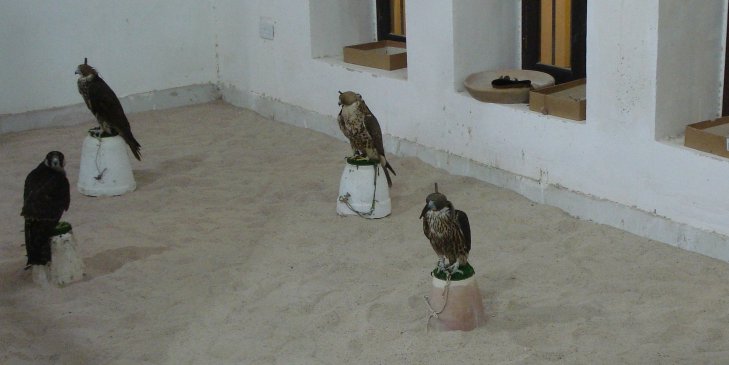 The falcons in the shop didn't do anything interesting, although it was interesting to look at them for a short time. I didn't ask how much they cost and the store proprietor didn't try to sell me anything. I expect he could easily tell that I was just a looker and not a falcon enthusiast. My guess is that most people who come through his shop don't intend to buy anything and he has become accustomed to the gawking traffic.
It was good to get out of camp. The whole trip will now have a better place in my memory. Living in the cans is no fun. The cans in Al Asad were better because they were outside and your window got natural light. Beyond that, I have a roommate here. He is a good guy, one of my coworkers, but I would prefer my own place. The cans here are stacked on top of each other and all of them are housed in an enormous warehouse. It is like living in a giant steel hive.

We also work inside a big steel warehouse with little tents or boxes set up as rooms. It is sort of like an exhibition hall. We don't have enough computers to go around, so there are a few of us always made redundant. W/o computers, you really cannot do much work in a modern office setting. I am not sure why they brought us all the way here for this work. I suppose it is cheaper than sending us to an offsite in W. Virginia or Florida, or even keeping us in Washington, where most of my colleagues have to be in TDY. I am an extraordinarily good deal for them, since I live in N. Virginia and they don't have to pay me for hotel or meals. Once they pay the air fare, there is not much variable cost in having us work in Doha. They already have the hives and the chow hall is cheaper than per Diem. Actually they give us per Diem – $3.50 a day – for incidentals. I would say that I shouldn't spend it all in one spot, but I already did.
I had to buy toothpaste and a couple pair of socks, which I forgot. While I was there I got a nice shirt and some junk food. Strictly speaking it did not take up the whole ten days per Diem, which comes to $35.00. When you get to my level, you get the big bucks.