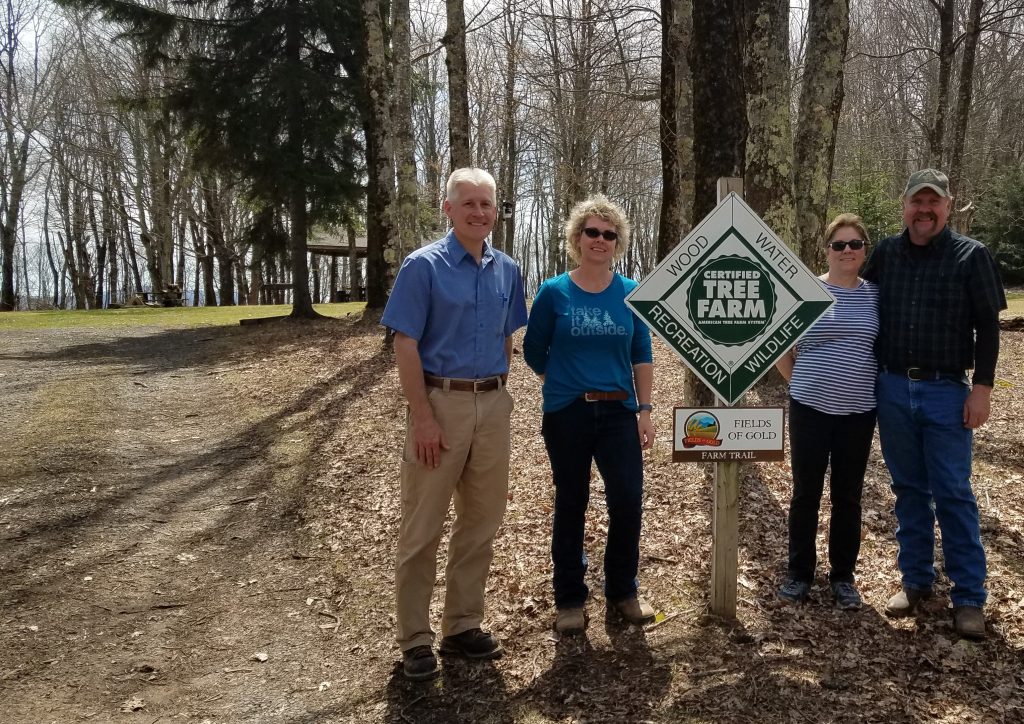 My note on Virginia's Tree Farmer of the Year
Meeting Ronald and Susan Moyers and touring their Highland County Tree Farm, along with their daughter Missy was a true joy. Their enthusiasm for tree farming is palpable and infectious. The Moyers truly represent Tree Farm ideals, with a strong land ethic and deep love of complexity of their land's ecology. The Virginia Tree Farm Foundation is proud to name Susan and Ronald Moyers Virginia Tree Farmers of the Year for 2019.
Moyers' 570-acre tree farm is incredibly diverse, as you would expect in a mountainous region that supports many micro-ecologies. South and north facing slope support different natural communities. Ronald is sublimely aware of the variation and plans his works with natural principles. For example, he is restoring red spruce by planting groves in the most appropriate microclimates, where they thrive and propagate "naturally," with a little help from Moyers.
Laurel Fork is a wild cold stream with headwaters on the Moyers farm. It supports a population of native trout and the area around is a great example of boreal ecosystems. Moyers are careful to protect springs and banks of the stream. Clean water is a forest product and you need protect more than the banks. The Moyers understand that their responsibly for water means maintaining healthy forests. They harvest timber in ways that profitably produce wood while sustaining and regenerating the biotic communities.
Besides wood, the Moyers are producing Allegheny herbs, elderberries, ginseng and maple syrup. Maple syrup is an important source of revenue. Ronald applies intelligence and natural principles to this endeavor, as he does all others. He thinned part of his sugar bush but left other trees "natural". Then he measured the results.
The thinned stand produces better quality sap and more of it, despite there being fewer trees. You can get more with less if you add intelligence, but it goes beyond that. More light reaching the forest floor means that those herbs, elderberries and ginseng grow better, and wildlife habitat is enhanced.
Highland County is Virginia's biggest producer of maple syrup, helped by highest average altitude of any county east of the Mississippi and the cool mountain climate that makes good sugar maple country. The Moyers share their experience with neighbors and hosting maple festivals, master naturalists and student groups. Forestry students from Dabney S. Lancaster Community College are working with harvest and post-harvest management under Moyers' tutelage. Much of activity is centered around a meeting center, under construction but already functioning. Moyers are building this with heavy and solid timber harvested from the tree farm. The Moyers farm is a big asset to the community.
Tree farmers know that trees are more than wood and forests are more than trees. They understand their forests as communities that exist in both space and in time. This ideal the Moyers exemplify, with a strong appreciation of their land's past, commitment to it future and their part in the greater ecology. It is with great pride that the Virginia Tree Farm Foundation congratulates the Moyers. We are grateful to Westrock Forester Keith Simmons who nominated them, and we know that Virginia will be the better for all their efforts.