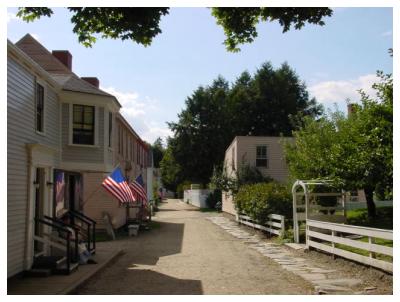 We drove through mostly pine forest. I am continually surprised how much forest covers this state and most of New England. Portsmouth, NH was about a half hour drive down Hwy 101. It is a pleasant little city. The highlight is a place called Strawberry Banke. This is the original downtown. At one time an arm of the ocean reached up here and it was a seaport. Over the years it silted in until the city filled in what remained. It became a working class neighborhood and after that a non-working class neighborhood. I think the politically correct term for a neighborhood of welfare recipients in this case is leisure class neighborhood. In addition, in this land of forest and streams, I think we can call the homeless "outdoorsmen".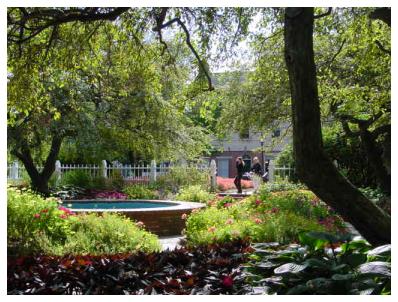 No matter the terms, by the 1960s, the neighborhood was blighted and the Federal Government wanted to tear it down and build low-income housing. Local residents didn't want this to happen, so they got together to buy and restore the buildings. They did a good job and now the area around looks solidly prosperous and well painted. We did talk to one outdoorsman. He told me that some sort of food stamp coupons were worth $100,000.00. He once offered to trade one of these coupons for a Canadian $2.00 bill, but the fool wouldn't take the trade. He seemed more prosperous than outdoorsmen in Washington, since he had his possessions strapped to the back of a bike, instead of in an old shopping cart. Still, I don't know whether to believe this guy. When we met him, he was fishing change out of a fountain. I figure he should get a job at Strawberry Banke playing a street person from the blighted neighborhood of the 1960s.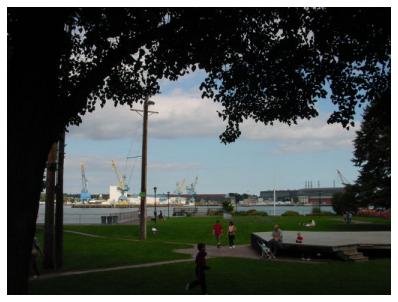 Strawberry Banke is not like Williamsburg, where all the history centers on one era. The buildings here are restored to various times in the life of the neighborhood. One house, for example, half is from the late 17th Century, while the other half is a working class house from the 1950s. They have a Jewish immigrant house from 1919, complete with a Jewish housewife (Mrs. Shapiro) who tells the story of her family and how they came to America from Ukraine. Living history also included the wife of a governor at the governor's house and a woman at the grocery store. They all did a very good job of assuming the roles.