Below is a view of the buildings looking toward Dunn Loring Metro. It is not much to see, but growing.  The building the the front is a big post office.  You get very good service there.

Below is public storage.  We have a lot of those things around here.   People have too much stuff.  If you can't fit your stuff in your own house, you have too much stuff.  Of course some storage is for people who are moving, but not that much.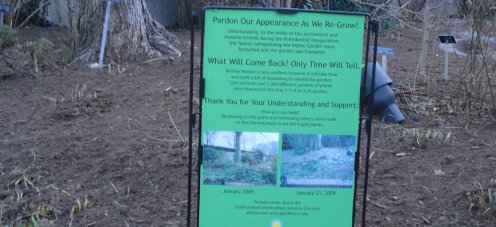 Above – the crowds at the Obama inauguration trampled much of the vegetation around the Mall.  I suppose it will recover.  Most of the plants were dormant during the winter anyway.

Above – the road widening/renewal project has flattened much of the territory, making it look almost like a new development area. Newer, taller buildings will eventually rise from the rubble.
Below is the fast food court at Gallows Rd and Arlington Bvd.  It features Pizza Uno, Wendy's, Sweetwater, Panda Express and some others.  It would be okay except for the impervious pavement for the parking.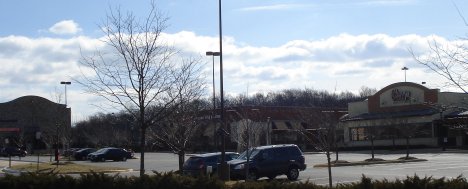 Below is the construction on Gallows north of my house.  It is making progress.