Below is my tree farm draft article for the next issue of "Virginia Forests".   It has nothing to do with Iraq, but is part of my other life, as communications director for Virginia Tree Farm Project at the Virginia Forestry Association.  I needed to write a short article for them and I just finished it.  The picture is from my forest.  It is one of the spots I like to sit and watch the water run.  We don't cut trees in the stream management zones, which account for around 30 acres on the farm.  The picture was taken in January 2005, but it is not that different now except at this season the buds are popping and the wildflower are out.  BTW – the pictures are just mine and I just like to look at them.  They will not be part of the "Virginia Forests" publication.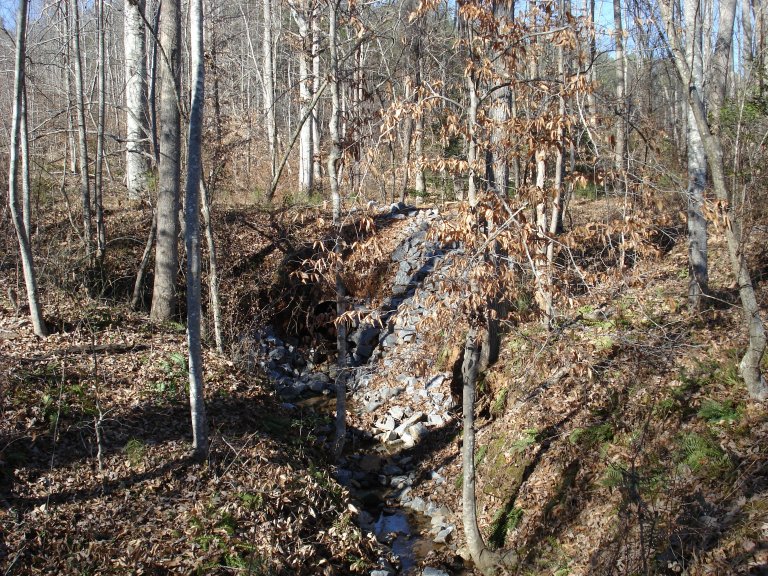 The American countryside is threatened by development and urban sprawl as never before. The very concept of "rural" is increasingly strained as urban style communities and urban lifestyles reach to even the most remote parts of Virginia. This can be positive as new people bring fresh perspectives and new incomes breathe life into declining communities. But these shifts fundamentally change the character of the countryside. When significant numbers of owners and rural residents themselves no longer have their livelihoods significantly tied to the surrounding land, their perspectives are different.
This change happens in a variety of ways, some obvious others subtle. The most obvious is when someone from outside the local community buys a tract forest land. This has been happening for a long time, but the trend is accelerating. A wholesale change in ownership patterns took place over the past decade as forest and paper firms sold off large tracks of forest land to private individuals, investors and timber investment trusts.
The more subtle change in emphasis can take place due to inheritance or just changes in lifestyle. Relationships and feelings about the land change when long time resident farmers or forest owners begin to earn more or even most of their incomes from non-agricultural or non-forestry sources. Of course, children who inherit family farms often have an emotional tie to the land, but may lack practical ties or skill sets that keep them managing the land in same way.
This picture is from near the same spot as above, but during July.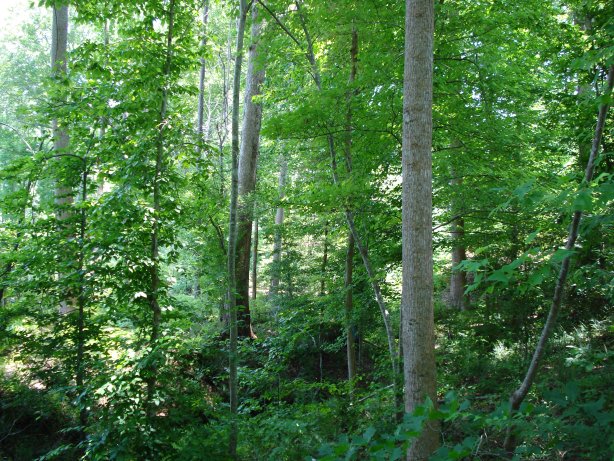 A key attribute of a traditional family forest, or those owned by paper and forest product firms for that matter, is/was that these were working lands, used in multiple ways to include profit generating activities such as forestry, hunting and non-timber agriculture. When land changes hands, the new owners may indeed leave a forest intact. In fact, they may have purchased the land specifically to "preserve" what they believe is the local ecology. But preservation or changes in land management fundamentally alter its nature and that of the surrounding community by perhaps not engaging in those activities that traditionally linked the human and the natural communities. The idea of humans are active participants in the natural environment wisely and sustainably using natural resources is the basis of conservation but it is an idea that can be misunderstood.
The American Tree Farm System (ATFS) is adapting in response to the changes in ownership patterns, motivations and needs of our constituents. As it has done since 1941, ATFS is working to improve forest management through education and advice.  Today there are 87,000 certified Tree Farms covering 29 million acres.   Obviously certifications and inspections remain the backbone of the tree farm system, but increasingly education and outreach will take on greater significance.  New tree farmers and new types of tree farmers will need to understand the nature of a working forest and its place in a sustained and healthy environment.   Here are the boys in the pine plantation last year.  We will have to do some pre-commercial thinning this summer so that the little trees can have room to grow & stay healthy.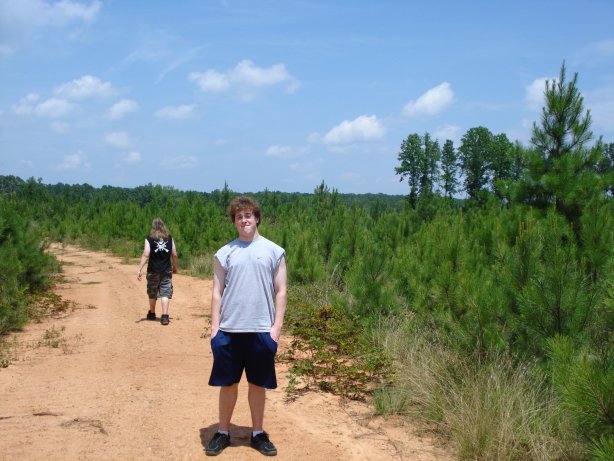 Some of the education will represent a change in emphasis from how to sustain a multiple use forest to why they should want to do that. ATFS has often explained to owners how to manage their forests to produce timber while at the same time caring for clean water, providing recreational opportunities and creating great habitats for wildlife. It was taken as a given that owners wanted to produce timber and gain some income from the investment in their land. Many new owners may be less enthusiastic about making sure their land profitably produces timber at all. They may have bought the land as a home site or in order to create a preserve of some sort where forestry or hunting are not priorities. ATFS will increasingly need to explain why it is important to keep timber lands producing timber and why they need to be managed to do this.
Well managed forests producing wood, clean water, wildlife habitat and recreational opportunities are a great American tradition well worth keeping. Each generation of forest owners must learn or relearn the lessons of good forestry. As the demographics of forest ownership change, education becomes more important. ATFS understands this and is ready to provide the information and education that will keep Virginia a place of beautiful, well-managed and productive forests for years to come.