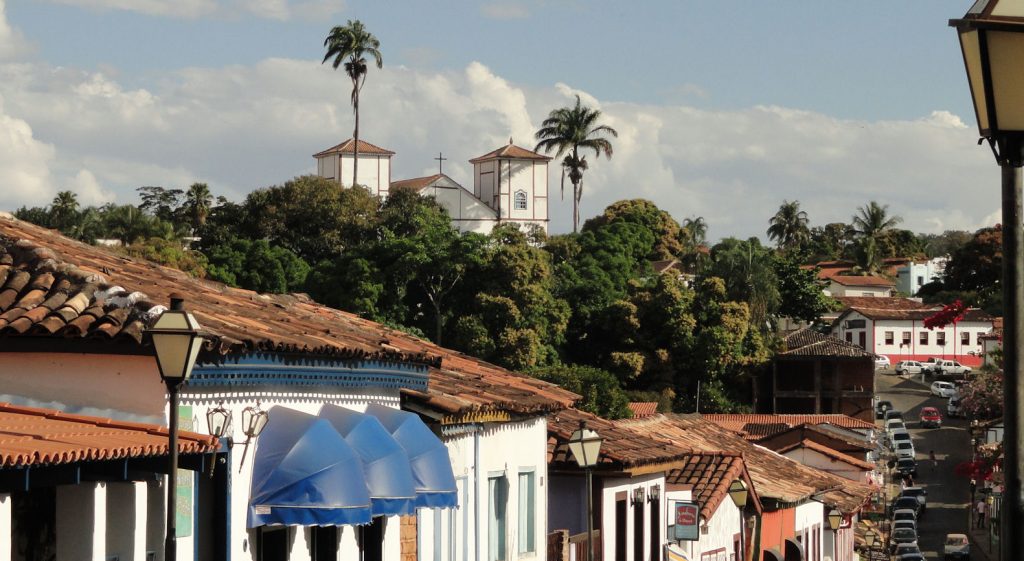 It was a new experience for me both in the natural and human geography (I wrote about Goias in the post below.) Brasilia has a lot of space. It still has some of the characteristics of the city built in the middle of nowhere. Most of this open space is maintained by law. Big cities have grown up around the original city. I knew that, but I didn't know how much until my friend Gary and I drove through the periphery on the way to Pirenópolis, which is around two and a half hours outside Brasilia. The satellite cities are vibrant, but not very pretty. We didn't stop. The picture below is Taguatinga. I took it out of the car window at a stop sign. Workers building Brasilia were its first inhabitants. It is certainly not as charming as Pirenópolis, pictured above, but it is lively.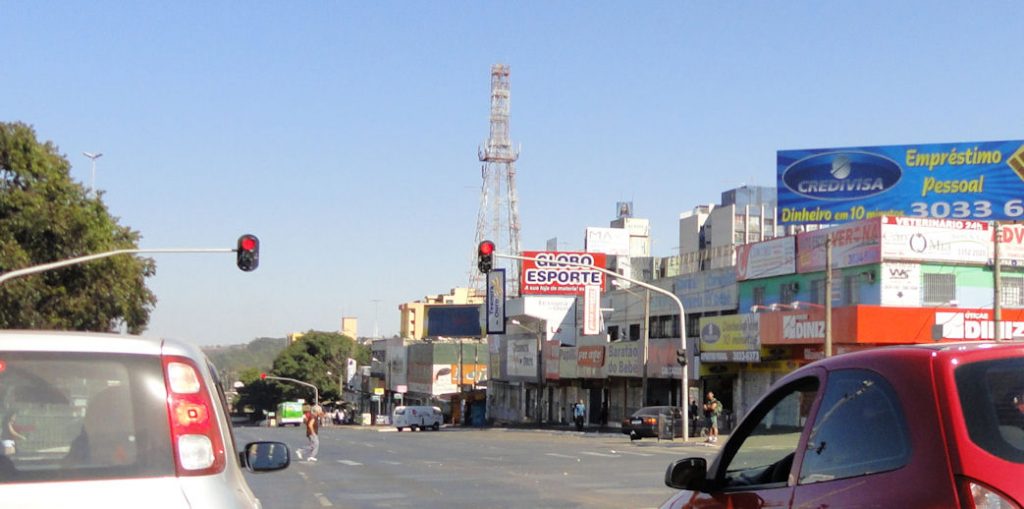 Brazilians are city dwellers. They tend to live close together even in the countryside. After you drive through the canyons of tall buildings ringing the capital, you find yourself almost immediately in open country. When you come to a town, there are again houses, but between urban areas there are few single houses, as you would find in a "rural" area in the U.S. One of the reasons must be that people did not have cars. If you rely on busses or your feet to get around, you don't want to be too far away from other people and services. America was like that before the car, but never quite like this, at least in the East. If you visit Civil War or Early American sites, as I do, you realize that rural regions in 19th Century America were fairly densely populated. People often lived on their own farms, which tended to be less than 160 acres, which is a quarter mile square. Brazilian settlement included lots of big farms and ranches. I wrote about this when I visited Parana a couple years ago. Laws such as the Northwest Ordinance of 1787 and the Homestead Act were designed to avoid this sort of settlement pattern on the plains, and they had their intended effects. Settlement patterns are still affected by the presence of these laws in the U.S. and the lack of similar rules in most of South America. But let me return to my travel notes.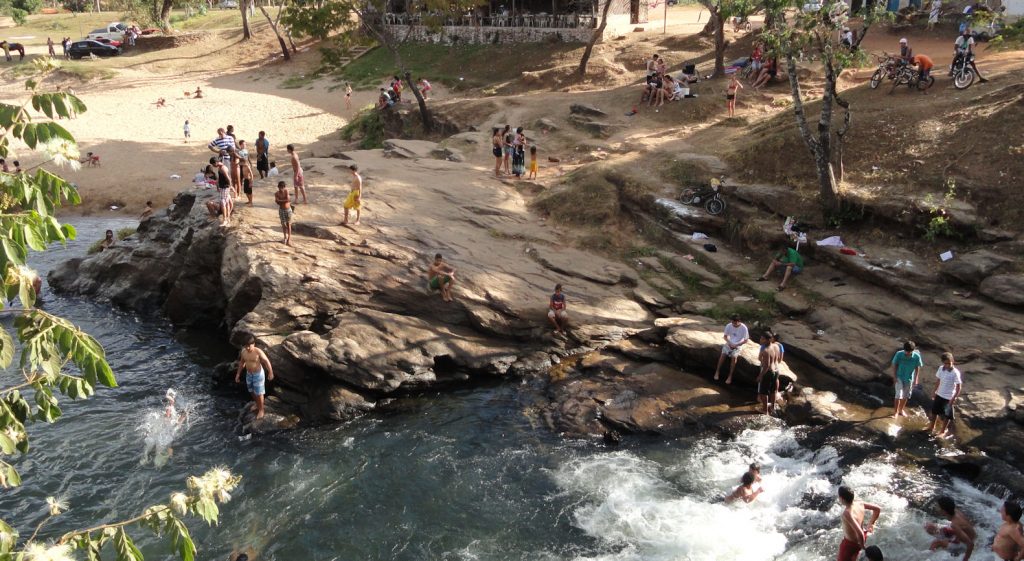 Pirenópolis seems like a nice place to live. You can see above and below kids playing in the Rio Das Almas (River of Souls). I am sure there is an interesting back story to the name, but I was unable to find out. I suppose in the U.S. the fear of lawsuits would close down a swimming hole like the one pictured. Pirenópolis has the feeling of a kind of off-beat tourist town, a place maybe like Sedona in Arizona, but with a younger population, i.e. more kids. Like Sedona, it has a kind of residual "western" look. I saw several cowboys riding their horses down the streets. I bet the place gets crowded. They were setting up tables for the outdoor cafes as we had to head back to Brasilia. It is not a great idea to drive around on these roads after sundown.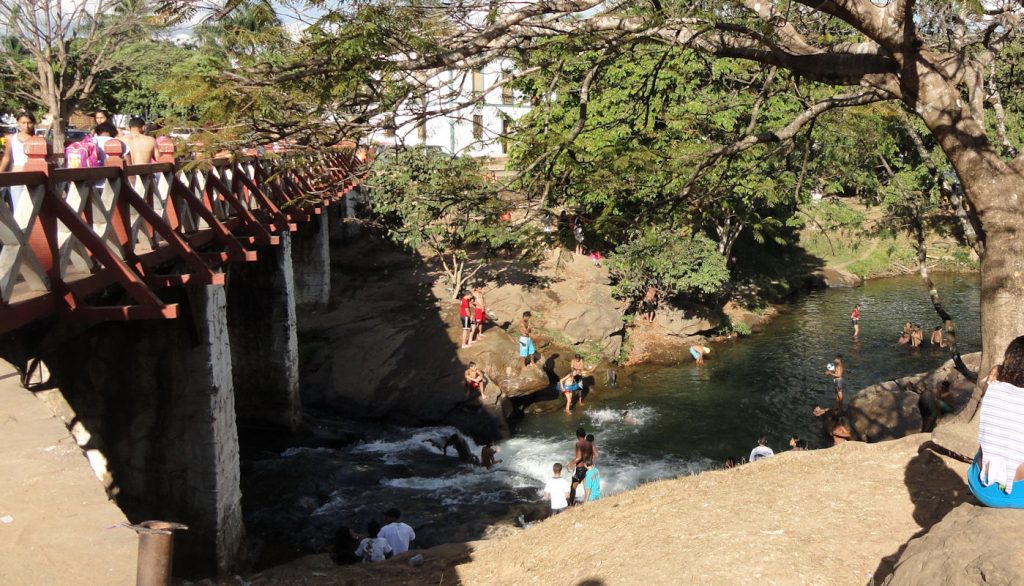 Below is a street in Pirenópolis. As we walked around this very pleasant city, I realized the difference between ordinary tourism and diplomatic tourism. I enjoy both, but when I am doing my job I get to talk to people about their town, work, aspirations and opinions. This is better than just seeing buildings, no matter how pleasant. I get a feeling of having actually done something useful. Towns are made of people, not bricks. I also missed Chrissy. I would have enjoyed seeing this with her. It will be good when she comes down. This place will be a lot nicer.