Anybody can eat when he is hungry but it takes a real man to eat when he's full.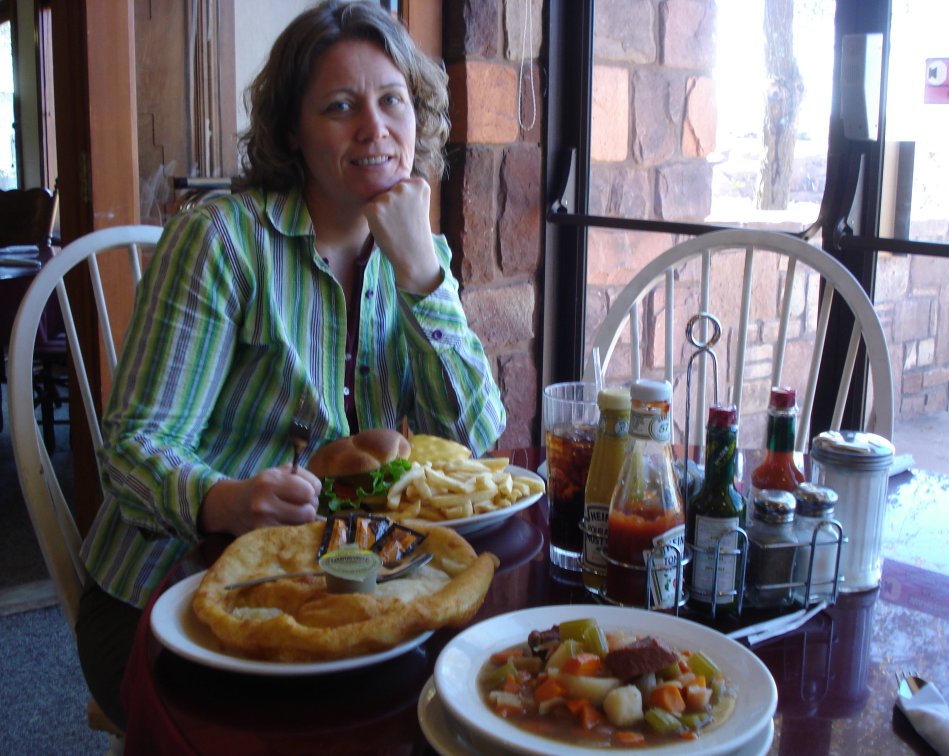 We went east away from the Grand Canyon into the Painted Desert and the Navajo and Hopi nations.  We stopped at a "trading post" in Cameron. 
Information about our trip through the Navajo nation in 2003 are at this link, BTW. 
They had a nice restaurant with very friendly staff and an old fashioned ambiance. I had Navajo stew, which tasted a lot like traditional beef stew. It came with fry bread, which is excellent, and the portions were generous. Chrissy just had the cheese burger and fries. Usually I help Chrissy finish her lunch. This time I failed. The fry bread is very filling.
That fry bread is really good. I enjoyed it just by itself and I tried a little with butter and honey. Then I got the great idea that it might be even better if it had some tomato sauce, melted cheese and maybe some sausages and mushrooms. Maybe I should check to see if anybody else has had a similar idea before I open my restaurant.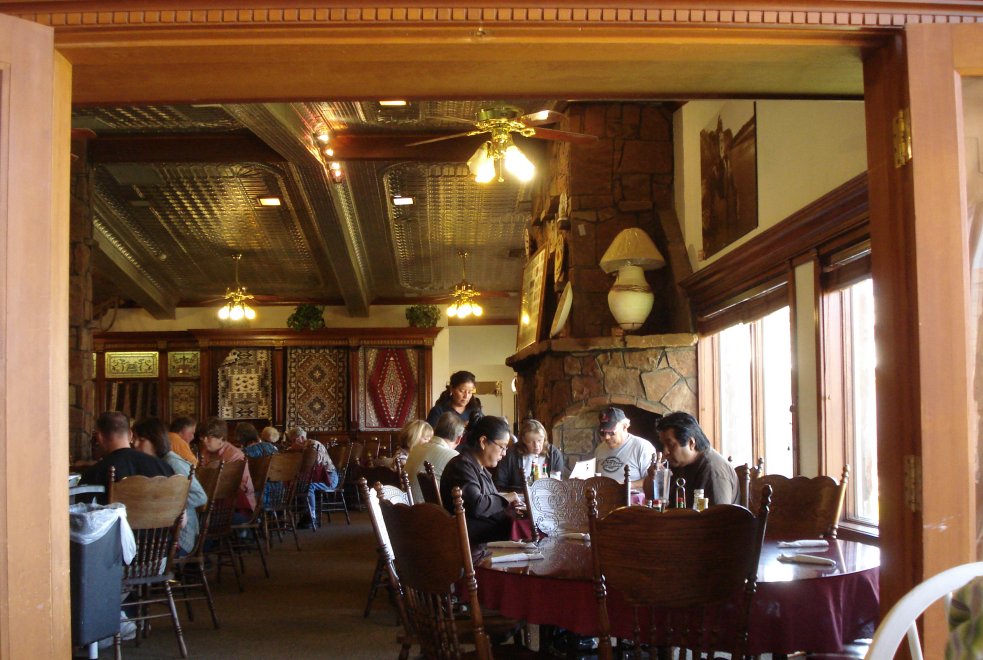 Space & the Eternity Highway

There is a lot of space out here. Chrissy joked about those signs you sometimes see on developments, "If you lived here, you would be home already." These roads are near nothing. We saw a few lonely cows and horses, but not much else. Sometimes I wondered if we were really moving. Although we were going 65, the horizon didn't seem to change. This is the kind of landscape featured on SciFi. The aliens could abduct you out here and nobody would see.
Proper Picture Protocols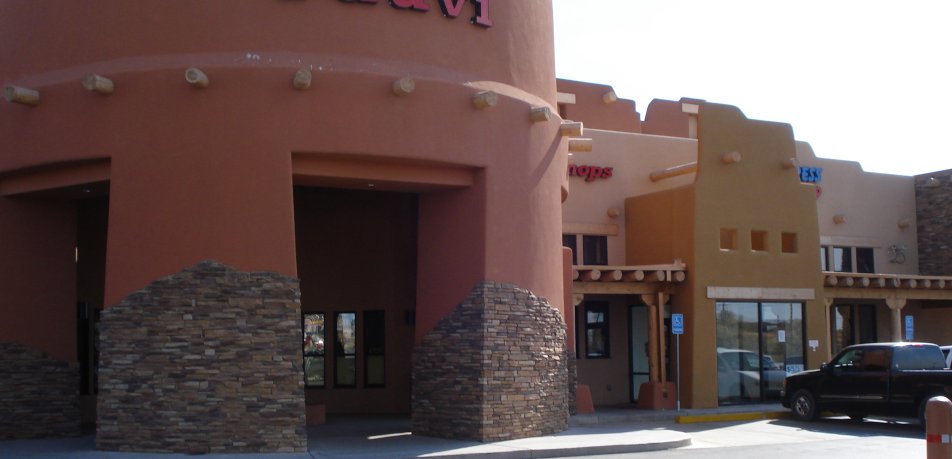 We stopped at the Hopi Museum. I cannot show you pictures from the actual museum. (The best I can do is the cool looking gas station above, which I assume is culturally appropriate.) A sign at the museum admonished visitors not even to take notes. The $3 you pay for admission only goes for you. Other signs warned that you would have your camera confiscated if you took pictures of various villages or activities. So I don't have pictures of the Hopi stuff. I have some Painted Desert pictures below. There was nobody out there or much sign of life in general.

I have a good memory and could probably tell you about the things I read and saw at the museum, but they seemed unenthusiastic about this sort of sharing, so better not. Suffice to say that there were some excellent black and white photos from around a century ago of people and places as well as a display of Kachina dolls with narratives complaining about Kachina doll knockoffs and/or imitations based on the concept.
There was also a lot of information about a boundary dispute between the Hopi and the much larger and faster growing Navajo Nation. As per instructions, I didn't take notes, but seems that things were not going well. The Navajos and Apache arrived in the area a few hundred years ago and this is only the latest round. According to the last census, there are almost 300,000 Navajos and fewer than 7,000 Hopi. The numbers explain a lot.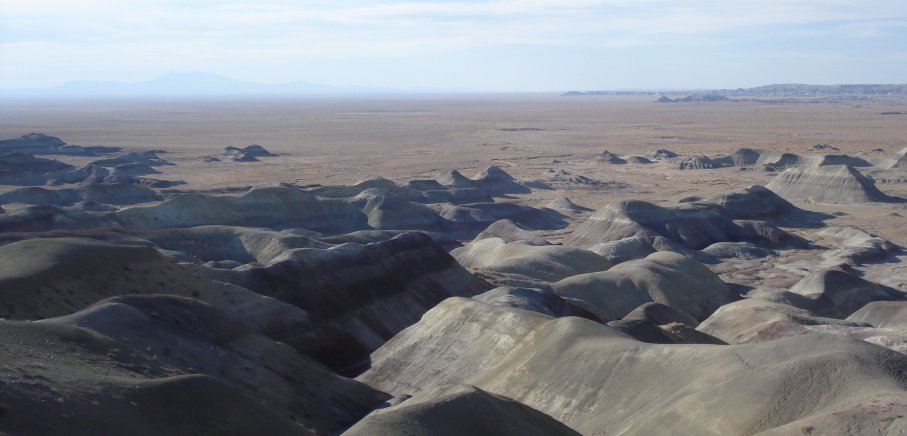 I framed an excellent picture in my mind. Outside the museum there were a bunch of guys selling things like firewood, rugs and Kachina dolls from little stands or the backs of pickup trucks. In the background were spaced pinon pine trees. Very picturesque. But business didn't seem too good and I was intimidated by the picture prohibition. I didn't know if I could take a picture or not, but why chance it? You can find out all you need to know from "National Geographic" and they have better photographers who know the proper picture protocols. I hope I didn't anger the Kachinas.