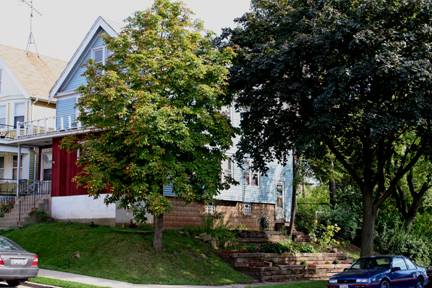 Sorry no ACTUAL pictures. I forgot my camera. My wife tells me my poses are getting formulaic anyway. The picture I have included is from my files. It is the house where I grew up in Milwaukee. I planted that horsechesnut tree on the corner – from seed – in 1966, so you can see how big such a tree gets in 40 years. Maybe I should have fertilized more…or some.
This is the real post
Sheiks are picturesque, but the future of Iraqi democracy is in the hands of the more prosaic local leaders: mayors, local council members and ordinary administrators.
We had a long talk with one of these guys, the mayor of Haditha at the home of a local notable. His city of Haditha is recovering from the late unpleasantness. As we drove through town, I noticed that shops are open and full of goods; people are rebuilding homes and fixing damage. The neighborhood around our destination was very upscale and looked undamaged or repaired. When we returned after dark, I noticed that the lights were on all over town. The condition of the city leaves no doubt that it recently was the center of a war zone, but the life of the city gives hope that those dark times have passed.
The Mayor is a believer in democracy and free speech. He expressed some anxiety, however, about the quality of leadership available at the national and provincial level in Iraq. There was not enough virtue and honesty, he complained, necessary for democracy to flourish and expressed the wish that the U.S. would encourage the appointment of better officials at the national level, ones that would not be beholden to foreign interests. He was speaking about Iran. The general opinion around here is that the Iranians currently have overmuch influence in Iraq. We discussed the need for virtue more generally.
Our American founding fathers had little confidence in the long term efficacy of virtue in protecting liberty. Their reading of the history of republics informed them that virtue is often in short supply among the political classes. Lord knows we Americans do not usually have enough virtuous politicians to go around. That is why they relied on balances and checks that would keep virtuous people virtuous or at least channel their self interest into less harmful directions. With that in mind, I said that all governments need strong institutions to contain the ambition of potential leaders. The Mayor mentioned a free media. Unfortunately, this section of Anbar doesn't have any regular media, but the mayor assured me that informal networks (i.e. gossip) were usually sufficient to keep the people informed.
I wondered if the "Iraqi diaspora" could use the skills and knowledge acquired in exile to help in their former homeland's transformation, as expatriates from E. Europe had helped those countries throw off the lethargy of communism. The Mayor corrected me, pointing out that in the case of Poles or Lithuanians, those who left and came back had been well integrated into society. In some cases, they were well known and respected before they left. In contrast, the Iraqi exiles were more often members of oppressed minority groups or isolated individuals. Saddam was more brutal than the later years of communism in Europe. Many of overseas Iraqis feel less connected with their homeland and are unenthusiastic about returning. Even if they did they often lacked the networks and entrée that was common for E. European returnees. Iraq's future rests almost exclusively on the people who had stayed in, or at least near Iraq.
As we discussed Iraq's future, we naturally moved to the economy and investment. There are two big facilities in the Haditha district: Haditha dam, which supplies power for most of Anbar and some of Baghdad, producing 180-200 mw of hydropower every day, and K3, a refinery and pump station for oil from Bayji in the north. The pumping doesn't work and the refining does not even support local needs. If it was up and running near capacity, it could satisfy local needs and send product to other regions. K3 produces kerosene and naphtha, the latter is also blended to make benzene.
For a "small" investment of $80 million, the pumping facility, which would service Basra and has connections to the Mediterranean through Syria, could be refurbished and developed, which would facilitate oil export, pay fat dividends and would probably reach a break even point within months, not years . Why the central authorities, who own the plant, neglect this opportunity remained a mystery to all involved in the discussion.
Iraq needs a lot of investment, the mayor allowed. That is why he hoped the Americans would be in Iraq now and forever. He says that he always tells people to look to Japan, Korea and Germany. The guarantee of stability provided by U.S. involvement s is like an umbrella for investment. Investment goes only where it feels secure. The recent success in Anbar has bought some time with the American political process, but the Marines continually point out that they will go home and American troop levels will drop. Iraqis like the Mayor do not want to hear this.
Rule of law is a prerequisite for both democracy and the free market. The mayor pointed to out that during the recent insurgency, rule of law was not well established for the practical reason that it was nearly impossible to gather evidence or bring witnesses. Now that order is being restored, it is time to establish procedures and rule of law. We agreed that the test of rule of law was when it was applied to those we disliked.
It is encouraging to talk to a man like The Mayor. The discussion highlighted how far Iraq had come, but also how much remains to be accomplished.