Not a bad book, but I would not rush out to buy it. His best, IMO, was "Truman". This is not like that.
It is mostly about the settlement of the area of Ohio around Marietta, told through the stories of a few people. You get a good picture of some of the hardships. These people worked all the time and the work was very hard.
Interesting subjects include the struggle to set up public schools and the fight to keep slavery out of the Northwest Territories (hard to think of Ohio as Northwest). The slavery issue is featured prominently in many histories today, sometimes inserted awkwardly. In this case, it makes sense. The Ohio River was the border between slave and free. Imagine if slavery had been allowed to infiltrate into places like Ohio. It is likely that the Civil War would not have played out the way it did, or at all. Slavery might have persisted longer. Recall that Brazil did not ban slavery until 1888 and it persisted in much of world until well into the 20th Century. The African nation of Mauritania did not end it officially until 1981. How different world history would have been if the USA had not banned slavery when it did and given a few changes among a few people, because settlers were so few in Ohio in the early years, everything could have been different. History is contingent.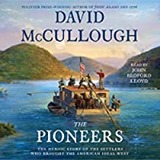 audible.com The Pioneers Check out this great listen on Audible.com. Pulitzer Prize-winning historian David McCullough rediscovers an important and dramatic chapter in the American story – the settling of the Northwest Territory by dauntless pioneers who overcame incredible hardships to build a community based on ideals t…..