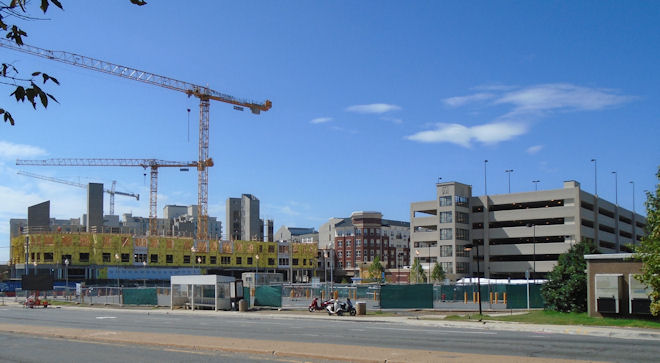 Went for a two-hour walk to listen to my audio book and take advantage of the hot & humid day. I have learned to like humidity.  You sweat, but if you don't have to wear a suit or sit still it doesn't matter after a while. And it was a beautiful day, as you can see from the pictures.  Besides, it only got up to about 90, despite weather reports of higher temperatures. Even so, this is one of the hotter days in what has been a cool summer.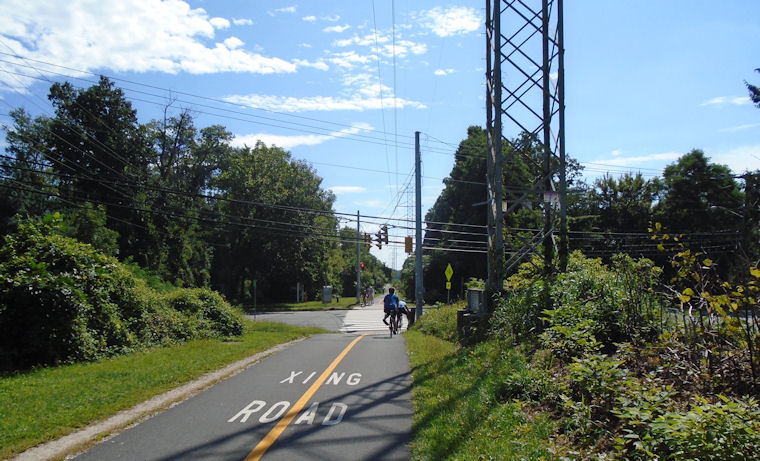 I have been walking around this neighborhood since we bought the house in 1997 (and I sure am tired after walking those 17 years :)) There are lots of changes near our house. The whole area has been transformed for the better. We now have a town center with restaurants and a movie theater. I like to be able to walk to these attractions. Near the metro, they are building another complex that will include a Harris Teeter grocery store. I won't need a car very much anymore.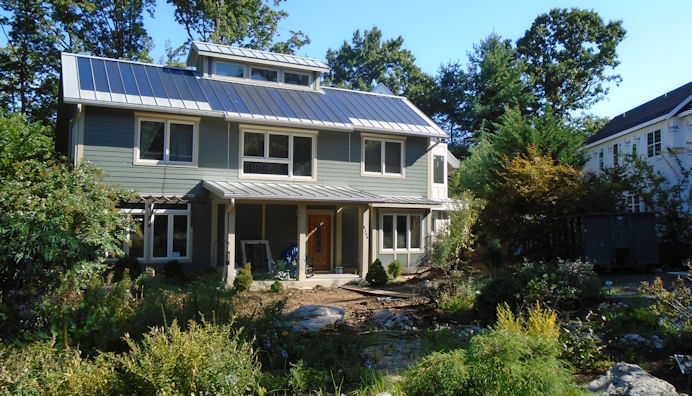 But most of the place where I was walking are changed less, although there has been a steady knocking down of little houses and replacement with more elaborate ones. It remains mostly a typical Northern Virginia suburb of the 1960s-70s varieties. I cannot tell the age of the houses, although you can guess by the styles. But you can get a reasonable estimate by the size of the trees and the sorts.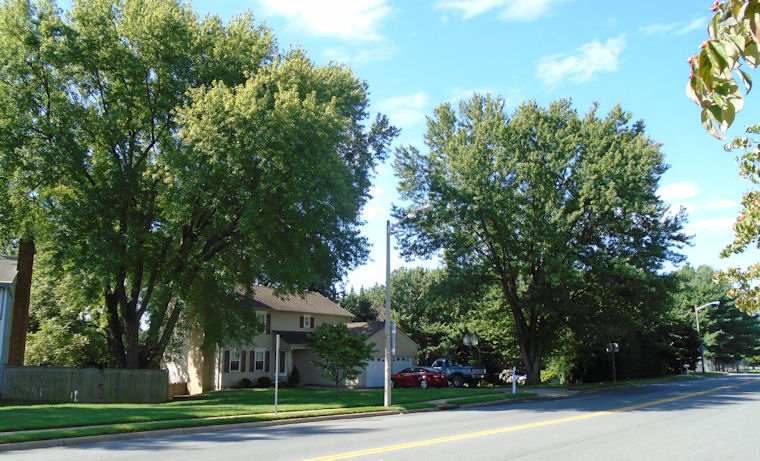 Silver maples were very popular during the 1960s and you see lots of mature silver maples in the area. I have come full circle on silver maples. When I was a kid, I liked them a lot. My uncle Ray planted one for me on our hill. It is still there. Then I "learned" that silver maples were not good trees. They were weak-wooded and short-lived. But I have been observing them now for forty-five years. They get big and stay reasonably healthy for at least that period of time. Nice trees but maybe not a great idea to plant them near sidewalks or sewers. The roots seek water enthusiastically enough to break up concrete.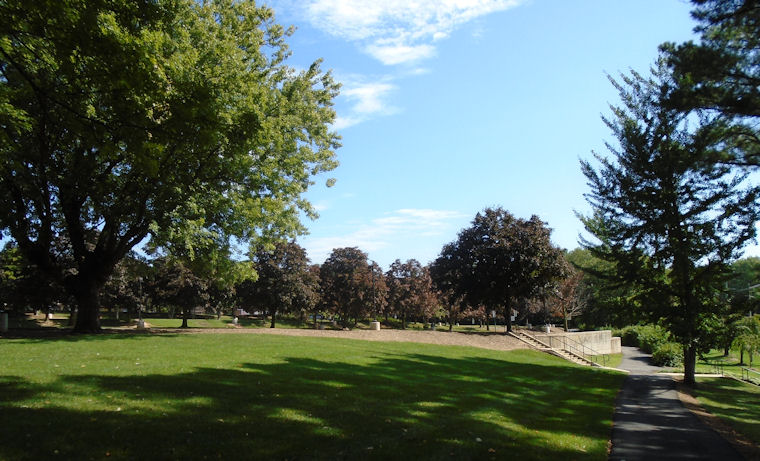 We chose the neighborhood because it was near the Metro and the W&OD bike and walking trail.  These are my roads to work – bike in summer, Metro in Winter. There are other things. Navy Federal CU has its headquarters and a big park-like campus that includes a walkway with boardwalks over the wet places. Above shows the variety of trees popular in the 1960s and 1970s.  From the left, we have the silver maple; in the middle are some Norway maples crimson variety. On the end are some new ginkgoes.  You really cannot see the row of loblolly in this picture, but I have included another at the bottom, with a white pine in the foreground.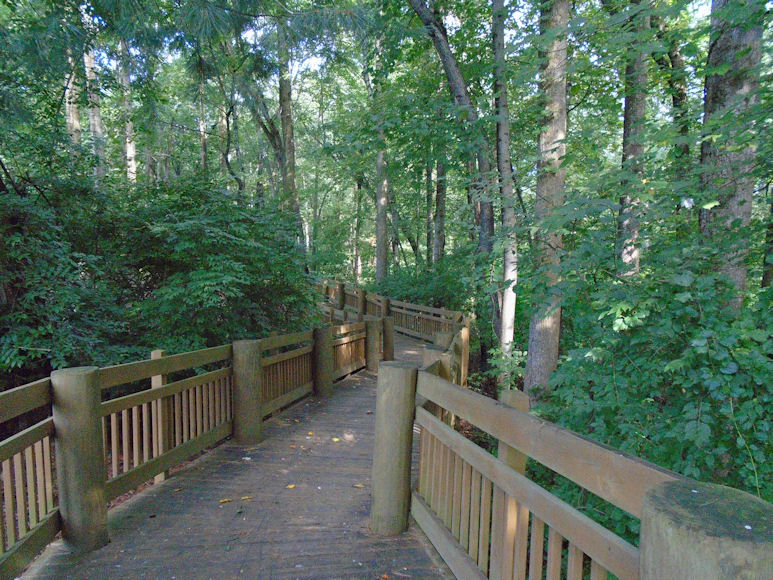 I was thinking about what makes a neighborhood nice. Space and parks are nice, but security is most important. There are nice places in DC that have lots of parks, but I would not feel as free to wander lonely. Around here, there is no significant vandalism, no spray paint, and as I walk through the woods I pass lots of other people just walking. People feel safe and that opens all this place to be used.

My picture up top is the new construction around the Dunn-Loring/Merrifield metro.  When we moved to the area, there were some fast food places, a lot of parking lots and a mulch yard.  Supposedly, the town center etc were going to be build in a few years. That was 1997.  Finally, it is happening.   The next picture is W&OD trail, then some new construction replacing the little houses (notice solar panels). Below that are some of those big silver maples I mentioned.  Next is the area around Navy Federal and finally a weeping willow on one of the quiet suburban streets.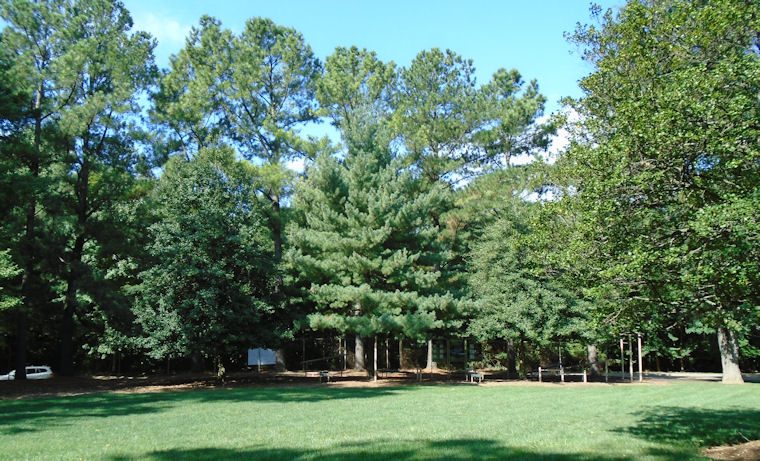 My audio book, BTW, was "The Half Life of Facts."  It is very interesting so far and maybe I will write a note re.