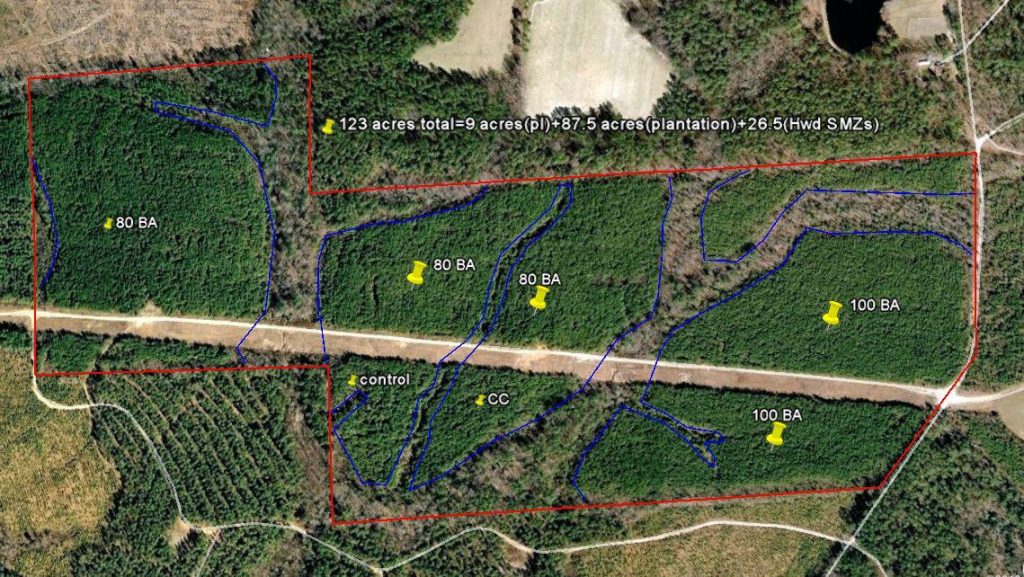 There is an exciting (at least for me) development in my forestry business. I am working with Eric Goodman from the KapStone Mill in Roanoke Rapids, NC to make our Freeman property into a kind of experimental/demonstration tract.
We are going to thin to different densities, with two residual basal area targets of 80 & 100. In addition to that, we will have a five acre control block where no thinning or treatment will be done and another five acre area (labeled "CC") that will clear cut and replanted with a combination of loblolly and longleaf next year.
Planting longleaf is particularly interesting. Longleaf pine (pinus palustris) was once common throughout the south. It is a beautiful big tree, that forms in grassy groves and park-like palisades. But it is hard to grow and fire dependent, so it has not been propagated as much loblolly.
A National Wildlife Federation study says that longleaf pine ecosystems may be particularly well adapted to expected climate changes. The longleaf is well adapted to extremes that might become more common in the Southeast. You can read the study at this link about longleaf and climate change.
After thinning, we will experiment with other management techniques, such as burning, herbicides, pruning and fertilization. It seems like it will keep us busy.
The picture/map up top shows the plan.