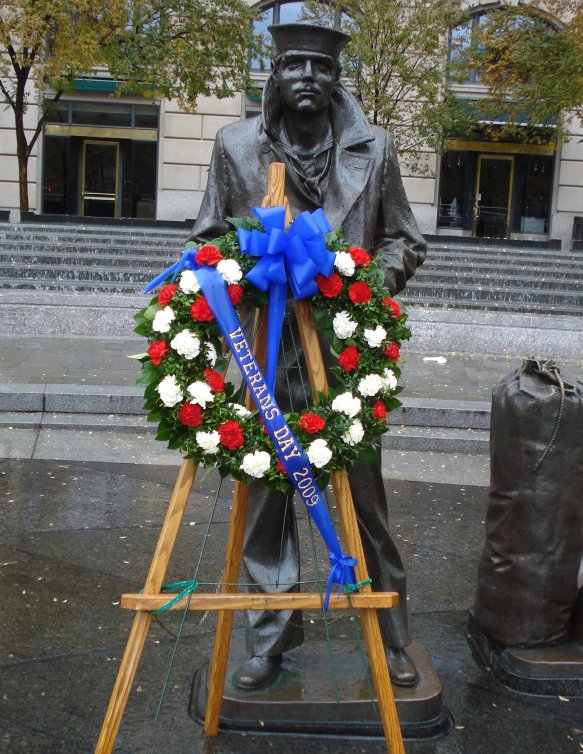 Most of the fathers in my neighborhood were veterans of World War II or Korea. I remember them mostly as middle aged guys with short haircuts, strong forearms and thick necks. They were like everybody else in our working-class neighborhood because they were the neighborhood. 
Non-veterans were rare.  We kids just assumed we would go into the military when we reached manhood.  But I grew up just at a turning point.  They stopped drafting young men the year before I turned 18.  The new volunteer military meant that fewer and fewer Americans had any experience with the military.  Many young people today don't have any close friends or relatives with military experience.  They take their impressions from Hollywood, which exhibits a systemic negative bias toward the military these days. 
That is too bad. Today's military is extraordinarily impressive, but many of those who haven't seen it up close lately are stuck in the old stereotypes. You hear the prejudice when people say that the military is full of poor people w/o other choices. In fact, the opposite is true. 75% of today's young people are not qualified for military service because they are too fat, too weak, druggies, crooks or dropouts and studies show that the average soldiers or Marines are better in terms of education, health and general attitude than the average civilian Americans of their age.
Until not long ago when I thought of veterans, I still saw those old WWII guys I knew as a kid. There service was twenty years in the past by the time I knew them.  It was distant, almost legendary. Their sacrifices and those of their comrades were equally remote. The Vietnam vets were only a little older than I was, but that war got compartmentalized, with student protesters and hippies taking the starring roles leaving the military as supporting characters, portrayed as victims, villains or psychos.   (BTW – I think that is one reason why movies like "The Men Who Stare at Goats" or "Brothers" infuriate me so much.  I fear that Hollywood is doing to the heroes of Iraq and Afghanistan what they did to those of Vietnam.)  In both cases, they were isolated from my reality.
But on this Veterans' Day I realize that my views of veterans have undergone a significant change. It is not only because of my Iraq experience. Some of it is generational. I am now older than most veterans and many of the older veterans are nearly my contemporaries. I am now seeing veterans not as fathers, but as sons. That has made it more poignant and I have seen it closer.
The death that affected me most was that of PFC Aaron Ward. He was only nineteen and had been in Iraq less than two months when he was shot and killed on May 6, 2008 as he stretched his legs outside his vehicle in Hit (that is the city name). I knew the place but I didn't know him or anything about him until I attended the memorial service. His friends described him as a friendly guy who liked to lift weights and joke with friends. Like everyone in Iraq, he was a volunteer who had chosen to serve his country knowing that he would be deployed to a war zone. He seems a great guy and at the same time an average guy who did the things nineteen year old guys do. I thought of Espen and Alex and I thought of Ward's parents. And so this Veteran's Day and every Veterans Day until the day I die I will pause to remember Aaron Ward.
Brave men and women put their own lives on hold and their own lives at risk to protect ours. We mourn the fallen, but we should think of our military as heroes, not victims. Most come back healthy and alive. They bring with them the skills, discipline, maturity and experience from their service to our country defending our freedom. They serve in the military for some years. Then they serve as good citizens for the rest of their lives. Like those veterans I remember from my Milwaukee childhood, first they defend the country and then they come back to build it and keep it healthy. They deserves the honor and respect we give them on Veterans' Day and every day.
BTW – Please see my note from last Veterans' Day at this link.