Below are CJ and the boys near Mt Washington in NH in 2003.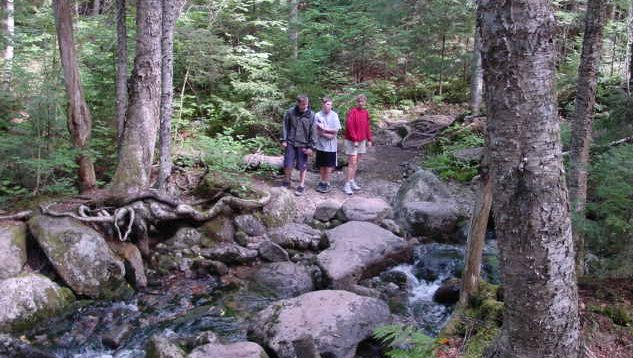 I found this while going through some old emails. I wrote this to Mariza when she was off to college. My "great books" for her first year are a little idiosyncratic. Some books are influential because of the things you are going through in your life when you read them. When you reread the book, you realize that it is important to you because of what you read into it.
You have to interact with ideas. Nobody can be right all the time and I have never come across a book that is good through to the very end. The authors that influenced me gave me good starts, but none of them lived in my circumstances and I had to modify them accordingly. That gives me an ideal escape clause. When I recommend books, I assume that you will interact with the ideas. Some will be useful; others not. And even best author or philosopher will say at least a few really stupid things and sometimes a fool can have a useful insight (even if he doesn't recognize it himself.)
Anyway, I left the note as it was in 2003. I would make a few changes and additions if I wrote it today. I personally find it interesting because I can remember some of the things I was thinking about and going through when I wrote the note. For example, in 2003 I was studying pragmatism, so it was more prominent in my thoughts than it would have been before or since. Everything depends on contexts, times and places.
Books
Now that you are off to your education, I want to share some of the books that have influenced me for the better. Few of these things were assigned to me in school. But I think they formed the basis of the education I use today.
"In Search of Excellence" – Formed the basis of my management and leadership style. Also influenced my view on human relationships in general. I bought my copy in 1983, when just before I started my MBA at the University of Minnesota. It just hit the right chord. I still have the book I bought, with my underlining and notes. It is amazing how much I internalized those thoughts.
"The Seven Habits of Highly Effective People" – This is the "execution" book of my life and provides the "how". It helps me know how to act with integrity and purpose when I might not be sure what to do. I read this book in 1990 and compared the ideal to the best bosses I had known. (I worked for a guy called Brian Carlson at the time and he was a great example.) I tried to be like them and like the person the book made me want to be.
"Two Cheers for Capitalism" by Irving Kristol – I found this book by chance in the University of Wisconsin library in 1978. It made clear to me that I believed in the free market. It set the dominos in motion that sent me to business school with vigor and enthusiasm and then into the Foreign Service to fight world Communism. On a related item is "The Communist Manifesto" and excerpts from "Capital". One of my leftist professors made me read them in 1977. It had the opposite result from the one I think he wanted to achieve. I found them to be such unmitigated crap that I was permanently soured on socialism.
"The Bible", especially Mathew, St. Paul and Ecclesiastes – I am not strongly religious, but the Bible provides the foundation of faith that I need in my life. It is the essence of things hoped for; the evidence of things unseen. I have never read the entire Bible, but have read several times the parts above and heard it in church more times than I can remember. I am not sure how Ecclesiastes got into the Bible, since it seems a little cynical and world wise, but I like it. It is a good antidote to things like Amos.
"The Peloponnesian War" by Thucydides. Thucydides was my favorite historian when I was an undergraduate. I read his work in English and part in the original Greek. It is the classic tragic view of history and one I regrettably share. His account of the Syracuse campaign actually has all the aspects of tragedy in the technical sense and the Melian dialogue is a classic of power politics. I would add Polybius and Tacitus and everyone should be familiar with the Iliad and Odyssey. Although I have long since forgotten the particulars, I recall the sweep. As for classic philosophy, I can't recommend Plato or his ilk, except the "Apology of Socrates" which is short and well worth reading. It was the first work I read in Greek.
"Decision Traps" – In this book I learned about how decisions are made in the real world and how to factor inevitable error into my own decisions. I learned a little humility and at least one valuable technique for learning from experience: make specific written predictions; put them aside; later analyze them in the light of how event transpired in fact and improve the decision making process. I read this book for the first time in 1990. I would add another book to this one as an influence in the same direction, "Against the Gods", which I read first in 1997. As I write this (April 19, 2003) I am reading another book, "The Blank Slate" which seems to be supplemental to many of the things I learned in "Decision Traps."
Pragmatism – Various things by and about people like William James, Charles Pierce and John Dewey, especially "the Metaphysical Club" This is the most recent wrinkle in my ideological skin. I find many pragmatic ideas very useful, which is itself pragmatic. I especially like the idea of the evolution of ideas and the concept that ideas are creations in a human context. I found many of these ideas embedded in concepts I got from other places, such as the decision traps complex or the "Seven Habits". I will also lump into this category Emerson's essay on "Self Reliance". It is not pragmatism, but James et al read it. It influenced them.
Biography – this became my favorite form of literature in the middle 1990s. I guess it comes with age. I can't cite a particular book, but in general, seeing history though the lives of great people has been instructive. It shows how much can hang on an individual decision and how fast failure can turn to glorious success or the reverse. The biographies that stand out in my memory are: Truman, Eisenhower, Robert E. Lee, Ben Franklin, and the joint biography "Founding Brothers", which is interesting because it shows how individual human flaws can actually enhance the performance of a group. It is sort of a portfolio theory of human events.
Lao Tzu and Chuang Tzu – I loved these guys when I was an undergraduate. I always like to try to act logically. Taoism provides the non-logical basis on which a logical edifice can be built. In the same vein, I would cite "Emotional Intelligence", which I read in 1997. Logic can provide the "how" (that I got from the Seven Habits), but preference in based on emotion. Emotion can never be fully suppressed and we should not try to do so.
Declaration of Independence, Constitution Preamble, Gettysburg Address, Lincoln's Second Inaugural, Four Freedoms (FDR). America's contribution to world literature is in the language of freedom. These are some of the best.
Anyway, these are a good start. You will find a lot more. Never stop looking.