Above is housing on Ft McNair, the home of National Defense University (NDU).
I went back to work today at IIP/P.   My job will be interesting since my group is supposed to act as an incubator, take ideas and then spin them off for others.   That suits my preferences.   My strength is that I am good at innovating, but that comes with a corresponding weakness that I am not great at doing things that require me closely to follow established procedures.   Most strengths have corresponding weaknesses and if somebody tells you what he is good at doing you can often guess where he has troubles.  The trick is work with your strengths.  You really cannot eliminate your weaknesses, but you can deploy your strengths in such a ways to minimize them.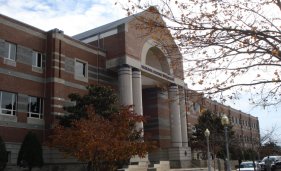 Above is Marshall Hall at NDU.
But I found out that the job will be different than I thought, at least at first. In the first months, I will be working down at NDU. I have to take the green line to waterside mall and then walk about a mile down to NDU.
Below – apartments become condos.  We lived in this building when it was Oakwood temporary housing.

I lived around there in SW when I studied Norwegian back in 1988.  It was kind of a strange mix.  Some of it was very nice and some very bad because it sat on the edge of the gentrifying district.   In the last decades, the nice part has expanded.  It still retains some of the seedy parts, but it is not scary as it was in 1988.   Of course, 1988 was still the time of Mayor Berry, when Washington in general was a scary place.     Things have really improved.  Of course, some of the improvement is just making up for earlier attempts at improvement. 

Evidently in the 1960s, SW was – in the parlance of the times – blighted.   Using Federal dollars, they drove out the inhabitants and built those 1960 style structures we all love so much.  It is hard to believe this is what they WANTED to accomplish.  In the 1960s, our country and much of the world seemed to have lost its good taste.  Were any attractive buildings constructed during the 1960s?  The worst part of the area is L'enfant Plaza.   I will have to wander down there and take some pictures for a future blog.
On the plus side, they did a good job planting trees and so after forty years there are lots of nice big trees.  Even better, many of the 1960s buildings are being torn down and replaced.   When we lived in SW, we used to go to Waterside Mall.  It was a sad place.  In 1988, there was a CVS (I think still called People's Drugs), a Blimpie, Roy Rogers and some record stores.   Outside was a Pizza Hut and a Safeway.   Over time, everything flickered out, until finally only Safeway and CVS remained.  I used to go down there sometimes and get a salad at safeway.  The Mall itself provided a shortcut to Safeway and had a bunch of "outdoorsmen" hanging around outside, but was otherwise abandoned.  Sometime in the last year they tore down the Waterside Mall.  Safeway is still in business outside, so there is no real loss, except now you have to walk all the way around the block.   Now that there is a metro stop, the neighborhood is improving. 

Above – the former site of Waterside Mall.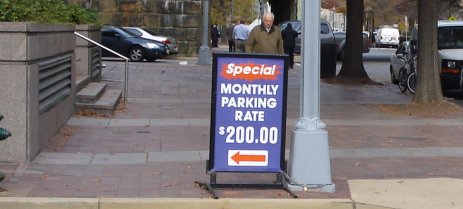 Above – parking costs.  I guess this is a good deal.  It is "special" after all.