Below – I drove Espen over to Falls Church HS to take his SAT test.   Sorry for the dim.  It was just before sunrise.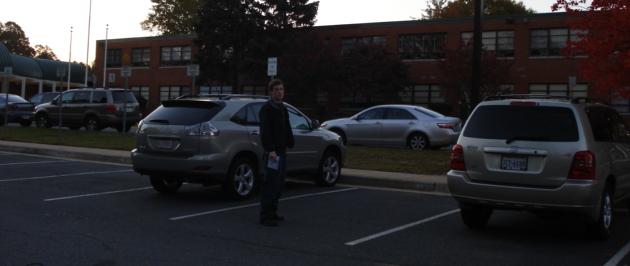 The SAT test is an annual ritual for HS seniors. College admissions have gotten harder and more complicated over the years. Some families are hiring consultants to get them through the experience and many kids take various SAT course to improve their scored. I have very little confidence that the process has gotten better for its new intricacy. In our quest to make everything fair & equal (often mutually exclusive goals), we have mostly made it capricious.
Standardized tests were designed more than fifty years ago in to create fairness and give poor but smart kids a chance to compete with the sons and daughters of the rich and well connected. They worked. That is one reason I like them. In interests of full disclosure, these sorts of tests revealed my hidden talents and abilities and helped me jump the socio-economic divide. W/o the Foreign Service written test, I never could have gotten a job like the one I have. The rich and privileged can help their kids by massaging their resumes and using their contact networks. Working class kids don't even know they are playing that game until they have already lost. Standardized tests are less subject to manipulation. They level the playing field.
I am convinced that many educators and politicians dislike standardized test because they actually do work to differentiate fairly among applicants, and fair doesn't mean equal – something they really don't want. Standardized tests are also difficult to influence politically and they stubbornly fail to produce politically correct results. No test is perfect and opponents attack from that angle. They abuse the reasonable argument that we should not overemphasize one measure and try to devalue to whole judgment process. They point to the exceptions that prove the rule.
We should use multiple criteria, but let's not pretend there are no valid criteria or that some criteria are not better than others. If a kid has high grades and high test scores, he/she is almost certain to have the ability to do well in college. If a kid has bad grades and bad test scores, he will certainly be challenged in school. That does not mean he/she cannot eventually excel at school. It just means it will be a stretch and the odds are long. It definitely does not mean he/she will not be a success in life. Success in school and success in life are not the same. It is possible to be an educated fool and not everybody finds his best self at university. But among those who are college-bound, the kids we should find most interesting and give more consideration are those who have poor grades and high test scores or the reverse. This is where the testing has value.
I object to the "whole person" concept in college admissions. It is in fact a way for admissions to introduce bias into to process. The combination of grades and test scores provide the necessary useful information. When dealing with eighteen-year-old applicants, with virtually no work history, additional information will not provide valid basis for decision. There are some exceptions, but they would be rare. The only case I can think of off-hand is when a kid has a unique talent that shines through an otherwise mediocre record.
IMO the rejection – proponents would say the broadening – of criteria is just a way to cheat. The rich and privileged are unhappy that objective criteria weaken their influence, so they make a tacit alliance with "the underprivileged." That helps account for the statistical anomaly that elite universities have lots of rich kids and a good representation of poor kids but not so many middle-working class kids, relative to their representation in the actual population. These are the ones who would provide the real completion to the privileged.
At my first post in Porto Alegre I met a woman who hated me. She was the American wife of an expatriate banker. I couldn't figure out how I had provoked such a strong reaction in someone I hardly knew. Finally, I asked her. It turned out that she didn't like me, or my colleague the Consul, because of what we were. Both of us were from working-class backgrounds and both of us had gotten ahead through the standardized Foreign Service test. As it turned out, her brother wanted to be a diplomat. He had taken the test on several occasions, but was unable to pass.
She explained to me that her ancestors had come to America on the boat right after the Mayflower and that her family had been leaders and diplomats ever since.   It was only in the most recent generation that they were pushed out of their ancient redoubts by upstarts like me and those darned standardized tests that breached the walls.    People like me, she said, didn't really deserve or appreciate the exalted jobs we had.   I am not saying her argument was completely w/o merit.  I am sure her brother came with all those social graces that I had painful and imperfectly to learn. He knew what jacket to wear and what fork to use, but we were smarter, or at least had a better memory for tests.    It depends on what traits you value most.  The "whole person" approach to recruitment would have preferred him.
Above is Bay View HS where I went to school in Milwaukee.  I got a good education there, but as far as I recall nobody ever mentioned FS as a career option.   I think if someone had asked me if I was interested in a career at State Department, I would have asked "State department of what?  Roads? Parks?"  BTW – the school was badly damaged by another "fairness" social engineering – bussing.  That was one of the dumbest ideas ever, unless the goal was to destroy neigborhood schools, but that is another story.