Below is Lake Michigan looking south from Warnimont Park.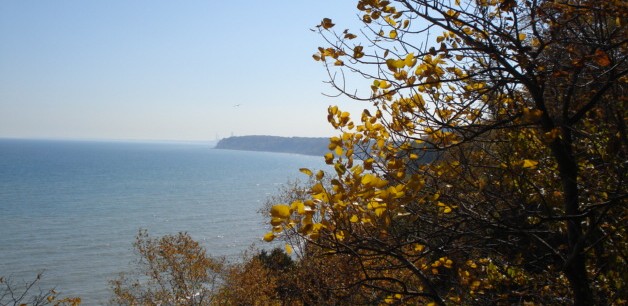 Indian summer is always a bittersweet time. The warm sun shining through colorful leaves is delightful, especially mixed with the smell of the new fallen leaves and the sound of their rustling underfoot. But this is also an ending. The last flowers of summer are on hanging lonely on their stalks. The falling leaves will soon leave branches bare. Pleasant October will yield to rainy and bleak November and we will have to wait several months for exuberant life to return to the forests and field.
Below is Boerner Botanical Gardens in Whitnal Park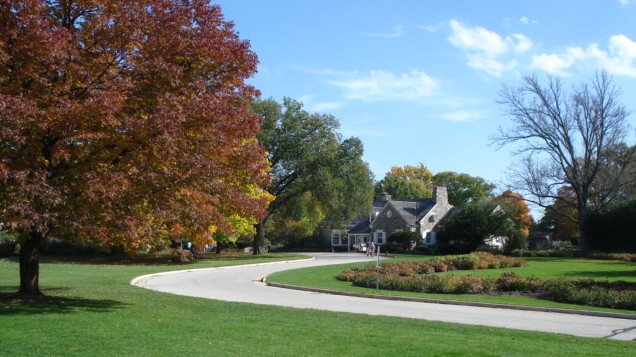 Indian Summer is often a metaphor for life with its last vigorous but perhaps futile & melancholy gesture. It essentially one of the characters in John Wayne's last movie, "The Shootist". The poem "the Last Rose of Summer" sums it up. (I put the full text at the bottom of this post.)
Below is Austin Street where I grew up looking north.  Those beautiful yellow trees are ash trees planted after the death of our elms.  They were planted in the middle of the 1970s.  The one on the right I repaired after a wind storm broke its branches.  It was smaller then.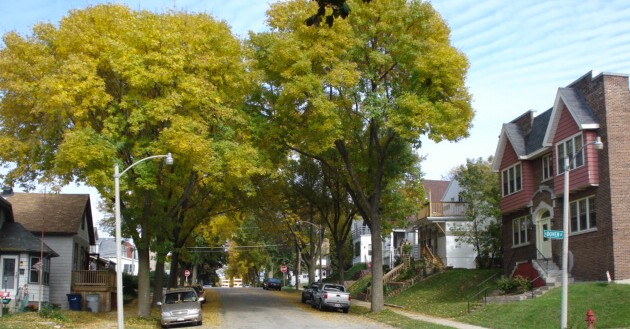 Metaphor aside, October is my favorite month and Milwaukee's October did not disappoint. I visited some of my old haunts. Many things have changed; most things have remained the same or similar.
Below is a statue of Patrick Cudahy in Sheraton Park.  Cudahy founded the city that bears his name when the opened a meat packing operation south of Milwaukee.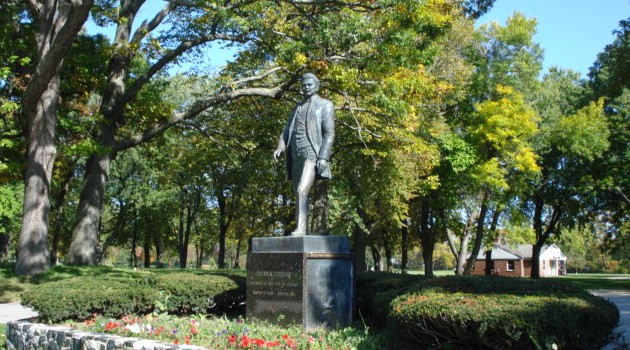 Below is Tadesuz Kosciuszko the Polish American hero in the park that bears his name.   The Polish epic Pan Tadeusz is based on him.  Interestingly, it starts "Litwo! Ojczyzno moja! Ty jesteś jak zdrowie."  Lithuania my country, you are like good health.  Of course nationality is always complicated.  The most famous Polish epic, written in Polish about a Pole can talk about Lithuania because they were part of the same commonwealth, which was lost, swallowed by its more agressive neighbors in 1795.  It was gone for 123 years.  That means that most Poles who came to the U.S. were not technically coming from Poland; they came from Russia, Austria or Germany, the countries that had annexed Poland and controlled its parts.  Pan Tadeusz goes on with some poingancy, " I never knew till now how precious, till I lost thee. Now I see thy beauty whole, because I yearn for thee."  Poles didn't get their country back until 1918.  The Lithuanians lost theirs again in 1940 and didn't get it back until the fall of the Soviet Union.  When I see the statue, I am reminded of the struggle.  This was a Polish neighborhood and people knew the story back then.   Today most people probably just see a man on a horse and think it is George Washington.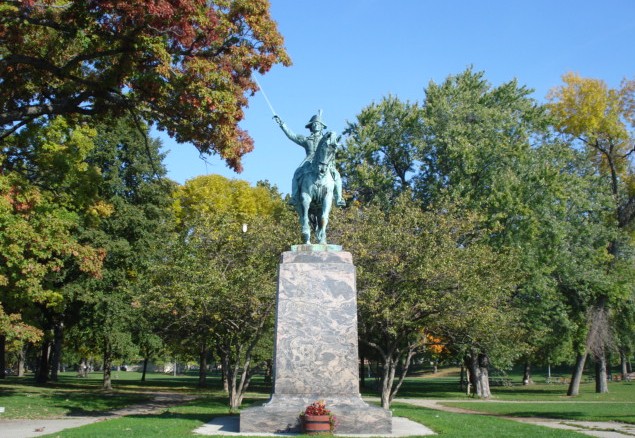 Speaking of a Polish neighborhood, this is Saint Josaphat's Basilica, built by Polish immigrants.  Milwaukee has lots of churches near each other.  Each immigrant group built its own. We used to see it in the distance from our house.  It was lit up at nights and my sister and I thought it looked kind of like some kind of giant monster. It was scary.  You can see how this might be the case. Look at the "eyes".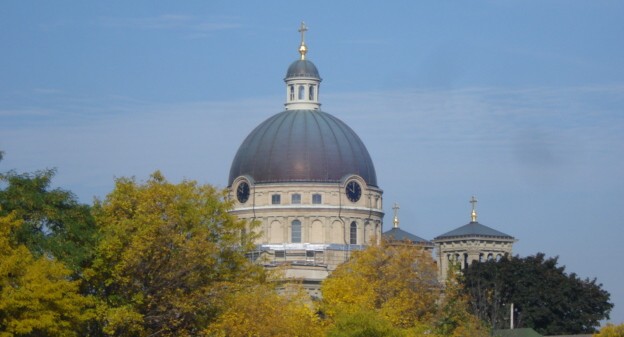 Below are geese flying into the pond in Kosciuszko Park.   The geese chase away the ducks. In this goose-duck war, the ducks are completely outclassed.  Geese used to be rare, but now they are all over the place.   They are bigger and more aggressive than the ducks and they crap all over the place.  Eventually, I suppose they will come to replace the ducks in the local ecology.  They also used to migrate, but now many stick around all year living off the fat of the land (and the local gardens)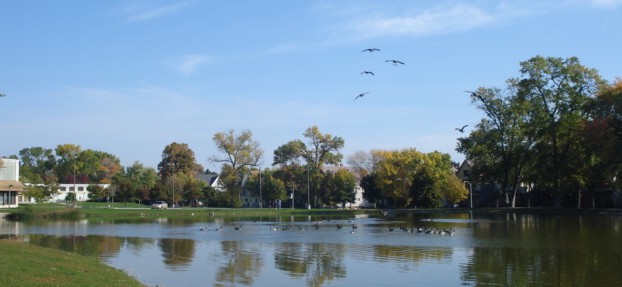 Don't forget the poem
Tis the last rose of summer
Left blooming alone;
All her lovely companions
Are faded and gone;
No flower of her kindred,
No rosebud is nigh,
To reflect back her blushes,
To give sigh for sigh.
I'll not leave thee, thou lone one!
To pine on the stem;
Since the lovely are sleeping,
Go, sleep thou with them.
Thus kindly I scatter,
Thy leaves o'er the bed,
Where thy mates of the garden
Lie scentless and dead.So soon may I follow,
When friendships decay,
From Love's shining circle
The gems drop away.