Frankfurt was the first city I visited outside the U.S. That was almost thirty years ago. Time flies. Things have changed in Frankfurt, but not that much. I use Euro instead of Deutsch Marks and the city seems more international than German. There are a lot of immigrants and Irish pubs.
I met three Irishmen in the youth hostel when I was here in 1979. They had checked into a hotel and went out to get drunk. That night, none of them could remember where their hotel was located and they still couldn't – three days later. It didn't bother them too much. They seemed to have money. During the day, they walked around the city trying to recognize their erstwhile lodging. At night, they went out and got drunk. Maybe they got stranded permanently and founded one of those Irish pubs.
The Irish wandered Europe and the world in those days looking for work. Germany was booming and they could find unskilled work. Today the Irish economy is one of the most vibrant in the world and the Germans envy their low unemployment rate. Ireland used to have high taxes and a government unfriendly too business. No more. It is now easy to set up shop in Ireland and the country has one of the lowest corporate tax rates in the world; it around 12% compared to the Germans' (and ours) of around 35%. Some things change.
BTW – I heard that number on the debates today AFTER I wrote this. I guess I am topical.
But a picture is worth a thousand words.  Below are some pictures with captions of less than a thousand words to explain them.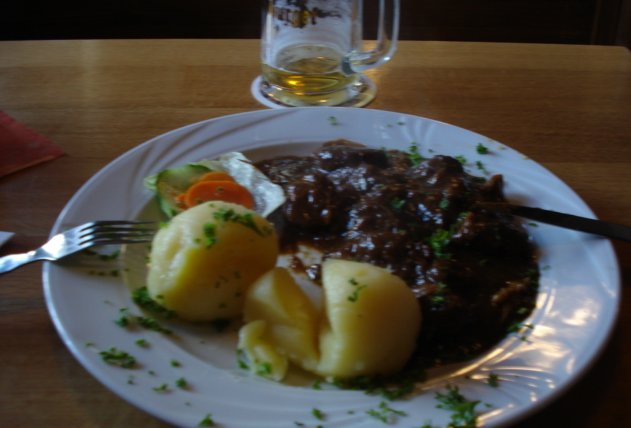 I was hungry most of the time when I visited Germany in 1979.  I didn't bring enough money, so I lost weight.  One of my favorite dishes was goulash soup at Weinerwald.   IT was cheap.  I loved it.  Hunger is the best cook and it doesn't taste as good now as then, but I still eat it when I can, for old time's sake.   Below is what I like to eat now.   This is breakfast at Courtyard. Much healthier food, but still enough fat to make it good. BTW – Courtyard Marriotts in Europe are great.  They are usually in nice, wooded locations and they are not too expensive.
Even with my meager funds in 1979, I still could afford beer – liquid bread, cornflakes in a bottle. My favorite beer was Heniger, a local Frankfurt product. It still is good. The picture is from the old town square. It is great to sit in the sun on a cool day and drink a cool beer.
Es gibt kein schoneres leben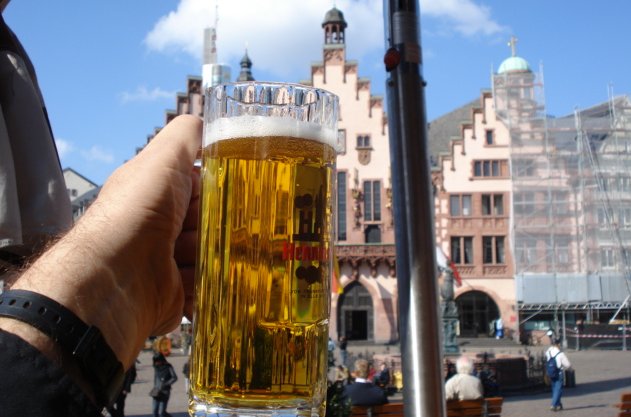 You can tell a good beer by the "cling".  Cling is the foam that adheres to the sides off the glass as you drink it down.  It should look foamy, with small bubbles.  If there is not much cling, the beer is too light.  If the bubbles are too big, it probably means that the cup is a little dirty.  Don't order anything containing mayonnaise at that establishment.  Below is good cling.  The beer is Bitberger, with the slogan "bitte ein bit" – please a bit(berger).  It doesn't translate so well.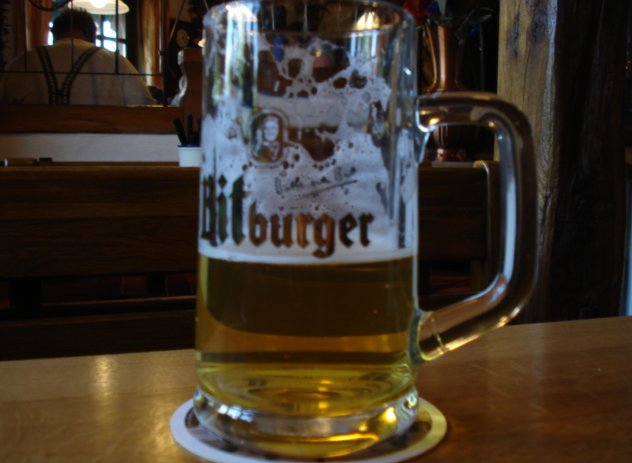 Germany has a good street culture, with lots of sidewalk cafes an food shops.  This is typical of the bread and pastry shops.   I couldn't stay in Germany too long.  The beer and chocolate would be too tempting.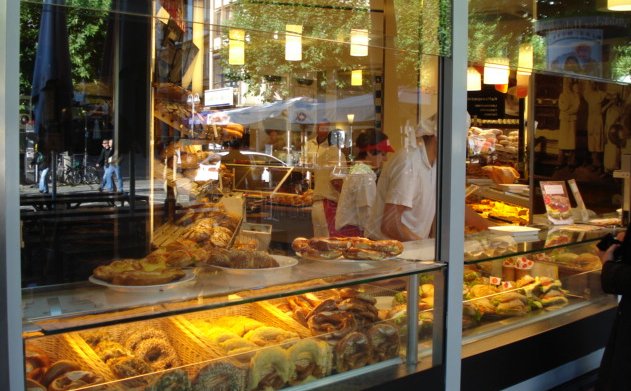 This post is getting a little long. Let me continue in the next post.
P.S. It may seem like I drink a lot of beer. I don't …usually. The Marines (and me) drink not a drop of it during deployment. I do like beer and during my time in dry and beer free Al Asad I developed an aching hunger for the liquid bread. As luck would have it, I spent a day in Germany on my way home. I saw my chances and I took 'em.
Im Himmel gibt's kein Bier,
Drum trinken wir es hier.
Denn sind wir nicht mehr hier,
Dann trinken die andern unser Bier.