As I get ready to leave post, I have some thoughts & lessons learned on my job here.  Please indulge me.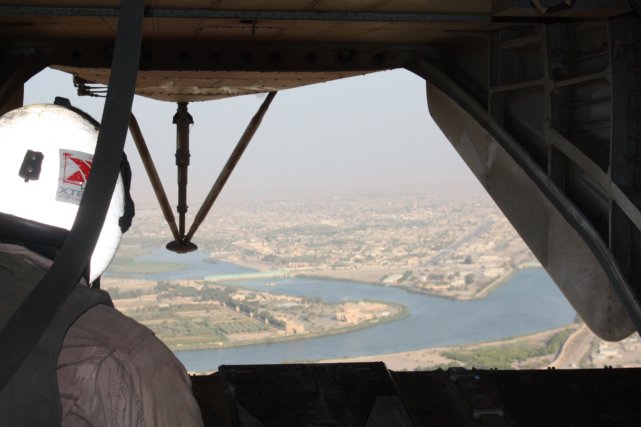 PRTs and ePRTs were/are experiments. There was no script to run my ePRT. Its initial form was not well suited to our environment. We learned by trying new things, eliminating the failures and building on success. I could call it a plan, but it was more of a process. The first rendition of the ePRT was a version of the main Anbar PRT. We had experts on banking, budget etc. We were centered in Al Asad and in theory we would make forays into the hinterland. This didn't work. Our ePRT is different. We had a lot more physical area to cover and a lot less need for specialists. A full-time banking expert is not so useful when you have only a few banks and none of them are really independent. We could and did bring in experts to consult on special projects, but we didn't need experts; we needed presence.
Our ePRT is unique in its extreme decentralization. We adapted to an area of operations the size of South Carolina and its arduous & uncertain travel conditions by developing a system of embedded team members, who stayed with the battalion task forces in each of our five sub-districts. We effectively implemented this only in the last few months, as staff changes made possible in practice what we sketched out in theory late last year. The system got our team closer to the U.S. forces doing counterinsurgency and to our Anbari friend. You really cannot maintain a long distance relationship. We have come to resemble a robust network, which is exactly what is needed for thisplace and time. This is not a novus ordo secclorum and we certainly did not invent this organization type, but I am proud of the role my team and I played in adapting it for Western Anbar. I had something like this in mind when I started but I admit that I am a little surprised how well my team and our associates took up the vision and how quickly it became OUR shared vision.
I believe much of our success followed from this initial-state decision, which gave us closeness to our "customers" and ability to respond quickly and appropriately. All our towns now have functioning councils and mayors who have received training from us in governance, finance etc. Markets are open. Infrastructure improving. We have helped establish links with provincial authorities to help get Iraqi resources flowing to solve Iraqi problems. In fact, the thing that makes me happiest is how we have been able to reduce USG money as we have informed, persuaded and cajoled our Iraqi partners to use their own resources as supplement or in place of ours. This is the responsible and sustainable solution.(I will add a caveat. I think our particular network organization will need to adapt soon to change in Iraqi society and what I expect will be its return to a more centralized structure. As team leaders, we need to be more catalysts for the work of others than directors. I see what we have here today as transition and I don't think my successor will just be able to pick up and carry on. He will need to adapt to the rapidly changing Iraqi reality, as I did, and our solutions will not be the same.)
My team members are known, respected and trusted by our CF counterparts and the Anbaris. I am familiar to many the Iraqis all around our AO and I believe my own optimistic diplomacy has encourage them. My team and I got out among the people and in this stressed environment just seeing and being seen in "ordinary activities" made a big difference. I was personally flattered at a recent engagement with a police chief. One of my RCT colleagues was about to introduce me, when the chief said "everybody knows him." I had indeed met the chief on a couple of occasions, but we didn't know each other well. What I think he meant is that people know of me, of us, at the ePRT. We stand out – literally – on the streets when we do market walks. I usually take off my helmet and my bald head stands around five inches higher than the average Anbari. We are seen and talked about when we buy kabobs from the local vendors, or when we play politician by meeting and greeting everybody along the way. Being there is important.
Western Anbar will not be like Switzerland anytime soon, but we did a good job in a tough environment. (I can tell you about the relative comfort level of almost every kind of military vehicle or camp type.) We helped establish prosperity and the potential for democracy in a place where neither of those things has grown much before. This is the biggest thing I have ever participated in doing, the most challenging and the most rewarding. I leave Iraq still glad that I volunteered and content with the part my team played.