Below is one of our local friends.  The big black ones are not as dangerous as the little yellow ones.  I didn't check closely, but it looks like this one is harmless because the stinger is broken.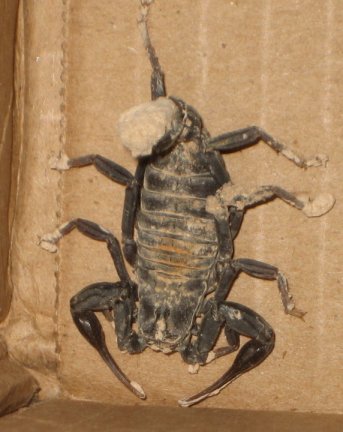 We don't have to buy coffee and there is no shortage of cookies and other sorts of treats. Generous Americans send piles of these things. Sometimes they go through organized groups; others just send things on their own.
I especially like the Duncan Donuts coffee. The guys at the Civil Affairs unit have a big coffee making machine. They fill it every morning with the Duncan Donuts brew and let me have some. The only thing I have to do in return is be nice to them. There is lots of sharing around here. I will not miss the dust and heat when I leave Iraq, but I will miss the friendliness and feeling of shared mission.
Of course there are limits to generosity. Our ePRT has a couple of non-tactical vehicles, which we use not too often. We let others use them when they are needed. When word got around that there were "free cars" available, the situation got a little out of hand. We still let people use our vehicles, but now we keep the keys in the desk drawer and require that they ask.