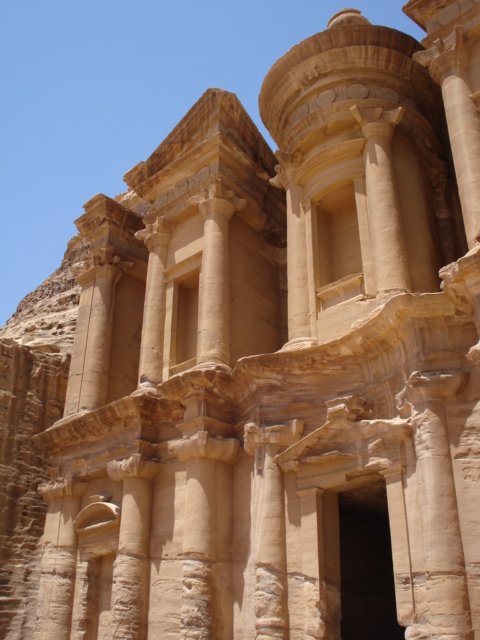 Petra is amazing; I am glad I got to see it. Photos cannot do it justice. We got a map/tourist guide from the visitor's center; they were out of English ones, so I picked Spanish. I thought we would be able figure out what it said. Luckily, there were signboards in English along the path giving details on the main sites.
We decided to go to the end of the trail, to Ad-Deir (the Monasterio), which is the second most famous attraction after Al-Khazneh (el Tesoro, or the Treasury) in Petra. The brochure said there were over 800 "peldanos tallados" on the way to Ad-Deir; we didn't know what that meant, I figured it was some sort of carved rosettes or decorations on the Monastery facade. Eight-hundred seemed like a lot, but they probably had a lot of free time.
I was pretty wrong; "peldanos tallados" actually means "carved steps"–and there are waaay more than 800 of them.  It took us about 45 minutes to get to the top—uphill all the way–and because we are good planners, we went up during the hottest part of the afternoon.  I was pretty happy to finally get there—but it was worth the hike. Bedouins set up tables along the walking paths and even on the switchbacks on the way up to Ad-Deir.  They were selling drinks, jewelry and trinkets-mostly junk; lots of beaded necklaces (from India).  Even the kids were selling; a pair of what appeared to be three year olds had a stand selling rocks, and seemed to be making money at it.  John took a photo of a little girl holding a baby goat; she charged him a dinar.  That's a dollar and half, pretty good money for just sitting there looking adorable for 10 seconds.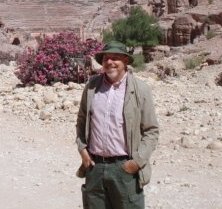 This is John's new hat, it speaks for itself. At least he got the guy to knock 5 dinars off the price.