We are at the Dead Sea, the lowest point on earth that is not under water.  The sign claims it is 415 meters below sea level.  Let me point out first of all that the idea that you don't get sunburned here because the UV rays are filtered through so much extra atmosphere is a myth.  Maybe you get sunburned less, but you still get sunburned.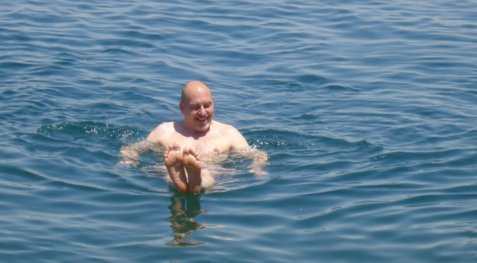 It is not a myth, however, that you cannot sink in the Dead Sea because of the high salt content.  As long as you arch your back, you can comfortably float like a little boat.  I tried to stand up, but you float up and tip.  I tipped face first into the water.  It is horrible tasting, much worse than seawater, and it kind of burns your lips.   The water has some bitumen in it besides the salts, so it smells.  People claim the mud is good for your skin and people smear it all over themselves.  I didn't.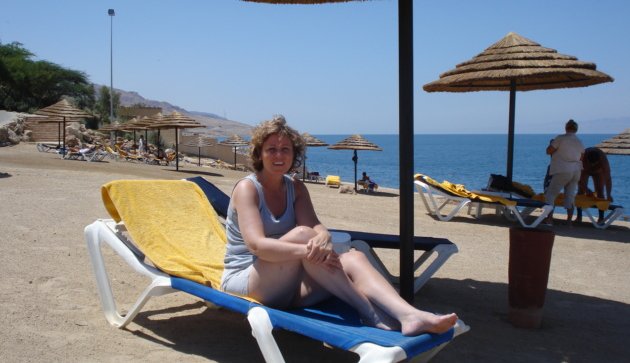 Above – Chrissy came to meet me in Amman.
The northern shore of the Dead Sea is now home to lots of really nice Hotels. We are in the Marriott. It is like a paradise and not very expensive. We get the government/military discount because I am on official travel orders.
Before development, it must have been like hell around here.  Imagine a person coming through the desert and seeing this "lake" for the first time.  He goes down to take a drink and gets that poisonous salt water.  If you drink a cup of it w/o rinsing it out with fresh water right away, it will literally kill you.   After swimming, you have to wash off.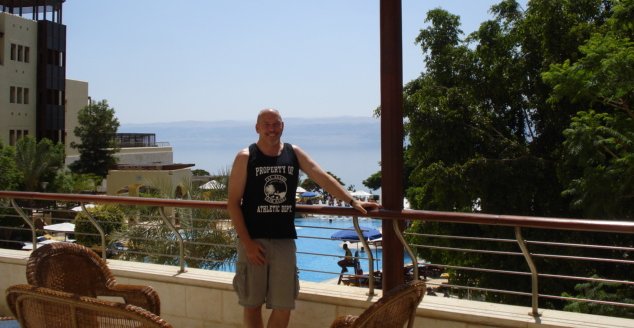 Saddam & Gomorrah were nearby. Lot's wife supposedly was turned into a pillar of salt nearby and lots of pillars of salt rise out of the Dead Sea. Irrigation and people making salt by evaporating water are lowering the level of the Sea and making it even more salty. There are proposals to bring in sea water to replace the water drained out of the Jordan for irrigation. At various times in geologic history, this area was completely dry or an arm of the Mediterranean Sea.
The Jordan Valley is part of the same rift that reaches into East Africa. The continents of Africa and SW Asia literally are being pulled apart by the action of plate tectonics. In a couple million years, this whole valley will be part of the Red Sea. But until then it might be a major engineering feat to bring in that sea water.
Tomorrow we are going to visit some of the local archaeological sites.   We had planned a side trip to Jerusalem, but we learned that the border crossings are difficult and time consuming.  That, coupled with the distance, makes it unlikely we can make a successful day trip, so we will have to hold off the trip to Jerusalem for another time.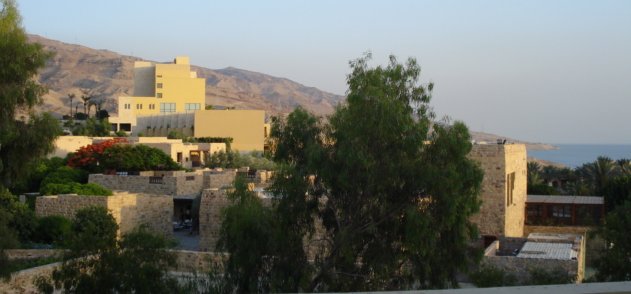 Above is the view of other hotels from the Veranda. It is sort of like S. Arizona.
The Jordan Valley should provide enough to do for now.  After this, we will go down to Petra.